With over 9,800 cryptocurrencies currently on the market, investing in crypto is just as challenging as climbing Mount Everest. Despite things getting more complex, the interest in crypto will continue to grow in the coming months. Whether you are a seasoned financier or a novice in the crypto universe, we are happy to give you a comprehensive line-up of the best tokens to invest in for 2022.
The crypto leaderboard is constantly shifting, and it's not the best idea to buy and sell crypto for a short-term financial boost. Cryptos are volatile and need to be monitored, so the best approach is to stack up on info and invest cleverly with a long-term plan. Without further ado, let's move on with the list of the best cryptocurrencies to invest in this year.
Top 3 Cryptos to invest in for 2022
We've compiled a short, to-the-point list of the best investment suggestions to save you time and money. Knowing it's not easy to find the most promising cryptos to invest in, we believe it's better to narrow down the choice and focus on the most advantageous options.
The three best cryptos to invest in for 2022 are as follows:
Tikka Token – Best for wealth advisory in cryptocurrencies
Solana – Best for speed and transaction security due to its hybrid platform
Verasity – Best for tokenised rewards and loyalty schemes
A Closer Look at the Best 3 Cryptos to invest in for 2022
So why are these particular options topping our list? We'll elaborate below.
TIKKA
TIKKA is geared towards the global investor – but not the type rolling in money. The company behind the TIKKA token, Cube Wealth, recognised many problems and deficiencies of the financial world. The idea to form the company and embark on a journey in the fintech industry came from the vision to provide for the middle class.
After selling Citrus Pay to PayU in 2016, the entrepreneur and Stanford alum Satyen Kothari founded Cube Wealth. The company is now one of India's top ten wealth tech companies. Aiming to automate the process of investing, Cube released the TIKKA token.
It is a WAT built on Polygon that saves time while curating quality emerging assets, from web3 tokens to NFTs to assets in the metaverse.
TIKKA is a utility token built on Ethereum-based ERC-20 standards. It is hosted on the Polygon mainnet, ensuring lower transaction fees, interoperability with other blockchain networks and a PoS security layer. Polygon is a thriving ecosystem for TIKKA, more sustainable and unsusceptible to Ethereum's scalability problems.
As the best crypto to invest in for 2022, TIKKA has numerous benefits. Once you become a TIKKA holder, you can look forward to accessing the best global investment opportunities. Establishing personal wealth is a demanding task influenced by the lack of time and discipline. TIKKA offers automation that can help with both these disruptive factors.
Aside from primary advantages, TIKKA can also bring you passive profits. Airdrops and referral incentives are in play, meaning you can earn special rewards based on the percentage of your deposits. You can read about the latest TIKKA token airdrop on Twitter.
With TIKKA "in your pocket", you gain access to the TIKKA marketplace. It's where you can grab quality emerging assets and unlock software features that save time. You can also follow premium advisors and enjoy the same privileges as ultra-high net worth individuals exploiting top-quality investment advisory.
The token offers multiple usage options, from curated crypto investments to emerging asset categories. According to its roadmap, the TIKKA token will give its holders access to AI-based investing personas. It is marketed as a time-saving feature that will facilitate building personalised portfolios according to personal preferences. Furthermore, the TIKKA AI-based automated investing personas will mirror trades made by top-notch investors without burdening the users with in-depth strategies.
Are you still wondering why you should invest in TIKKA tokens? Cube believes there should be no more subpar options and advice for regular investors. It is time to open the gates of wealth to people who struggle to invest while the ultra-rich are getting all the top-notch investment advice and support.
The opportunity is there, and TIKKA offers the solution. If you wish to enter the global wealth management market projected to reach $3.43 trillion by 2030, keep your eye on TIKKA. The token celebrated more than 50,000 followers on Telegram in April 2022, and the hype is just getting started.
<<BUY TIKKA TOKEN>>
Solana
Currently the ninth-largest cryptocurrency by market capitalisation, Solana saw a rapid rise in value in 2021. SOL overtook heavy hitters like Cardano (ADA) and Polkadot (DOT) while rising through the ranks of altcoins. Due to some technical issues Solana experienced in late 2021, many became unsure about Solana's winning streak. The scepticism among investors is always present, but we would endorse investing in Solana, and here's why.
Let's do some quick, easy maths. SOL's price started at $0.77 when the cryptocurrency launched in 2020. Fast forward to April 2022, and its price reaches around $136. We are observing a gain of more than 17,500%.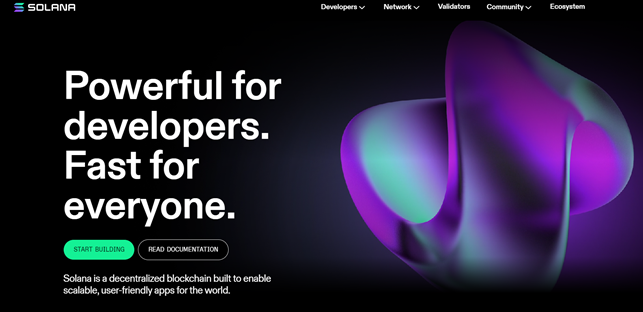 Solana's unmatched transaction speeds and enterprise-level security are well-known in the crypto circles. While some claim Ethereum is still a safer choice, Solana is a serious rival. While ETH can process 14 transactions per second, SOL supports 50,000 TPS. Bitcoin can't handle more than 7 TPS. Furthermore, only Solana uses hybrid proof-of-stake and proof-of-history mechanisms to safeguard transactions. You won't find any other major cryptocurrency blockchain with that property.
What about non-fungible tokens? Solana has that covered, as well. Solanart is the NFT marketplace running on the network, benefiting from the minimum fees and transaction speed provided by the Solana native token. Regardless of the slight stumbles, Solana is one of the most advanced blockchains in 2022.
Verasity
If you're interested in the esports, digital entertainment and advertising industries, Verasity shouldn't avoid your radar detection. The typical descriptions of VRA you can find online include "functional and potentially profitable" and "awesome". The Verasity situation is favourable because you can observe more and more cryptocurrency exchanges listing it. Due to increased demand, its price is expected to rise.
Algorithmic forecasting services suggest VRA has potential for gains and could reach $0.078 by 2025. So, it would be a good time to invest in Verasity this year. VRA stands a chance to withstand volatility in the crypto market thanks to its Proof of View protocol. We all know the crypto world is full of uncertainties, and it is true that Verasity coins have fluctuated in price since the launch. However, we're looking at the prospects of investing in Verasity. In that sense, solid signs of an upward trend are undeniable.
Verasity's purpose is to improve the returns of video publishers and reward genuine content creators while obstructing the appearance of fake views among advertisers. Ultimately, Verasity is a unique, future-oriented blockchain project that solves real-world problems. So, in a way, you would be doing a good deed by joining its network.
Conclusion
Being a good crypto trader comes down to buying the right coin at the right time. If you're hoping to diversify your portfolio throughout the upcoming months, you could start with the TIKKA token.
The many utilities of TIKKA include advisory services, automation features and further investment opportunities. With TIKKA, you'll be joining a network that supports an equal opportunity for everyone to own high-quality crypto, NFTs, and metaverse goods. In short, TIKKA makes investing easy.
We've done our best to provide an abbreviated and informative list of the best cryptocurrencies to invest in for 2022. However, it is always up to you to find the best fit for your crypto endeavours.
Keep researching the best options that suit your investing style. Whether you plan to invest short-term or devise a lasting trading plan, knowledge is power. Stack up on it, and happy investing.
Disclaimer: This is a sponsored post. The statements, views and opinions expressed in this column are solely those of the content provider and do not necessarily represent those of NewsBTC. NewsBTC does not guarantee the accuracy or timeliness of information available in such content. This is not investment advice. Do your research and invest at your own risk.