MegaCryptoPolis is a new game built on Ethereum blockchain offering an opportunity for players from all over the world to build a unique decentralized city.
During the first week of operation "MCP" became the largest dApp in "Games" category with almost 252 ETH in turnover (7 days volume as reported on dAppRadar ― that was even higher than CryptoKitties with 207 ETH).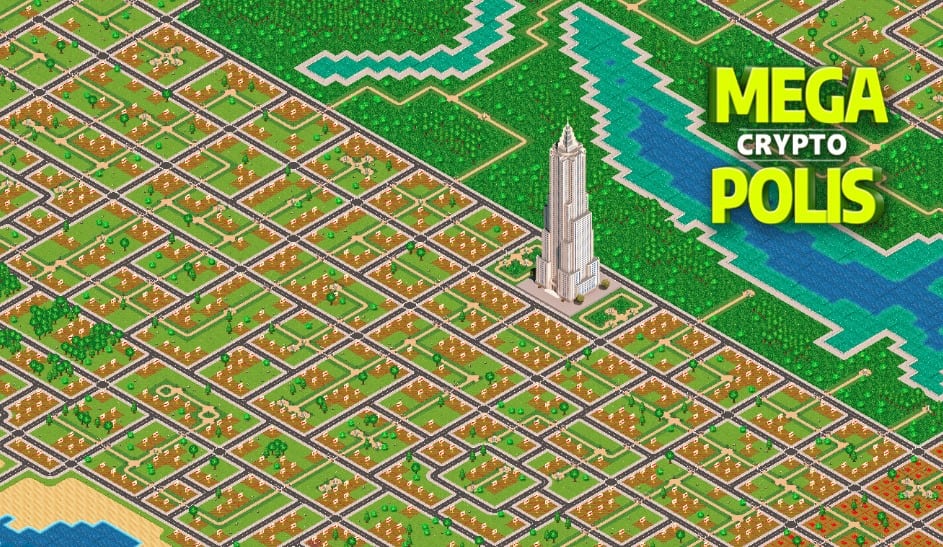 Revolutionary mix of user-friendly HTML5 client and Ethereum digital wallets allowed for running a graphically-rich game inside any browser with secure management of all game assets stored on the blockchain.
Players acquire plots of land on the decentralized city map to construct buildings that will generate influence points after the game start. Influence points can then be exchanged directly to Ether and withdrawn from smart contract almost every day.

All plots of land are contained within a district that shall have an owner in order to sell its plots. District ownership rights are initially sold during the auction. District owner can set the initial price of plots and get a revenue share from all the sales within it.
Imagine playing a city builder game like SimCity where every plot or a building can be traded for Ether.
All land plots are ERC-721 tоkens those can be transferred or traded like any other cryptocurrency. There is an integrated marketplace that shows all the blocks available for sale on the global map, so every player can easily access all the offers.
The value of a property, more often than not depend on what is built around its neighborhood. For example, a residential house near a commercial zone will produce much more points than a house that is close to a manufacturing facility.
Land blocks price growth is hardcoded in the MegaCryptoPolis smart contracts.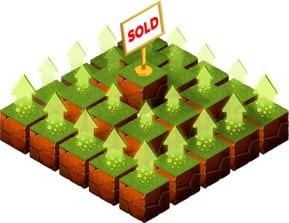 Every time someone purchases a spare land block – a smart contract raises the price of the surrounding blocks of land in the 7×7 filed. Part of the purchase price is distributed amongst all block owners in the 7×7 area. That means that acquiring a block of land will grant you an income in Ether from all the spare blocks sold around.
The minimal initial price for a plot starting from 0.01 ETH that is hardcoded to be 100 ETH once all neighboring blocks in an abstract 7×7 area will be sold.
Acquire a district to define initial plots prices and get the revenue share from all the sales within it.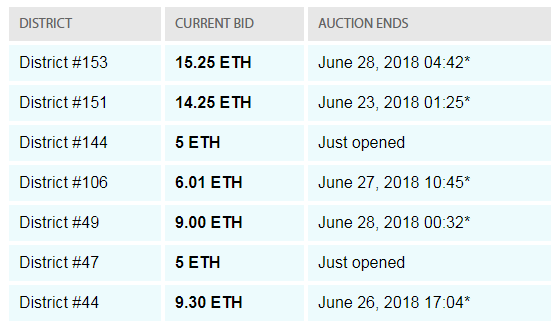 There is a huge hype on every district opening, as a lot of players are waiting for this moment to get the best prices on plots. First district alone has made over 25 ETH in revenue for its owner so far with only half of the blocks sold. Six more districts are on the auction at the moment with prices starting at 5 ETH.
After the game launch, part of all taxes paid by players for actions in the district will be transferred to the district owner in Ether. The district can be then traded freely like any other game asset on the open market.
MegaCryptoPolis brings decentralized and trustless ecosystem based on open sourced smart contracts.
MegaCryptoPolis is based on a decentralized model, with all in-game transactions minted in the blockchain and all assets securely stored in players' Ethereum wallets. This does not allow developers to affect the game balance in any way after it is launched, as everything is solely determined by the actions of the players themselves.
The Project White Book has a well mapped out and detailed description of all game aspects and rules, including all types of buildings and dependencies – even maths formulas to help make all in-game transactions easy to understand. We highly recommended reading through this.
New to MetaMask and crypto games?
There is a quick tour on how to install MetaMask and use it to play MegaCryptoPolis:
Receive exclusive plots of land on the Bounty Island!
There is a Bounty Campaign with a limited amount of exclusive blocks of land to be distributed randomly amongst all registered participants. Spread the word about the project and get additional Bounty Scores to increase your chances to receive valuable land token prior to game launch. Enlist today at http://www.megacryptopolis.com/bounty.
Join the global community to collectively build a unique mega city on the Ethereum blockchain!
http://www.megacryptopolis.com
Follow MegaCryptoPolis on social networks:
Facebook: https://fb.me/megacryptopolis
Twitter: https://twitter.com/megacryptopolis
Telegram: https://t.me/megacryptopolis
Discord: https://discord.gg/AyX5QRw