Biotron.io has announced the launch of its public Initial Token Event (ITE) which will take place from the 20th of March 2018 (15:00 UTC) until the 29th of March 2018 (15:00 UTC) in order to fund Biotron.io. The distribution of the tokens will commence on the 2nd of April.
Biotron.io is a user permissioned and revenue sharing personal data warehouse. User data is collected and saved in a form of high-level analyses, which are then available for purchase by interested customers.
To realise its vision, Biotron.io is launching its own utility token – BTRN. The token facilitates the trade of data and payments between providers and customers. It is the only option for payments to access Biotron.io's data analyses and to compensate data providers.
During the ITE, BTRN are created as ERC-20 cryptographic tokens on the Ethereum (ETH) protocol. After the ITE and once the Biotron Blockchain is launched, the ERC-20 based BTRN will be replaced by the final proprietary BTRN.
The public ITE will last 9 days, with each day representing one round. The round one value of 1 BTRN will be 0.10€ with an increase of 0.01€ per round. The final round value will be 0.18€ per 1 BTRN. The ETH-EUR exchange rate used for each round will be announced daily according to the Euro exchange rate. It will be calculated as 1-day (24h) moving average of the day before the round starts. The source of the exchange rate and its calculation will be announced in advance of the ITE.
A private ITE was launched on the 1st of February 2018 and will last until the 19th of March 2018. The minimum contribution is 200ETH. Contributions received during the private ITE will be recorded during the 1st round of the public ITE and distributed from the ITE token pool. Private ITE bonuses will be distributed individually from an allocated "Private ITE Bonus" token pool which is 10% of all the created BTRN tokens. Any tokens that were reserved for the ITE and Private ITE Bonus but remain undistributed will be allocated to the "User Acquisition" token pool.
The identification of contributors to the ITE will be based on their ETH wallet address and BTRN tokens are distributed to this address only. All BTRN wallet addresses for contributions will be made public prior to the ITE. There will be the KYC process to establish a contributor's investment knowledge and financial position.
Summary
Role of Token: Enables trade of data between data customers and data providers
Symbol: BTRN
Maximum Supply: 1 000 000 000 tokens (no new tokens will be created)
Initial Token Event: 350 000 000 tokens (35% of all tokens)
Initial Token Value: €0.10 per 1 BTRN (Round 1)
Public ITE Period: 20.3.2018 15:00 UTC to 29.3.2018 15:00 UTC
Accepted currencies: BTC, ETH, LTC, EOS, OMG, BAT, SPHTX
Token Distribution Commencement: 2nd of April 2018 (48 hours)
Token allocation: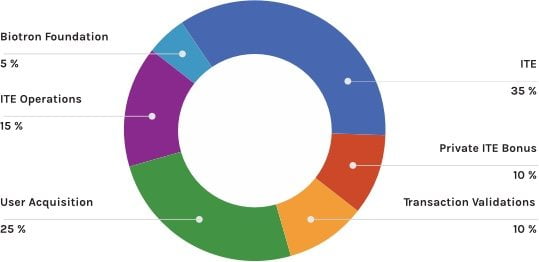 Graph Summary
35% of BTRN tokens will be allocated for ITE.
10% allocated for private ITE bonus scheme.
10% will be held for transaction validations in case Biotron.io decides to build their own blockchain/ledger. If an existing blockchain/ledger is used, these tokens will be used to cover transaction fees on that network.
25% of issued BTRN tokens will be allocated for user acquisition activities, business development, and market expansion.
15% of BTRN tokens will be allocated to cover ITE operation costs (marketing, legal, and development efforts) and to compensate ITE advisors, partners, and founders (vesting period up to 12 months).
5% will be held in a reserve by Biotron.io for future development with sales restrictions of 2 years.