As the world economy sets out on a long path to recovery, cryptocurrencies are expected to play a major role as a store of value during uncertain times. In such a scenario, having a reliable and trustworthy application that allows users to manage their cryptocurrencies in a safe and secure manner can be immensely helpful. Recently launched Bitamp's Bitcoin wallet aims to be just that, and rightly so.
Bitamp is an easy-to-use, open-source, client-side Bitcoin wallet that allows users to store and conduct cryptocurrency transactions securely over any device. Available as a web wallet, the Bitamp wallet ensures that its users are always in complete control of their funds, private keys and even privacy. Its open-source nature further makes it easy for anyone to verify all the claims made by the platform.
There are plenty of cryptocurrency products and services currently available in the market. However, most of them are centralized crypto exchanges and custodial wallets which exposes users to the risk of losing their funds or have their information stolen either due to insolvency, hacking attempts, government action or even sudden closure of services. These can be avoided if one chooses wallets like Bitamp which connects directly to the Bitcoin blockchain and processes all transactions in real-time.
Bitamp's Three Pillars: Transparency, Security and Privacy
By design, Bitamp wallet is based on Bitcoin's underlying philosophy. The wallet's emphasis on Transparency, Security and Privacy can be found in the way the product works. Creating a wallet on Bitamp is a no-nonsense process where anyone can just visit the website, generate a mnemonic seed, and create a new wallet. Once the wallet address is created, they can start sending, receiving, and storing bitcoins. However, one must ensure that the seed is copied and stored in a safe place before making any transactions as it is the only way to access and safeguard the funds.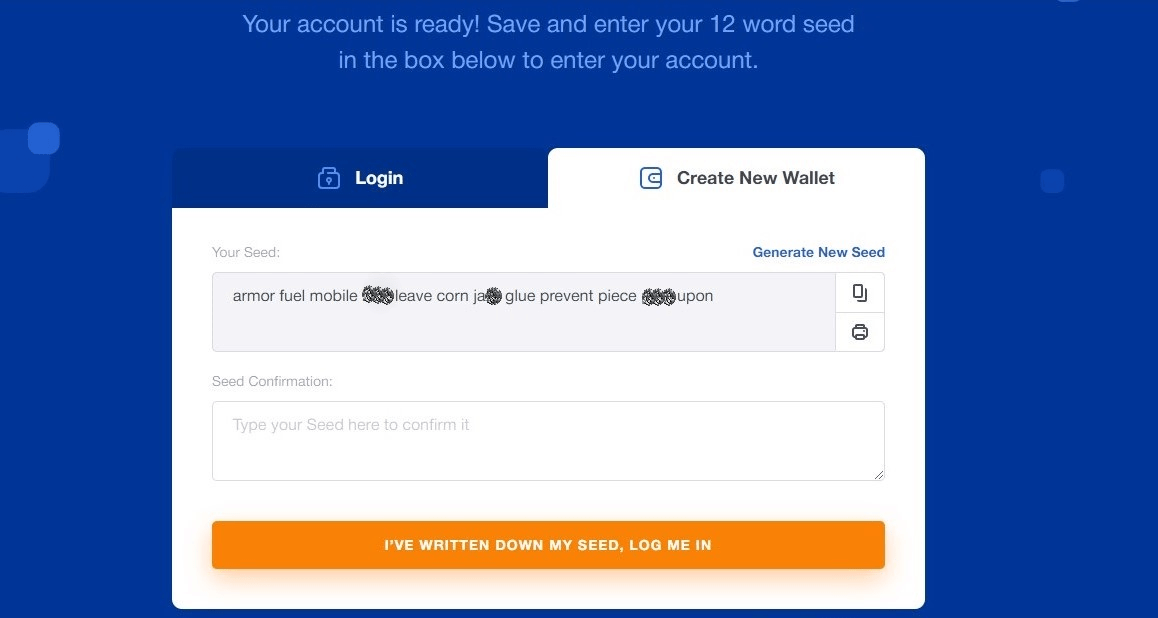 Bitamp allows users to create as many Bitcoin wallets as they want, without having to provide any personal information. It further ensures complete privacy and anonymity of its users by allowing them to access the wallet over a VPN or TOR network. All wallet operations are carried out locally on the user's browser itself, without Bitamp accessing or storing the seeds, private keys, IP addresses or browser details, which contributes towards enhanced anonymity. Any interaction on Bitamp is confined to the browser from which it is accessed and the Bitcoin blockchain.
While the open-source nature takes care of transparency,  Bitamp also gives its users ample flexibility when it comes to handling their bitcoins by allowing them to load seeds from other blockchain wallets like Electrum, Mycelium, Blockchain.com, and hardware wallets like Trezor and Ledger.
No matter how transparent and secure the wallet is, Bitamp advises its users to always access the wallet on a separate dedicated browser using a VPN or TOR network. The wallet has its own official TOR address: bitamptortcbtgit.onion.
Even users who are new to cryptocurrencies can confidently use Bitamp wallet by following the directions provided on its website. They can also use the resources made available on the website to learn more about buying, spending, mining, and trading Bitcoin.
There's More in Store
The recently launched Bitamp is relatively young in the industry and the team behind the platform intends to offer a lot more to the community. Available in English, the wallet will soon add 11 more languages including German, Russian, Spanish, French, Portuguese, Korean, Japanese, etc., to cater to a wider global audience. The Bitamp team is open for suggestions and feedback from the crypto community so that they can address any issues and shape the project's roadmap to meet their requirements.
Bitamp Bitcoin wallet's code can be accessed on GitHub at – https://github.com/bitampcom/bitamp