Point of Sale (POS) networks process transactions worth trillions of dollars each year, the industry landscape is mostly dominated by big players like Paypal, Visa and MasterCard. It is in this arena that Camelgram plans to launch their blockchain based solution that is coupled with a POS device. The plans are to remove obstacles in the last mile use of digital assets and to simplify and streamline payment solutions for the people that use them. In order to raise funds for their platform, Camelgram are launching a crowdfunding initial coin offering (ICO) on September 7, 2017.
Early birds will get extra worms
While the crowdsale is due to last for a period of two months and will conclude on November 6, 2017, early investors stand to benefit. The token launched during the ICO will be called POS. There are plans to distribute between 5 million to 40 million of these. Bonus tokens have been announced by Camelgram for those who choose to arrive early on the scene.
A whitepaper released by them describes in detail the way tokens would be distributed. Half of the issued tokens would be distributed among investors during the crowdsale. 20 percent have been reserved for the team and 10 percent have been earmarked for distribution costs. Emergency and rainyday reserves stand at 20 percent.
Fund distribution post ICO
At the end of the ICO, funds will be distributed in such a way that the platform can be taken from a proof of concept stage to manufacturing and infrastructure roll-out. The chart below gives an idea on how these funds will be utilised.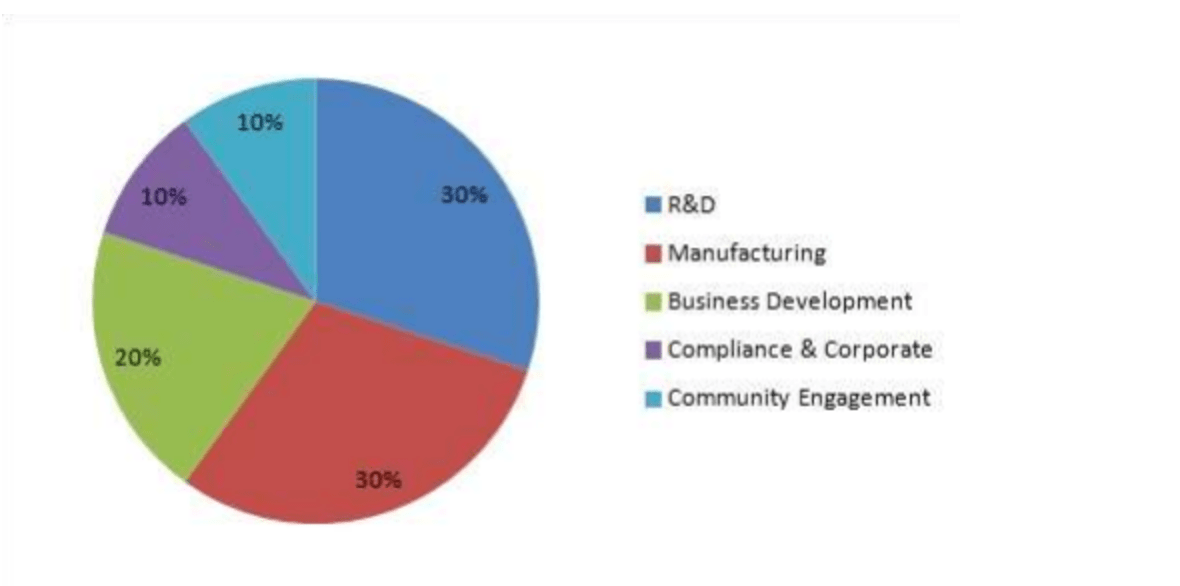 Source: Camelgram
A high priority has been assigned to manufacturing and production because these are high expense areas. Up to 30 percent of the funds raised would be spent on these.
The ICO is an opportunity for investors
A successful implementation of the Camelgram solution presents an interesting opportunity for investors. The platform can solve the problems that acutely exist in the crypto-asset industry regarding accepting digital assets. Businesses will be able to help clients transact in five popular digital assets right from the beginning and Camelgram has plans to add customised solutions at a later date. However, the groundbreaking feature that Camelgram has to offer is that it can settle transactions quickly. Businesses no longer have the need to extend credit to their customers and can have better cash flow. The ability to receive common currencies along with digital assets is also crucial. Talking to us about this, a Camelgram spokesperson says, "Investment Great, Peter Lynch, identified mature market meeting disruptive technological breakthroughs as presenting the most exciting opportunity. Market demand exists and customers understand the value brought by new solutions. Distribution and marketing infrastructure are readily available." Further elaborating, "Such is the case for Camelgram blockchain POS network. The new breakthrough serves  receptive customers with faster, cheaper solution and drastically improve business with much better cash flow profile."
A feature rich platform that is brimming with possibilities
Camelgram's platform is feature rich and harnesses the power of blockchain. However, unlike most blockchain solutions this platform is easy to use and gives businesses the ability to use a plug and play device. The built in features that arrive due to the blockchain network include "On Chain Delivery" as well as Post-Sales Services. Smart contracts enable the post-sales services to be executed, giving businesses the insights that they require to develop their own models. While there is a sea change in the way businesses will be able to process transactions, the interaction between businesses and customers are not likely to change as the focus is on a smooth transition. Talking to us about this, Camelgram explains, "There will be little change in relationships because we aim for transparent transition. Also we aim for big ticket, mid frequency travel industry first as reversal of cash flow profile impact their business most significantly."
The future is at hand for Camelgram
At first glance, it may appear that the industry landscape in which Camelgram intends to operate is filled with titans, but it is also abundantly clear that a nimble company that is able to disrupt the industry with new technology has a fair chance. The opportunity for Camelgram is their ability to deftly solve the "last mile" problem. In tackling the future, Camelgram seems confident that they can execute what they plan. They lay out their vision, "The initial pushback might come from additional counter space and incremental cost, however we can overcome by showing new POS device addresses new customer segments previously unreachable. Existing POS equipment maker may try to imitate but our device + software + service infrastructure should provide superior moat."
With the emergence of developing markets like India and China, there will be increased demand for such services. A number of sectors are already using POS networks, services and devices and as more businesses realise that they need to push for a share in the digital payments pie, the need for service providers like Camelgram is only set to rise.