Long-form is to media what crypto is for money. The value produced is the new currency for smart people, and for the internet age. The plan was not to publish these Litecoin fam interviews in full, but as a 5-minute mini-documentary about the finished art piece INVISIBILITY. The interviews were planned as inquiries get inspired by the substance and sound bites to more fancy film. When scrolling through the feel of the whole interview, I realized this was a great way to introduce how these art pieces are born. The audience would also miss the sharpness, insight and, occasionally, brutality, of Charlie Lee in his answers. We are coming from, seemingly opposite side of the spectrum, but after the first few minutes we broke the ice and hit the zone.
The conversation birthed about 2/3rds of the framework required to include enough substance to make a feature movie about the art piece All together, this work took around 3 months to produce, from conversations, ideas, painting, collaging, printing, re-painting to the 80×40 in whole soon on show at the Litecoin Summit of 2019 in Las Vegas. The short-form doc is revealed either on location or close to the time.
Watch the Interview on Youtube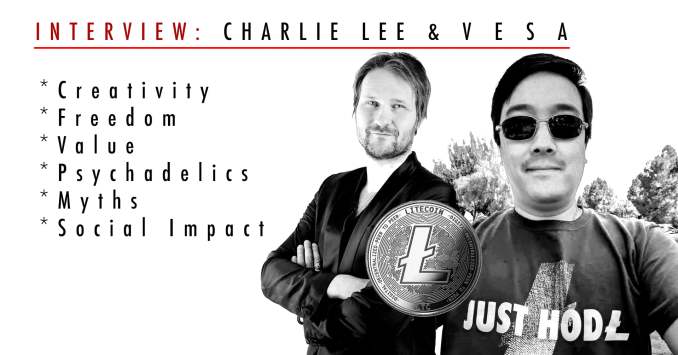 INVISIBILITY
(80x40in, mixed media, acrylic paint, and a lot of LOVE)
VEGAS BLOCKCHAIN WEEK
Related to the Summit, also my ART section of the return to World Crypto Con just came online. We achieved great things last year and intend to do more cool stuff this year. The project is still unfunded, so we are looking for a company with enough foresight and resources to benefit from collaborating with this project. It is a whole week of crypto in Vegas with the most prominent crypto stars. If you need more compelling reasons to attend, check your pulse.
Both the Litecoin Summit, World Crypto Con and more will be held at the Cosmopolitan Hotel in Las Vegas.
WORLD CRYPTO CON SPONSORSHIP OPPORTUNITY
Crypto artist V E S A returns for the second annual World Crypto Con with an all-new hardline keynote, block-performance and previously unseen large scale artworks on exhibit. This time the gloves come off regarding the legacy art world, and he goes deeper into why integrating creativity into the blockchain space is a must for mass adoption, not a maybe. You can expect a carefully crafted, insightful, and passionate audiovisual explosion.
We are also going to make a FOMO offer that will be hard to refuse.
Among the works, this year is the 'Blood On The Podcast Floor' piece now signed by Andreas Antonopolous, Charlie Lee, Maxine Ryan, Brock Pierce, Jeremy Gardner, Vinny Lingham, Ronnie Moas, Peter McCormack and Adam Williams. When eventually sold after some more superstar signatures, the proceeds will go to HAWC, the Houston Women's Center protecting women from sexual abuse and violence.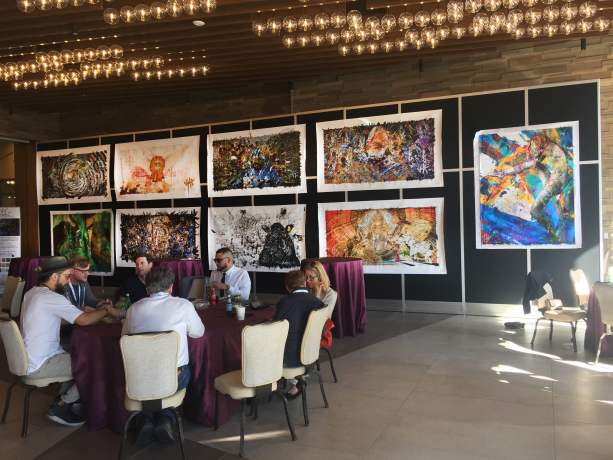 Last year we built an art wall with twenty rotating pieces and will have new ones for 2019. Your company branding can be right next to it. The range of budget, from humble to ambitious, depends on:
– Keynote mention, Commission piece, Art wall branding, VIP party, Interview mentions, and other merchandising –
See you there,
V E S A
Crypto Artist
Official Pages:
Crypto Art
Artevo Platform
Twitter Insta