The battle to defeat the COVID-19 pandemic ensues. As the number of coronavirus cases rose to 683,694, with 146,396 recovered patients and 32,155 death tolls, each country had taken drastic steps to contain the virus and soften the blow. Extensive quarantine protocols are strictly in place and total nationwide lockdowns are enforced longer than expected, prompting the temporary closure of businesses to discourage communal contact. People are asked to stay at home as the government tries to salvage what they can. As a result, COVID-19 has shattered businesses big or small, resulting in entire industries falling to their feet. This coronavirus pandemic has now progressed from a deadly health emergency to a global financial crisis.
The cryptocurrency market did not escape the pandemic shocks as investors witnessed massive price fluctuations due to the coronavirus outbreak. However, crypto prices seem to rally early last week despite the equity markets still struggling. Ethereum (ETH), the second most valuable cryptocurrency, showed price increases along with other crypto giants like BTC. On March 23, ETH started with a high of $125 and rose to $140 on March 24, a 12% increase within 48 hours.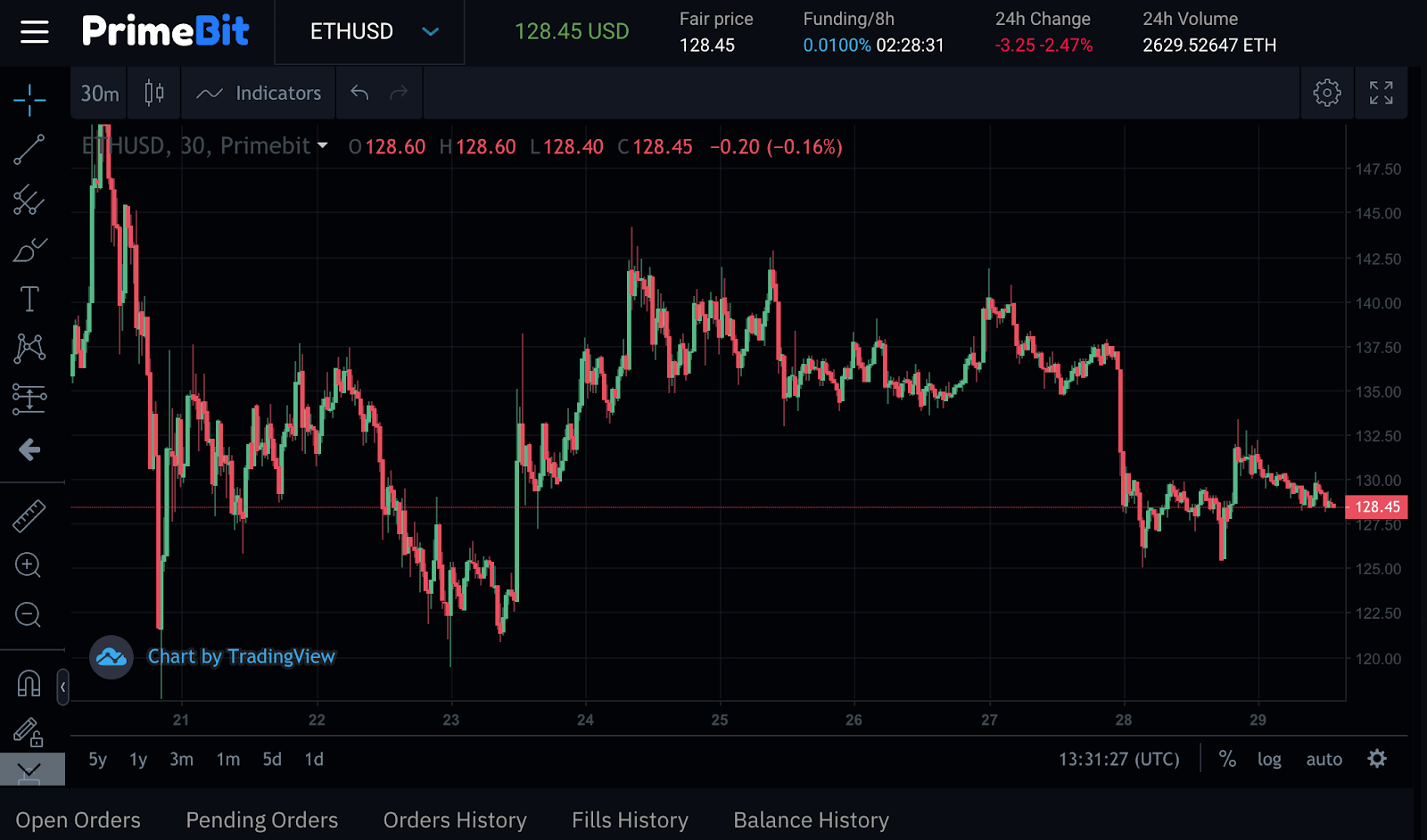 ETH 12% price increase on March 24, PrimeBit WebTrader
Today's crypto market volatility makes investors go crazy as predicting prices becomes increasingly complex while the struggle to heal against COVID-19 continues. The ETH price recuperation last week gave hope to some analysts as the head and shoulder pattern started to form. However, on March 27, ETH experienced yet another stumble. It reached a high of $140 before dropping and closing at $130, a -7% decrease in 24 hours.
ETH -7% price dive on March 27 despite rallying on previous days, PrimeBit
While the aggressive price waves may be worrisome, other confident crypto investors see shiny gain opportunities in these trying times. It is the perfect stage for ETH enthusiasts to increase their holdings and buy ETH while the price is still low, a good time to improve their cryptocurrency portfolio. Possessing more ETH means more profit in the future as prices are expected to go up again as the COVID-19 panic dies down.
Crypto margin traders also have their eyes pinned on technical analysis and trends to spot golden trading opportunities through leveraged margin trading. Taking advantage of market volatility by leveraging means substantial profit for them and of course the ability to diversify their positions.
As the pandemic intensifies, more investors are looking into diverse investment opportunities. Now might be the right time to learn about cryptocurrencies and join the revolution. Experience crypto trading with PrimeBit, a trusted and beginner-friendly P2P derivatives exchange platform that offers up to 200x leverage, the highest on the market. At PrimeBit, users enjoy full transparency and fast trade executions with very low fees. Sign up today!
Image by Christian Slater from Pixabay