When we're talking about a marquee event in the sports world, the Olympic Games immediately comes to mind. If someone mentions design, we'll inevitably start to discuss New York Fashion Week. If we get on to the world of marketing, AdvertisingWeek is undoubtedly the flagship event.
When Lin Dai, the CEO and co-founder of the HOOCH App, kicked off TAP Coin, he hardly would have expected to host the fourth day of AdvertisingWeek. It's not every day that a CEO of a blockchain-based project gets the opportunity to coordinate an entire day specifically dedicated to this technology. Will we get to know more about Hooch and TAP Coin along with novel and creative approaches to advertising in the 21st century? Let's find out.
Burgeoning Tech First at AdWeek 2018
AdvertisingWeek is a major event for those responsible for ad distribution in this day and age. It takes its roots from an event in 2014 when around 60,000 attendees gathered at Madison Avenue to celebrate the ad industry and discuss its importance and relevance to business in the modern world.
No one expected that it would be such a hit. Four years on we can see that AdWeek welcomes 100,000-plus visitors to listen to speakers from all around the world. October (1-4) 2018 promises to be no less fruitful. This is in no small part due to the hot topics announced in the schedule. One of them is blockchain technology, which is to be discussed for the first time since the event's conception.
AdWeek has already announced the first speakers and their topics. We will be invited to consider innovative ideas, with lectures on Why Marketers Should be Thinking About Blockchain Now and Blockchain and Advertising: How the Revolution Begins.
What does this mean for the crypto community, as well as blockchain enthusiasts? The short answer is a lot. This is a milestone that places blockchain technology on par with all other recent influential developments in the field of marketing, such as cloud-based AI services, IoT and Deep Learning. To give blockchain such a prominent place is an official acknowledgment of the power blockchain has to change the marketing landscape, making it accessible to everyone connected to the industry.
When Blockchain Stopped Being Solely a Crypto Topic
For the most part, being initially just the basis for most cryptocurrencies, blockchain technology was solely the reserve of an insular crypto community. However, the distinctness of the given technology was soon discovered by business go-getters. They soon found out that almost any business that deals with transactions and cares about its security will enormously benefit from implementing blockchain. Here are the main reasons why:
Decentralization
This is the primary idea behind blockchain. Decentralization implies that there is no central data collection point. Instead of running a large data center, whole information is stored on different servers around the world. This ensures that even if this information gets to fraudsters, only a small amount of data will be compromised, not the whole network.
Transparency
One of the main reasons why this technology is so attractive to entrepreneurs comes down to the fact that almost always, the chains have an open-source code. This means that other users or developers can change it at their discretion. At the same time, it becomes incredibly difficult to change previously registered data without being noticed. This is what makes blockchain a particularly reliable technology.
Low transaction fees
Since there are no middlemen, such as a bank or any other financial organization, blockchain users do not bear the costs connected with the work of these institutions. Therefore, the predatory commission becomes a thing of the past.
Fast transactions
Traditional banks often need a few days to complete a transaction. Such terms are stipulated by the protocols in the banking software, and also by the fact that banks operate only during regular working hours, five days a week, and in different time zones. The blockchain technology, in turn, works 24 hours a day, seven days a week, which means that its transactions are much faster.
Looking at these advantages, it becomes clear why blockchain is no longer just some trivial new fashion, but a necessity which changes the way we do marketing and run businesses.
And the reason why namely Lin Dai was chosen to host the fourth day of the AdWeek becomes clear in a moment. He is a creator of an extremely successful hospitality app, utilizing a decentralized network for ads and consumer rewards. Who else would be better suited to hosting Blockchain Day at AdWeek?
Hooch, TAP Coin and Decentralization
Hooch is a hospitality application that shares information about the best places to go, with regular discounts and a free drink in one of the partner-restaurants or bars on a daily basis.
The app and its follow-up HOOCH Black, were created to facilitate the busy life of millennials who wanted to maximize the use of their free time by exploring what their city had to offer. Some people have assumed that real life communication is out of fashion. In 2018, there are 300 million more Internet users than in 2017. What's more, it is expected that around 80% of mobile phone owners will use messaging apps instead of simple calls by 2020. However, as judged by the number of enthusiastic Hooch reviews on the AppStore and GooglePlay, it is obvious that Lin Dai and his team are really on to something big.
As more and more people spend their time sitting on the couch at home and talking to friends via social media, Hooch is seen as an antidote, a way to get back in touch with people face to face. The success of Hooch has proven that going out and meeting new people in real life is just as popular as ever.
TAP Coin was created to reward users of Hooch and to also solve another problem. This time it is to do with advertising in the 21st century, which let's admit it, has become increasingly stagnant and ill-prepared for the modern world. Simply buying purchase data from credit card companies doesn't work anymore. A new way of interaction with customers was sorely needed.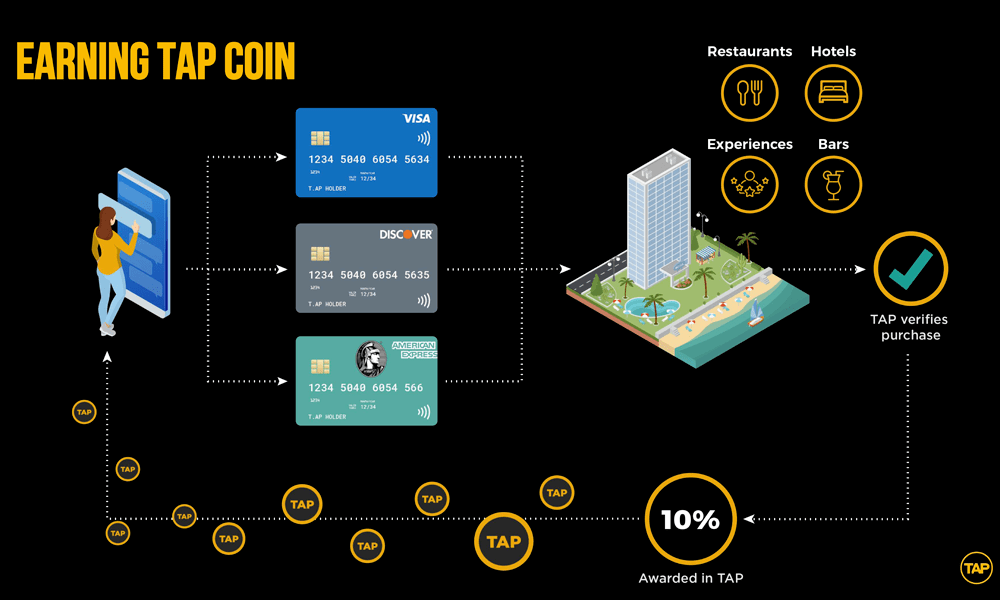 TAP Coin came to the rescue with a win-win situation where customers would get certain perks (like a privileged experience or discounts in favorite bars) for the permission to use their purchase data, without compromising their personal information. The advantage of this form of data collection lies in its accuracy.
Sure, this all sounds straightforward enough, yet it could hardly happen without blockchain technology. Although there are blockchain skeptics, we can't deny the fact that if it is applied to the needed field for a specific purpose, the benefits are huge.
Disclaimer: The opinions expressed in this article do not represent the views of NewsBTC 
or any of its team members. NewsBTC is neither responsible nor liable for the accuracy of 
any of the information supplied in Sponsored Stories/Press Releases such as this one.