'Digital society' is usually not the first description that comes to mind when an emerging economy is mentioned. It might come as a surprise then, that the Ghanaian population is rapidly embracing the principles of the digital society – in line with trends across much of Africa. According to a 2016 PWC survey on Banking in Ghana, there are 36.4 million mobile phone subscribers in the country, exceeding the 27.8m population. Having achieved more than 100% mobile penetration puts Ghana well ahead of the overall average in Sub-Saharan Africa, set to reach 100% in 2021, according to the  2016 Ericsson Mobility Report.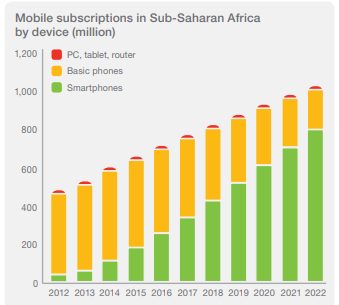 Infographic 1 – Increase in smartphone uptake
The far-reaching results of deep mobile penetration are hugely positive for Ghana and the region. Mobile connectivity provides a springboard for the uptake of smartphone subscriptions and mobile broadband. This is enabling a digital transformation, with mobile technology providing the platform for innovation and service delivery.
Especially beneficial for the Ghanaian people and economy is the dramatic improvement in accessibility to financial services enabled by mobile connectivity. Today, 2 billion adults worldwide are unbanked – entirely excluded from the financial services sector.[1] The statistics are improving, but the presence of large populations with limited or zero participation in the financial system results in unfavorable consequences. Individual financial security is compromised, as is job market participation. The economic development of countries and regions is heavily impacted. So much so, that in setting priorities in the fight to end poverty, access to basic financial services is the UN Sustainable Development Goals top target.
Trends in Ghana are moving in the right direction. While in 2011 just 29 % of the Ghanaian population had a bank account, by 2014 this number had risen to 41%.[2] Driving this positive change is the digital transformation that is encompassing the banking industry, underpinned by mobile uptake. The data from 2014 shows that 13% of the 41% that had a bank account, also held a mobile money account.[3] The introduction of mobile money is quickly improving access to financial services across the whole of Sub-Saharan Africa. [4]
Infographic 2 – Ghana Account ownership 2011 and 2014 age 15 plus
With mobile money, people who can't access traditional banking services now have a solution, allowing them to make and receive payments on their mobile phones. The resulting increase in financial participation yields huge benefits. People included in the financial system can start businesses, invest in education and save for the future. Not only individuals benefit from this as access to financial services may help to reduce income inequality and promote economic growth[5].
The promising backdrop in Ghana creates enormous opportunity – possibilities for the uses of digitized payments go far beyond the current cases. Some visionary companies are strategically positioned to provide financial services of the future, and one such start-up is Fintech disruptor Humaniq. Based on Blockchain technology and biometric identification, Humaniq is a simple, intuitive mobile app with more than 400,000 downloads through which users from 16 African countries can send and receive payments in cryptocurrency. The ambitious application of technologies takes digitized payments to the next level.
Humaniq envisages a world in which it empowers the 2 billion unbanked people, and cutting-edge services that will make this possible. Zero-fee money transfers, remote work and direct lending to entrepreneurs are some examples of services changing the lives of individuals. With the ever-growing user base, Humaniq creates a blue ocean for new projects. Humaniq's open API platform is planning to accommodate plentiful start-ups, who would drive the financial inclusion.
A leapfrog movement towards inclusive digital societies in Africa has begun, and start-ups such as Humaniq are well-positioned to drive financial services to their next generation of evolution.
[1] http://www.worldbank.org/en/programs/globalfindex
[2] http://www.cgap.org/blog/ghana-dfs-helps-spur-41-increase-financial-inclusion
[3] http://datatopics.worldbank.org/financialinclusion/country/ghana
[4] http://www.worldbank.org/en/programs/globalfindex