One of the long-standing narratives in the crypto industry is that "institutional money is coming."
The idea behind this narrative goes that once Wall Street — a word encapsulating the world's financial institutions — has thrown its support behind Bitcoin and other cryptocurrencies, there will be an unstoppable bull run where rising demand will send this market much higher than it is now.
Data suggests that at long last, the institutions are here, with a recent report from a leading crypto-asset manager indicating that Wall Street, at least some segments of it, are betting big on the crypto market, especially Bitcoin and Ethereum.
Institutions Are Betting On Crypto
A report from crypto fund provider Grayscale Investments released this week confirmed that there remain institutional players that continue to demand cryptocurrencies.
The report indicated that during the first quarter of 2020, the firm brought in $503.7 million, with most of the capital allocated in Grayscale's two flagship crypto funds: the Bitcoin Trust and the Ethereum Trust, which trade on public over-the-counter markets under GBTC and ETH, respectively. $503.7 million is double what the firm raised last quarter, Q4 of 2019.
Grayscale's quarterly report has just hit the wire:

– Inflows into its various cryptocurrency funds soared to an all-time high of $503.7 million.
-More than $1 billion was raised in last 12 months.
– 88% of investors were institutions pic.twitter.com/3sMMvk6OJ6

— Frank Chaparro (@fintechfrank) April 16, 2020
What was especially notable about this metric is that according to Grayscale, 88% of the $500 million in inflows came from institutional accounts, with multi-strat hedge funds, global market funds, and other categories of funds all expressing demand for cryptocurrency.
Fidelity Investments has corroborated this trend. Speaking to The Block's Frank Chapparo, a spokesperson for the multi-trillion-dollar Wall Street asset manager said that the firm's crypto business is in the midst of seeing "pipeline growth."
Anecdotal evidence, too, has confirmed the overall trend of Wall Street institutions dabbling in crypto. Mike Novogratz, CEO of Galaxy Digital and a former partner at Goldman Sachs, said in a recent interview with Bloomberg TV that he has seen an increasing number of hedge funds and other institutional investors dive into cryptocurrency over recent weeks and months.
Join the Institutional Wave
Many readers of this article are unlikely to be institutional investors, but retail investors too can easily gain exposure to Bitcoin and other cryptocurrencies and, thus, can also benefit from the narratives pushing this market higher and lower.
One such way is through SimpleFX, a leading multi-asset trading platform available through desktop, tablet, and mobile. Cryptocurrencies are core to SimpleFX's online trading interface called "WebTrader," which allows users to trade a variety of assets — from Bitcoin and Ethereum to stocks, foreign exchange, commodities, and stock indices — using margin.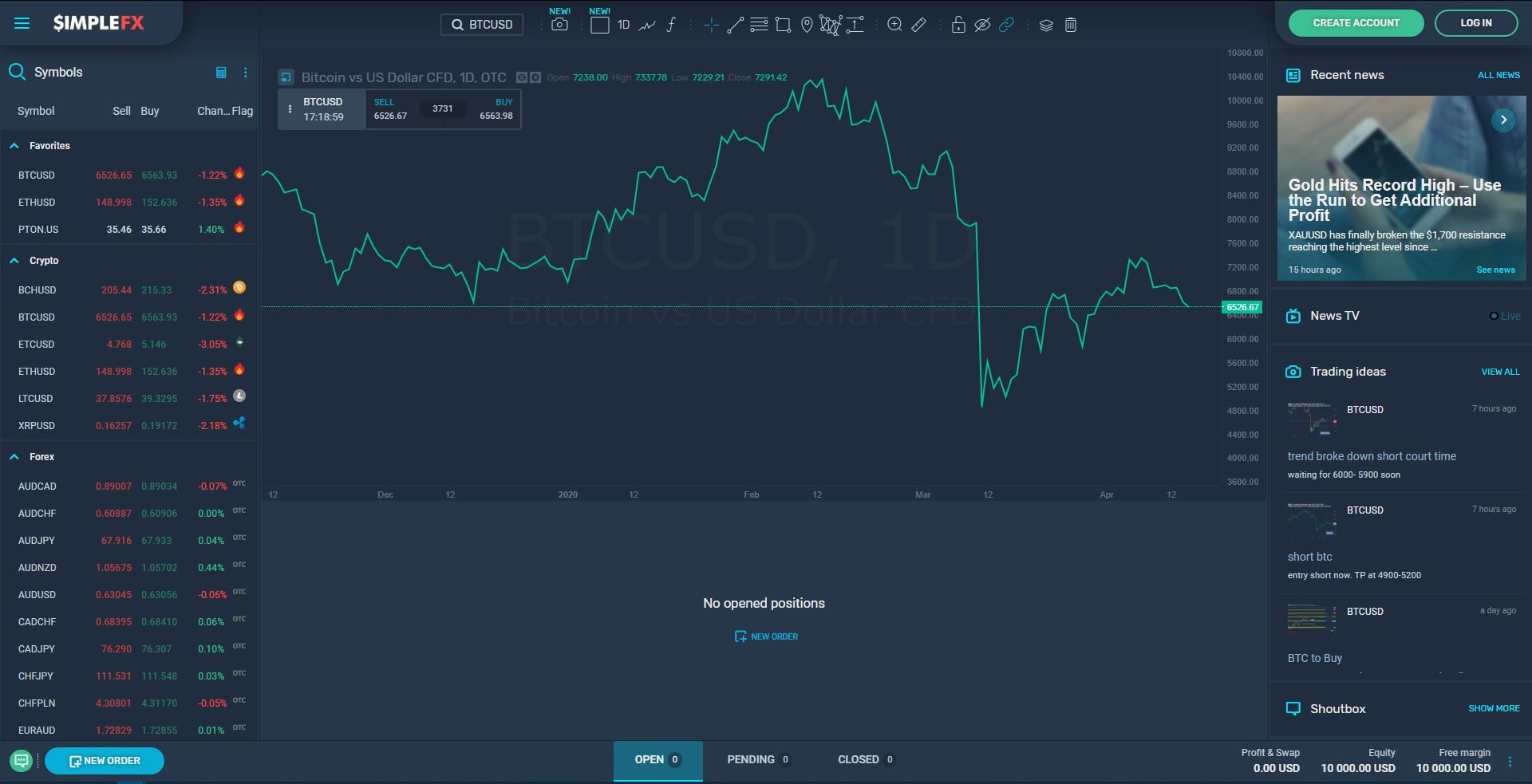 WebTrader isn't only a place where people can trade assets, it is also a place where users can analyze the movements of assets through indicators and read up on fundamentals through the integrated news aggregator.
The specific set of cryptocurrencies the site supports is as follows: Bitcoin, Bitcoin Cash, Ethereum, Ethereum Classic, Litecoin, and Ripple's XRP. It's a comprehensive list that should afford traders many opportunities to profit from the trends of 2020.
Photo by Peter Nguyen on Unsplash