Meet Jim Preissler– ICO & Business Advisor to Zerocoin
Jim Preissler joins ZeroEdge in an advisory role, bringing his vast knowledge and experience within several key sectors, including Blockchain, TMT, Crypto, FinTech, casinos and gaming, retail, and many other fields, to bear on Zerocoin ICO. Jim is the ideal advisor to oversee our Pre-ICO and ICO stages, having recently experienced impressive success at the helm of trade.io, raising over $31 million during their ICO phase. Jim is a graduate of Yale University in New Haven, Connecticut and divides his time and considerable expertise (over 20 years) between business interests in the USA and Greater China.
Jim is a bona fide ICO and blockchain expert and regularly advises a wide range of enterprises on how best to utilize these new and exciting technologies, particularly zerocoin and smart contracts to achieve their goals. We believe that Jim is the right man to lead ZeroEdge through its Pre-ICO and ICO processes, lighting the way for the unprecedented success that we at ZeroEdge and zeroedge.bet, foresee for the future of the new age of 0% house edge, truly fair online gambling.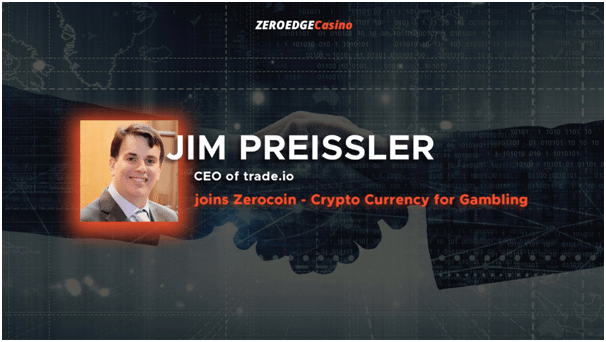 ZeroEdge.Bet – Revolutionary online gambling platform with 0% house edge games
ZeroEdge is a unique concept set to revolutionize the way you gamble online. Currently, all online casino games come with a house edge, i.e. the advantage that the casino has over you, which varies between 1% to 10% or more, depending on the game. ZeroEdge's solution – offer games with 0% house edge and give players a completely fair chance of winning. In other words, playing at ZeroEdge.Bet is literally free, you don't have to pay anything to the casino like it's with traditional online casino sites.
The most amazing part is that Zerocoin value increases as more people join the world first 0% edge gambling platform. It is all achieved by creating a closed-loop economy in which high demand for 0% games drives Zerocoin's value up. This model is also known as Metcalfe's law which was originally invented in 1993 and can be seen in the actual Bitcoin's price growth. ZeroEdge offers a unique gambling model which potentially could revolutionize the $70 Billion gambling industry. Players won't be losing money but instead earning from the increasing Zerocoin value.
We have made a survey & asked hundreds of people about their gambling preferences & experiences.  The main finding was that 99 % of them stated that they would choose 0% house edge games to play if such games were available. High demand for the world's first 0% house edge games will increase the Zerocoin value exponentially. An important task for us will be to educate the players and raise their attention to this beneficial concept.
Zerocoins (ZERO) will be available to investors during an upcoming ICO. Visit https://tokensale.zeroedge.bet to find out more.