SimpleFX, the renowned forex, cryptocurrency, and CFD trading platform has launched a new, redesigned BETA version of its web-based platform. The new Beta WebTrader version comes with lots of improvements over the existing offering, and it will soon be replacing the current version.
With the platform still in Beta, SimpleFX invites users to report any bugs and provide feedback/suggestions for further improvements. In a statement, SimpleFX said,
"We are introducing pure Beta version since we would like our clients to suggest what we could improve, and which new features should be introduced."
The latest version of SimpleFX WebTrader has opened to new features including powerful technical analysis tools with everything fully adjustable (including color, width, style, and end), Bars, Area for the chart, and Different trend lines, arrows, ray, channels, angle, shapes: rectangle, ellipse, triangle, curve, arc, among others.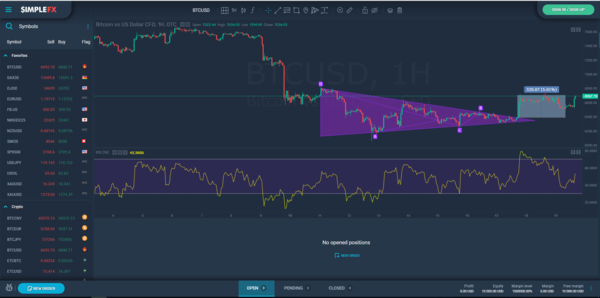 SimpleFX has increased offerings of technical tools to maximize the ease of making a technical analysis on trades for professional traders. The newly designed version includes support for Fibonacci tools, Gann, Pitchforks. Traders can analyze markets on the go by combining tools such as brush, patterns, ruler, price range, object tree, among others.
Particular highlights of the entirely new design on the trading platform include a remodeled trading engine where traders can make and track trades easily, faster loading time, and faster pricing updates. These features are to complement other new features for placing orders.
Upon placing a new order on the SimpleFX Beta WebTrader, traders can check all necessary data for optimizing risk management. They can quickly check order details, such as required margin, pips value among others. SimpleFX has also improved their limit orders. From now on, users can set not only price levels but also an expiration date to improve trades management.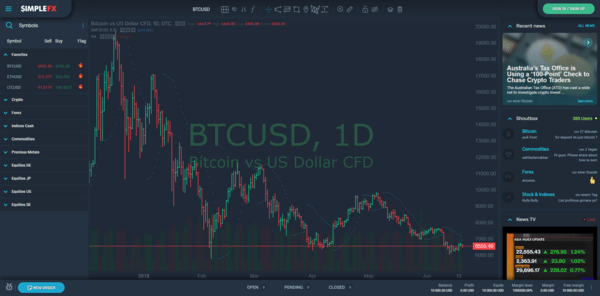 Traders are offered plenty of options to customize their WebTrader to assure the highest level of user experience. Everything on the new version is adjustable, including chart and indicators settings and options. There are other additions to the trading platform for a more convenient trading experience.
Introduced "News" and "TV" section.
The simplified shoutbox on the right-side panel of the Webtrader now contains only 4 rooms to make traders' experience more comfortable. In the "All news" section, traders can now view live streamed News and TV.
This new feature focuses on improved cryptocurrency trading productivity, with traders getting instant access to all breaking news stories, as well as collaborations in the space, and security. It is integrated with Bloomberg Global News by default and should remain so, once the new version enters general availability.
The newly designed version remains an option for traders and remains available alongside the older version till the end of August 2018, when the SimpleFX team is planning to disable the older WebTrader as new homepage goes live.
All these options gathered in one convenient tool.
Beginning September 2018, the new SimpleFX WebTrader platform will move towards general availability and traders will start using the new design. Presumably, this change will enable traders to manage their account easier than ever before.
With just one click, traders will be able to opt out of email statements and newsletter. The traders also decide if they would want to view charts on market list or rather just current price levels for all available currency pairs and symbols. The new application also gives possibilities to hide all drawing tools on the chart without canceling.
The new version also makes it easy for the traders to access to their affiliate panel. Simple tools for managing all their indicators so they can easily access all active indicators and choose which ones to see or disable. All these options are gathered in one convenient tool on the latest SimpleFX WebTrader.
Founded in 2014, SimpleFX has been leading the rising popularity in cryptocurrency trading. The trading platform is one of the most attractive platforms, providing ample information to traders for an enhanced trading experience.