Investing in portfolios such as IPO, real estates and the likes has been a big hustle only left to the elite and institutional investment firms which have full coffers and have the technical know-how of navigating the sector. However, with the advancement of technology new tools and techniques have been devised to help retail investors to invest in such industry with as low as $10 through Roobee.
Roobee is a startup which is harnessing the working algorithms of blockchain technology combined with artificial intelligence to get rid of barriers which prevent retail investors with as less as $10 to make investments. Having had success in its pre-seed funding where an investor going by the name of 200m invested $4.5 million, Roobee has set plans in motion to hold its Global Token Sale which went live today at 21:00 (GMT +8). Besides having made huge strides in bagging investments, Roobee is proud to have had its platform enable 5,000 people to make investments worth $15,000,000 by investing over 21,000 ETH in various portfolios. The much-awaited IEO is now available on BitForex with various bonus options.
The Roobee platform is backed by a strong founding team led by co-founder Artem Popov who is an experienced serial entrepreneur with experience in multiple fields. He is not new to the investing space as he has previously founded a community with over 300,000+ investors in the ranks. Other notable people in the team includes the likes of Amine Berraoui, who is the CEO of Roobee and has previously worked with some of the top banking and financial institutions like Citibank, RBS, ABN Amro, and Deutschebank. The technical development of the project is in the safe hands, under the leadership of the CTO Oleg Gaidukov with his 14+ years of technical experience. He is an expert in blockchain, machine learning, FinTech and AdTech, and has previously held the position of Head of Telecommunications and Enterprise Networks at Banca Intesa. Oleg has built a real-time traffic exchange with distributed trust and rating system using Distributed Ledger Technology and the sidechains concept. He is supported by Arthur Stepanenko, one of the top 300 machine learning engineers as rated by Google Kaggle and Dan Kaizer, the head of Blockchain R&D and the Overall Winner of ETHWaterloo Canada 2017 and BlockchainHack Russia 2017.
On the marketing front, Vladi Siganevic holds the reins as CMO. He comes with over 15 years of experience in digital marketing and manages Creamfinance Czech as CEO. His company is known for its cutting-edge personal finance products and has revenues of over 35 million euros. Others include Jay Park – partner at Crimson Park Partners, Bruce Lee — founder of BN Capital and Partner at Root Labs, Albert Sagiryan – Partner at GEMCORP Capital, Daniele Azzaro – strategic consultant for Barclays, Lloyds, RBS and other global financial institutions.
The Roobee Ecosystem
Roobee is an entire investing ecosystem based on blockchain technology. The main parts of Roobee ecosystem are the Roobee Network — which is the underlying permissioned RoobeeChain blockchain created by the combination of HyperLedger Fabric and Ethereum blockchains tasked to secure investors' funds and provide transparent reporting, RoobeeID – digital user identification, public and private keys for security and access control, and RoobeeWallet- a multi-currency wallet to store and exchange assets.
Other parts of the Roobee Ecosystem are RoobeeScore – a system responsible for evaluation and scoring of investment products, based on which they are presented to the platform users; RoobeeFin – AI-based smart user assistant and portfolio builder that uses advanced machine learning algorithms to analyze and create investment plans for individual user profiles. And then there are RoobeeMarket (marketplace for users to build their own portfolios), RoobeeLiquid (Roobee Network's internal OTC platform) and Roobee Terminal (a place for asset managers to trade on RoobeeLiquid and other exchange platforms).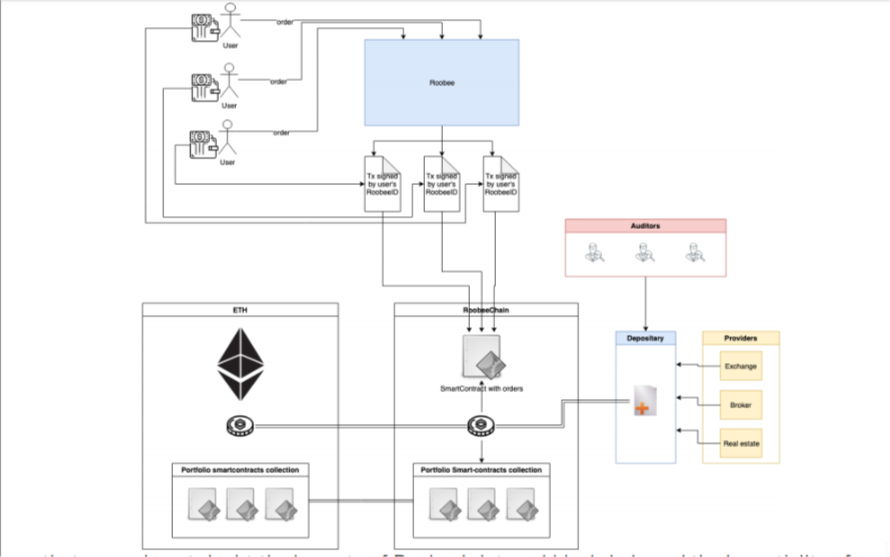 Roobee's mission and its ecosystem have garnered a lot of attention from some of the big names in the market. A lot of investors are following the project closely and have high hopes for it.
"I see the same potential in Roobee that I saw in Binance at the time. Roobee has a target on an actual problem of millions of people around the world and has great potential for development in the next years. I will hold Roobee token, just as I hold BTC, BNB, EOS and other cryptocurrencies that can grow greatly according to my calculations", said one of the Bitcoin whales,
Roobee Global Token Sale
The essence of this publication is to shed more light on the upcoming token sale (IEO) which will have two rounds. The first round kicked off on the 13th of May at 21:00 (GMT+8) and come to an end on the 17th. The platform will open the subscription table with first round having 75,000,000 Roobee available at a rate of 0.01 USD. Further on, the second token subscription round is scheduled to start on the 18th and end on the 22nd of May. The second round will also have the same amount of Roobee available.
However, while the subscription times have been set, the first subscription might reach its conclusion if the hard cap is reached or if the set duration is reached, i.e., the first round will end when either of the conditions comes first. The above will be available for only one trading pair Roobee/BTC. The minimum purchase is pegged at 1,000 Roobee while the maximum is at 1,000,000 Roobee and there will be no lockup.
The IEO is now live on BitForex, and those participating in the event also stand a chance to avail attractive bonuses. The company has three different bonus packages in place, starting with Silver, which guarantees individuals a 5% bonus. Similarly, the Gold and Prime packages will give BitForex users 7% and 10% bonus respectively. More details about the bonus offerings are available on BitForex' Roobee IEO event page – https://event.bitforex.com/en/ROOBEE.html
UPDATE: Roobee IEO on BitForex is successfully ended. Information about further token sales you can find at https://roobee.info/