The ever-growing cryptocurrency community is still attracting a lot of people who would not only like to get acquainted with its concept but also participate in trading. But without the knowledge and expertise, many shy off.
Although cryptocurrency volatile nature may pose a challenge to traders, the use of technical analysis tools gives beginner traders an upper hand while trading. Furthermore, new trading platforms such as SimpleFX have put in place user-friendly interfaces and processes which enable new traders to have an easy time when trading. Moreover, they also provide charts that depict previous market trends for analysis and decision making.
To understand more, this article is going to provide answers to some of the questions that may arise when one is a new player in the trading field.
Bitcoin and other cryptocurrencies currently available are the perfect currencies for day traders because of their volatile nature. Using technical analysis methods, traders can watch the trends in the market carefully and maximize on the price fluctuations. In the long run, a trader will be able to make more profits when the currency is on an upward trend and stop as prices start declining through the use of leverage margins.
How CFD Trading works
CFDs or Contract for difference platforms gives traders an opportunity to capitalize on price fluctuations without owning the assets. It is like making a bet.
In order to trade, you need to choose a symbol, i.e., EUR/USD, trade size and direction of your trade (buy or sell). You can also choose between two types of orders: a Market order which is opened immediately and a Pending order which is activated when the price reaches the activation price.
Your profits or losses are determined by the open price of your order. For instance, a trade of 1 size on EURUSD generates 0.01 USD profit per each 0.00001 price change above your entry price. With CFD trading you can use a leverage and lower your margin requirements. If used with caution, the leverage can greatly increase your profits.
What is technical analysis?
A technical analysis is merely a study of previous market trends to predict future trends. The research usually focuses on price history especially price and volume data and market patterns. From the market patterns, traders can predict future trends and be able to make better decisions.
What is the difference between trading and analyzing crypto vs. stock and forex?
When it comes to trading or doing an analysis concerning the crypto market, crypto enthusiasts have an easy way of accessing all the data and proceed with the trade. First and foremost, the stock and forex trading industry is heavily regulated by governments hence limits potential traders. Traders have to provide a lot of legal documents to be able to open a trading account. On the other hand, trading in crypto is quite easy as all one has to do is open an account and provide very few details unlike when opening a forex or stock trading account.
When it comes to analyzing the crypto market today, there are many expert views and reports covering the crypto industry compared to stock and forex industry. Furthermore, accessing these reports is quite easy for anyone whereas getting an analysis concerning the forex or stock might be hard. Another major difference between the two is the trading sessions. Crypto traders have an opportunity to trade 24/7 whenever they want, but forex and stock trading sessions are restricted. For instance, a trading session can be from 10 am to 7 pm.
What are the best 5 technical analysis indicators for cryptocurrency
Day traders would love to know that besides understanding the market trends there are indicators that aid in making decisions. Some of the best indicators are Average True Range, Parabolic SAR, MACD, Bollinger Band and Moving Average. A point to note is the use of these indicators is only to aid you in making your final decisions when trading. You can use several indicators to make decisions.
How to use indicators with SimpleFX WebTrader
Using the indicators mentioned above is quite easy. First open SimpleFX WebTrader and pick your preferred coin and proceed to select your indicator. To locate the technical analysis indicators while on SimpleFX platform, please navigate to the top menu bar and click on the "f" symbol as shown in the picture below.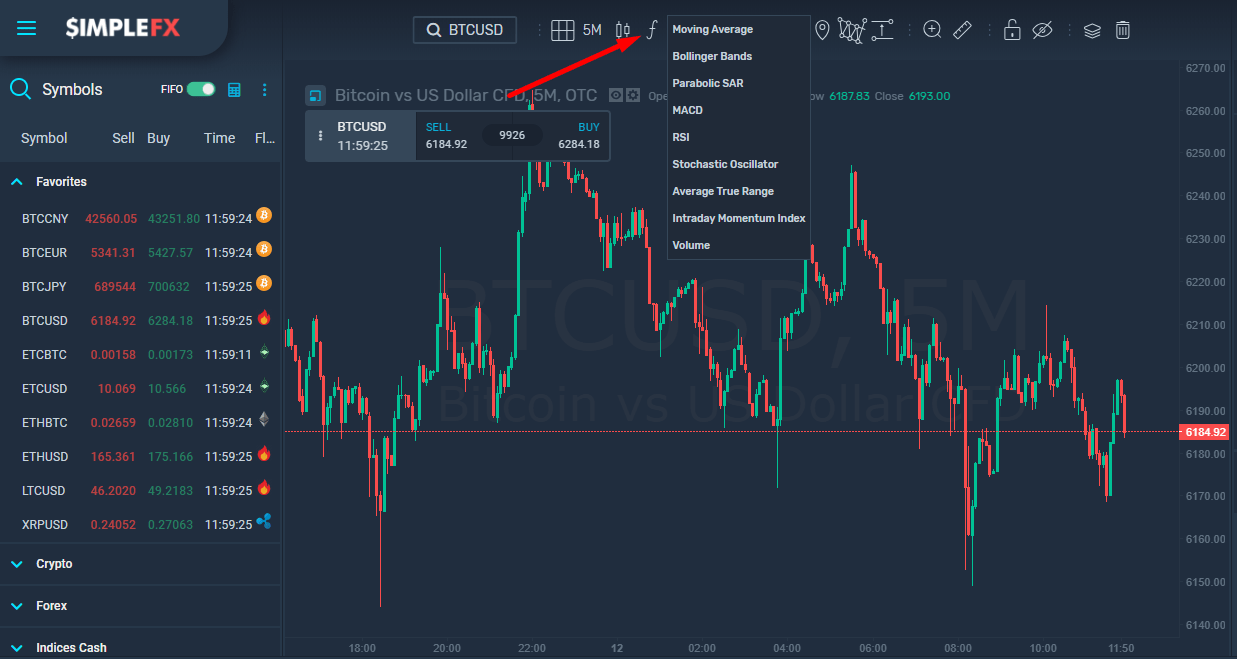 Click on the f symbol and a drop-down menu will apply with all the technical analysis indicators available. From the menu, click on your preferred indicator to activate it. Once you click on the indicator, your technical analysis indicator will be ready. For instance, the picture below shows the Moving Average indicator added.
To make any changes, please click on the settings bar on your added indicator. You can add as many indicators as you like.
SimpleFX Advantages
The new SimpleFX web trading platform comes with a lot of advantages aimed at making traders have an easy time when trading. First and foremost, the platform is well designed, responsive and is user-friendly. With these features, it is easy for any new trader to create an account and start trading. For easy access, traders can access the SimpleFX platform via any device. Both Android, IOS and web users can load up the web platform via their smartphones or desktops without experiencing any problems.
The SimpleFX platform also makes it easier for the users to transfer funds to and from the platform. It supports a range of payment options, including credit cards, Skrill, Neteller, MegaTransfer, Local Payment, FasaPay and bank Wire. Alternatively, deposits and payouts can be made via supported cryptocurrencies which are Bitcoin Cash, Bitcoin, Dash, Litecoin and Ethereum.
As another advantage, the platform gives traders a chance to trade at a 1:500 leverage margin. Which such a margin in place, traders are loaned huge sums of money that can be used while trading to capitalize on the opportunities at hand. Meanwhile, the platform also cautions users to make use of the leverage wisely, to ensure minimal losses. In addition, SimpleFX has included APIs which will now enable the users to install advanced trading tools in a secure environment and manage them as well.
In conclusion, SimpleFX platform is a great platform that has integrated a lot of nice features which help both new and experienced traders.