Early prototype of the Beluga Pay card reader – https://BelugaPay.com
ICOs are funded with nothing but a promising whitepaper,a slick website and scores of influencers singing their praises. Some projects are fighting back, demonstrating proof of concept, before receiving a single satoshi.
Today we explore an ERC-20 ICO offering, with a live product in market and a relationship with Mexico's largest domestic bank. Their native cryptocurrency BBI offers to solve some of the biggest issues that merchants face and also allows a cut of their transaction fees, with estimated processing to total 400M by 2019. Without further ado, meet Beluga Pay.
Live product and partnerships with multi billion dollar companies
Based primarily out of Guadalajara, "Mexico's silicon valley", Beluga Pay are developing a mobile point of sale system (mPOS) that will accept VISA, Mastercard and Crypto. In Mexico, Beluga go under the name "Espiral" and have over 200 live merchants using their mPOS to process payments in their businesses. Beluga anticipate that in 2017, through the trial of their app in Mexico alone, they will transact 4M USD and currently have industry leading chargeback rates of just 0.1%. The team are offering prospective tokenholders the chance to test a whitelabel app, developed by Beluga, which strengthens payment options for farmers, built for Pioneer, a Dupont (NYSE:DD) company. María Avila, Beluga's head of customer happiness,can arrange a product tour on request.
Beluga has acquired an exclusive, perpetual, global license to Espiral and their team, with the goal to expand its payment technology to new areas. Focusing on the 2 billion unbanked adults that primarily reside in developing countries, Beluga believe they can move much more quickly to market than large traditional incumbent companies, in regions such as Africa, South-East Asia, Europe and the Caribbean. With much of the population being unbanked in Mexico, Beluga may understand this demographic better than most.
A new and improved software and mPOS will be rolled out later this year to Beluga's existing customer base in Latin America, with continued updates scheduled and localization in-line with expansion. Throughout 2017 and 2018, Beluga will introduce a new product suite which is aiming to be, in their own words:
"The first complete mobile point of sale system"

Merchants can accept Crypto and with Beluga's existing VISA and Mastercard processing certifications, accept cards. American Express integration is currently a work in progress.
All point of sale products will be open source, allowing merchants to display their brand while Beluga quietly processes transactions and provides the tools needed to help businesses grow.
Beluga Peer 2 Peer is an accessible, easy to use app in the vein of Paypal or Venmo that facilitates p2p transfers. Users will be able to send via credit/debit cards or crypto. Funds can be deposited the next day into a user's bank account.
Designed for the food and beverage industry, Beluga Restaurant edition streamlines communication and transactions between customer, kitchen, server and management. All software is optimized to run in areas with poor internet coverage.
Data, Data, Data. Beluga feeds vital analytics to merchants in real time, allowing them to make smarter decisions and grow their business.
The new Beluga product suite will heavily incentivise use of their native ERC20 token, BBI.
BBI Tokens and ICO:
Beluga is using blockchain technology to power the next generation of merchant tools.
BBI tokens will solve real-world merchant problems by providing the following utility:
BBI token-holders receive 0.5% on all transaction fees.
Information sourced from the Beluga Pay whitepaper.
Currently, when a consumer uses a credit or debit card to make a purchase, the merchant will have to wait two business days to receive their settlement, for example: a payment made on Thursday evening would arrive Monday. Micro and Small businesses transact over $6.5 trillion USD annually, instant access to these funds can be a lifeline for businesses in developing nations. BBI tokens have the option to be used as gas for instant merchant deposits, allowing business owners to pay their staff, buy more stock and to cover vital and urgent expenses.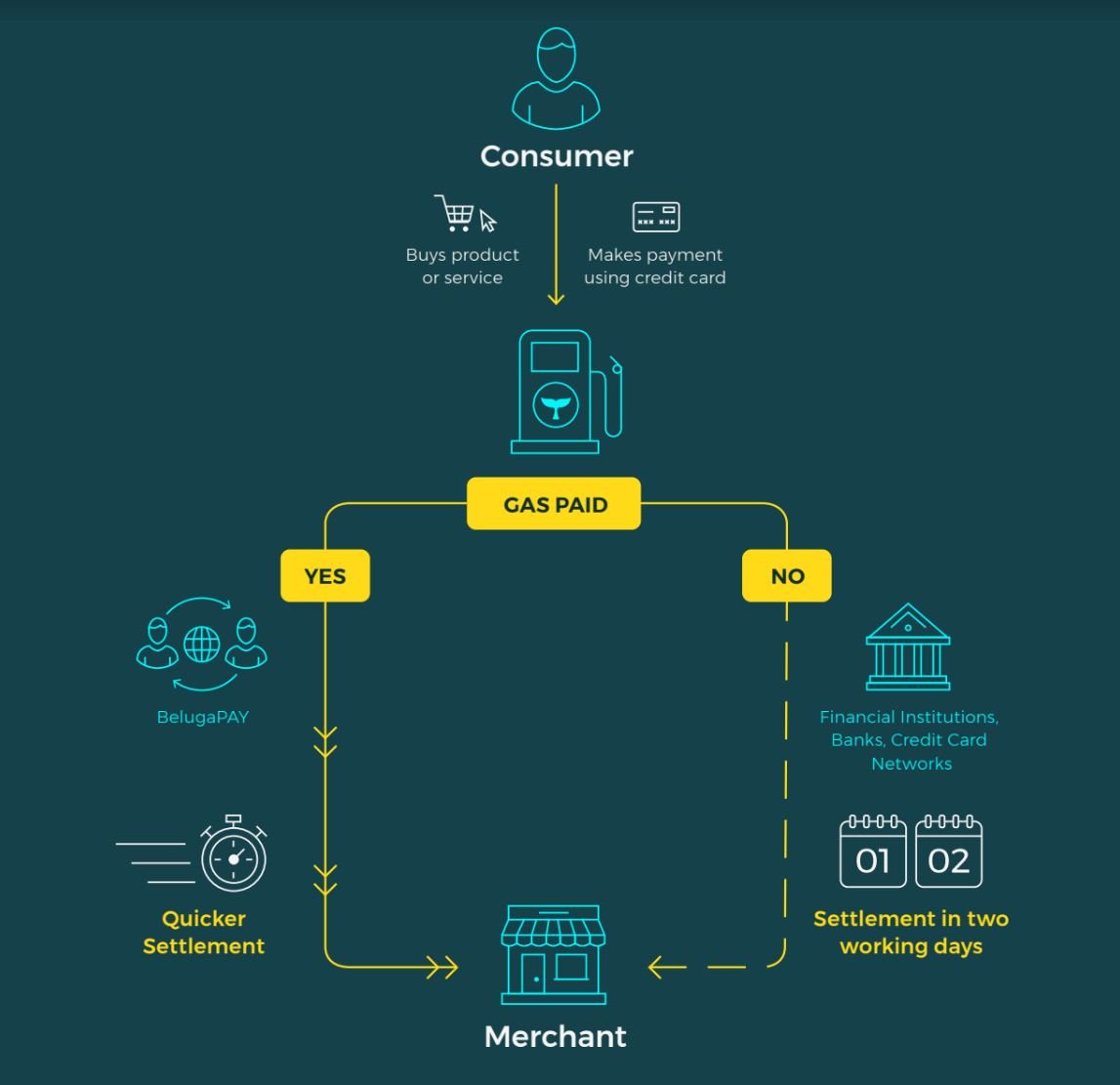 Each BBI token will serve as a one month membership to Beluga Pro: offering advanced analytics and a faster settlement speed than non-BBI-Gas deposits.
Beluga have informed NewsBTC that they are currently in talks with travel, entertainment, hotel, goods and service providers to create an exclusive loyalty points system. Beluga Points are accrued by using Beluga products and the more BBI tokens a user holds, the more loyalty points they can earn.
| | | | |
| --- | --- | --- | --- |
| 1,000 BBI | 10,000 BBI | 25,000 BBI | 50,000 BBI |
| 1.25 x points | 1.5 x | 1.75 x | 2 x |
Belgua Pay will offer 40M of a total 100M BBI tokens during an initial coin offering. Tokens will be distributed and funds used in the following format: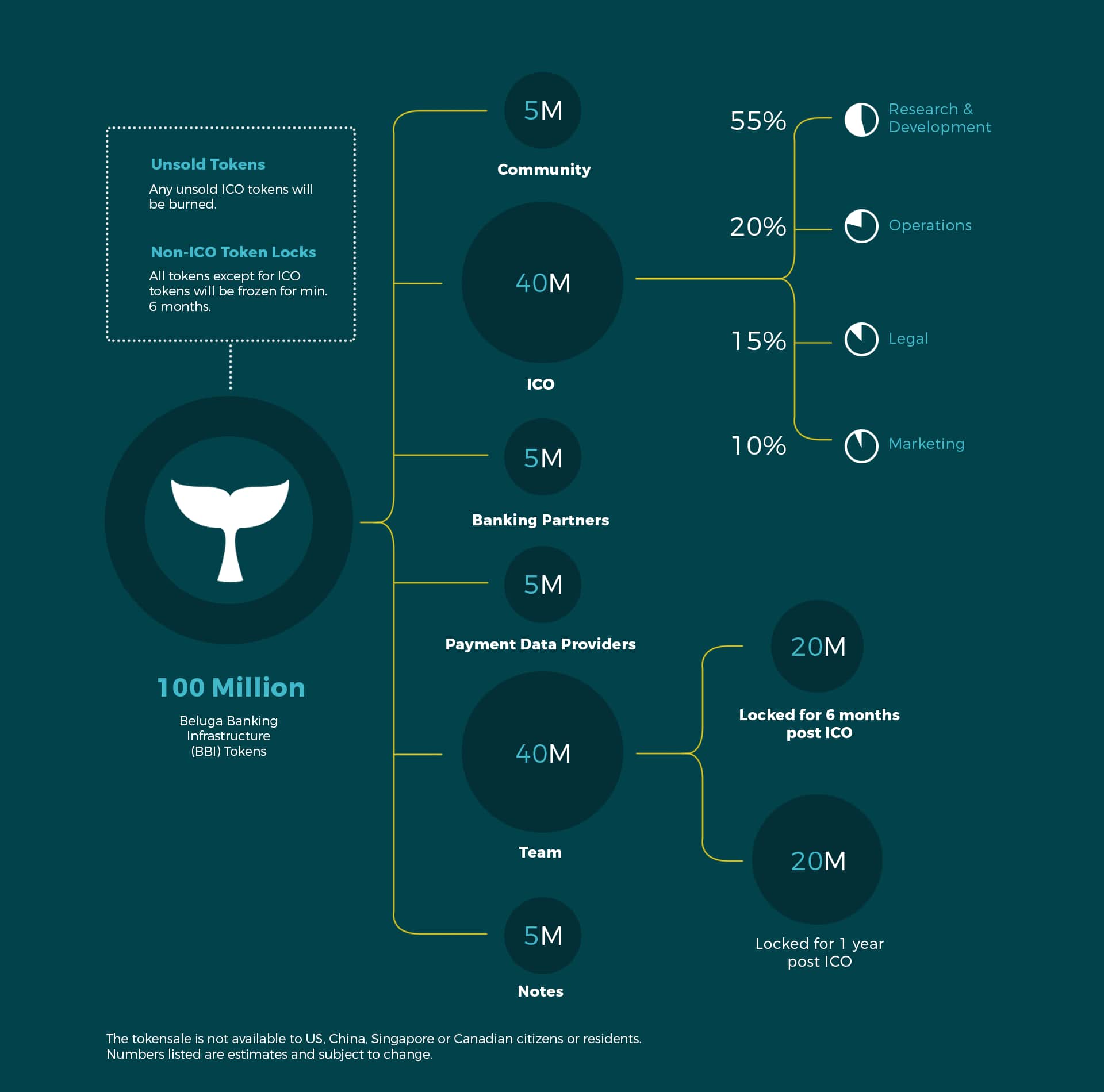 | | | |
| --- | --- | --- |
| Whitelist Private sale | Pre-sale | ICO |
| Now – Nov 14 | Nov 14 – Dec 14 | Dec 14 – January 31 |
| 1 ETH = 388.80 BBI (3 ETH MIN) | 1 ETH = 345.60 BBI | 1 ETH = 288 BBI |
Cryptocurrencies accepted: Ethereum, Bitcoin.
Social Media & Community chat groups
Telegram: https://t.me/BelugaPay
Twitter: https://twitter.com/BelugaPay
Facebook: https://facebook.com/BelugaPay/
BitcointalkANN: https://bitcointalk.org/index.php?topic=2270648
Bounty: https://bitcointalk.org/index.php?topic=2294773
Blog: https://medium.com/@BelugaPay/
Reddit: https://reddit.com/r/belugapay