When it comes to crypto futures exchanges, the average trader will utilize a standard toolkit of some ordinary crypto trading pairs, usually 100x leverage bitcoin perpetual contracts; bid/ask orders. However, Bex500 Crypto Exchange is a whole different story.
To free traders from complicated jargon such as "initial margin", "forced liquidation", "margin ratio", Bex500 launches a cutting-edge crypto derivative- "double contract".
"Double Contract" or "DB", is a crypto derivative with the simplest rules I ever know, easy to learn and trade.
Think of it as a "Lucky 60 points" game. You can bet on the bitcoin prices going up or down by 60 points. Your stake is the margin you put down. If you are right with the price movement, then your stake can be doubled.
Here is an example,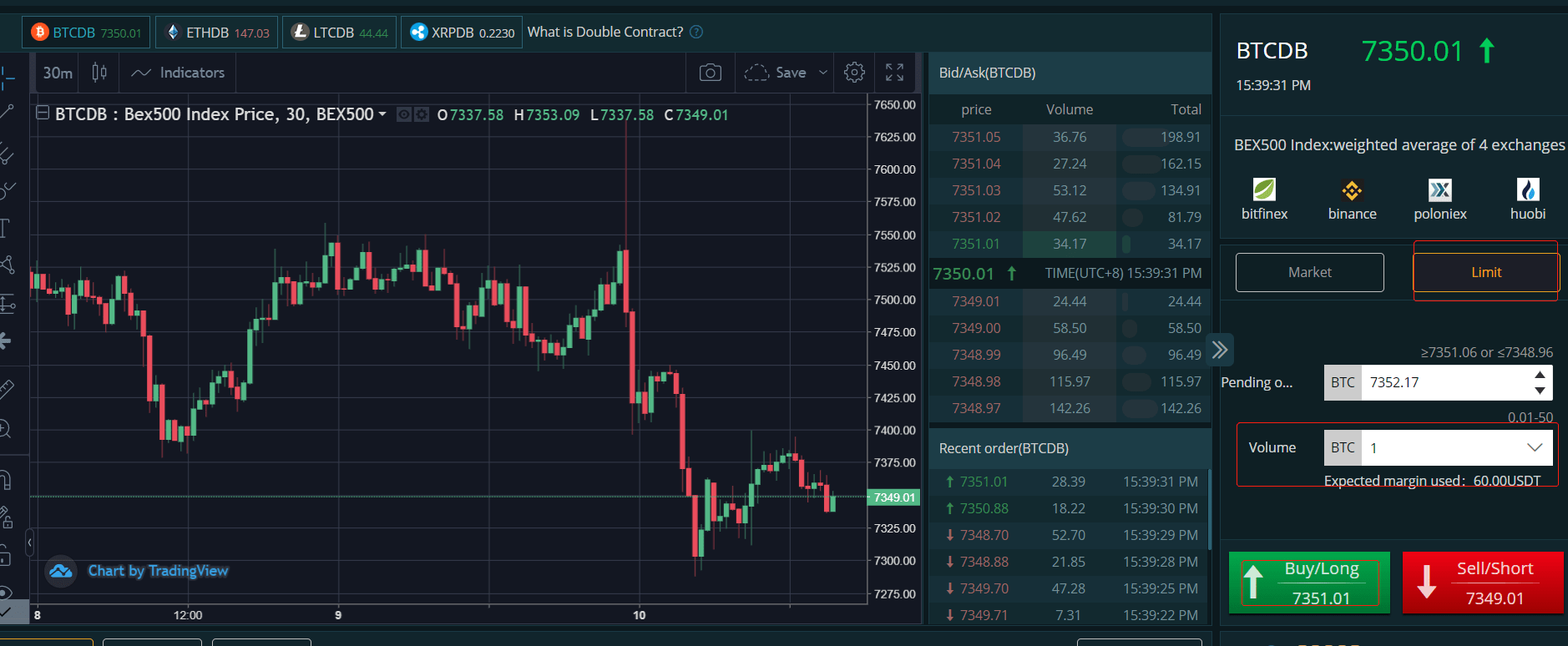 If you think BTC price will go up by 60 points, you can put down 60 USDT as margin (stake), then by clicking "Buy/Long" button, you will bet on 1 BTC worth of contract going up, which is shown in the "volume" blank.
Current BTC price is 7350.01 USDT, when it goes up by 60 points to 7410.01 USDT, your order will take profit automatically, you will win $60 plus your $60 back=$120.
If it goes up by only 50 points, you can still close the order by yourself, and will win $50 plus your $60 back.
As easy as it seems, there are pros and cons with "double contract"
Pros
-Start small
You can start trading with as little as $1.
Unlike traditional perpetual contracts, where the minimum input is nearly 10 USDT, "DB" only requires less than 1 USDT to get in the game.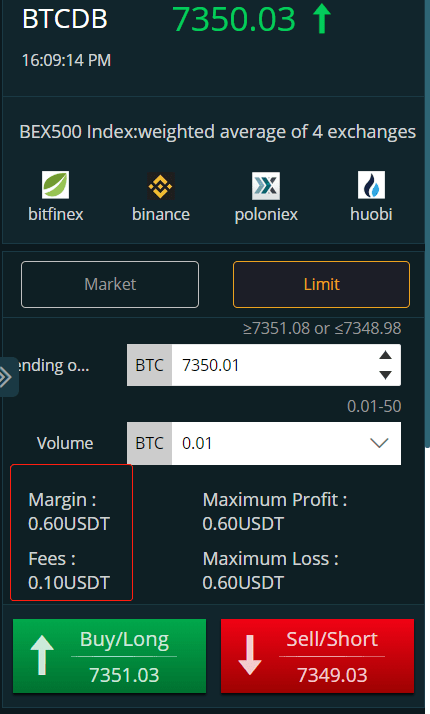 -No market manipulations
Many experienced traders are aware of insider manipulations by exchanges. There are also unbelievable rise and fall of major crypto assets being priced on "shady" exchanges.
When trading DB, you can be assured that the price on Bex500 is the weighted average of these from the world-level exchanges – Bitfinex, Binance, Poloniex, and Huobi Global. Because of this, no manipulation will affect the price of the crypto asset.
Cons
-Sudden victory
With bitcoin volatility, it might take only a few minutes for the price to go up or down by 60 points.
You can imagine what will happen if the price goes down when you expect the opposite direction.
However, the good news is, Bex500 applies negative balances and stop-loss is triggered automatically when the price goes in the wrong direction by 60 points.
Bex500 double contract: The Bottom Line
As easy as it looks, "Double contract" is still a derivative of bitcoin, practice and vigilance are still needed in trading. But Bex500 has done an excellent job to facilitate the trading rules, and upgrade it to a professional alternative to 100x leverage perpetual contracts.
"DB" is actually a trading game that you can master with continuous practice.
It is a starting point from which you can ease yourself into the complexity of derivative market.