XFOC, the 5-year-old blockchain-based fintech platform has released its whitepaper detailing the next-generation blockchain designed to solve the issues faced by existing cryptocurrency and blockchain platforms. The company, states that its new product is capable of dealing with issues like cryptocurrency thefts, unauthorized access to platforms, scalability of existing distributed ledgers and the transaction handling capacity.
The XFOC blockchain has been under development since 2014 and in its current version, it is said to be capable of generating 2 blocks per second, making it one of the fastest in the industry. Also, with that speed, the XFOC blockchain could potentially help the cryptocurrency ecosystem overcome the existing limitations and process transactions as fast as any credit card or P2P electronic money transfer platforms. According to XFOC, the company's blockchain solution can be used for banking operations and that's exactly what the company intends to do. The XFOC banking system is said to implement the said blockchain as a ledger management system for regular financial operations, opening avenues for seamless integration of banking with exchanges and payment platforms.
What does it Mean?
One underlying distributed ledger for managing transactions and record keeping, that can not only handle fiat but also cryptocurrencies will be a game changer as it will create a truly universal network for almost any type of financial instrument. Once implemented across multiple banks, it can potentially open up banking channels to anyone irrespective of their geographical location, enabling them to open an account on supported banks to further the cause of financial inclusion.
In XFOC's words, the platform can support over 1.7 billion unbanked adults across the world, whom it terms as "Financial Refugees". Meanwhile, the bigger aim of the project is to position itself at the center of funds coming from all over the world.
The XFOC Ecosystem
With the aim of creating an enterprise banking solution on blockchain, XFOC is creating an entire ecosystem which includes wallets capable of managing both fiat and cryptocurrencies, asset dashboard, CASHCARD – a debit/ATM card, cashless payment through QR Code and more. The XFOC ecosystem will also include an exchange platform with inbuilt escrow feature.
The whitepaper talks in detail about each of these products and associated security features. All these products will be closely integrated with mainstream banking network and associated solutions to enable all banking related transactions and more. Some of the salient security features to be implemented by XFOC includes
Multisig functions
Rate limiting
Authority control for internal system and operational log recording
System monitoring tools
Account management
Personal information encryption
The XFOC Roadmap and Tokens
According to the roadmap presented in the whitepaper, the platform will be listing its namesake XFOC tokens – the utility tokens of the ecosystem on other exchange platforms later this year. It will be followed by the launch of the XFOC Wallet and Exchange solutions in Spring 2020, then the CASHLESS payment application in Summer 2020 and then the CASHCARD by Winter 2020. All these products will be built on top of its own blockchain network which is already available.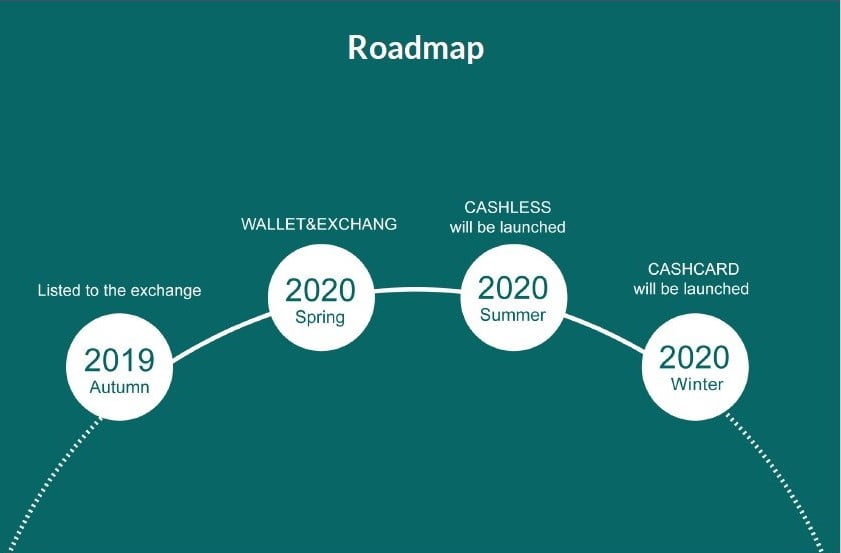 Once the systems are in place, banks can integrate the entire ecosystem as a white-labeled suite and start offering banking services to their customers over the blockchain. The system will be capable of integrating with existing SWIFT network and other banking channels to ensure a smooth transition from traditional banking to new-age blockchain banking.