The collapse of Terra Luna and algorithmic stablecoin TerraUSD in May was one of the biggest setbacks for the broader crypto market this year. The previously thriving Terra ecosystem was completely wiped out in a matter of days, except for the Terra Luna token, which was resurrected as Terra Luna Classic (LUNC) by the community.
Despite losing more than 99% of its value, the cryptocurrency still has one of the most active crypto communities on social media. And from it springs a rumor today that has pumped the price of LUNC by 6%. The rumor says that the second largest exchange in the world by trading volume, Coinbase, might buy the LUNC token in large quantities.
Will Coinbase Buy Terra Luna Classic?
Within the LUNC community, the news that Coinbase has authorized the purchase of $245 million in LUNC is currently spreading like wildfire. The speculation also indicates that the American exchange will make the news public on January 3, 2023, and provide information about additional LUNC burns.
🚨BREAKING NEWS🚨

Coinbase has just authorized the purchase of 245 million dollars in $LUNC. Internal source says that on the 3rd to announce publicly listing more off-chain burns.

— WSB Trader Rocko 🚀🚀🚀 (@traderrocko) December 22, 2022
However, it is important to note that Coinbase has not yet issued an official statement on the matter. The various tweets also do not indicate a source, but merely make the claim based on a supposed source. Who this source of information is, whether it is someone internal, does not seem clear at the moment.
However, if the rumor turns out to be true, it could trigger the often-seen "Coinbase effect," which causes altcoins to rise sharply before a listing on Coinbase. Remarkably, the rumor of a listing of LUNC is not new either.
Just two months ago, the Luna Classic community started a petition to list LUNC on Coinbase, as NewsBTC reported. The Terra community wants to follow in the footsteps of the Shiba Inu community, which managed to get the meme coin listed. The Coinbase effect provided SHIB with a short-lived 20% pump.
LUNC Price Rises By 6%
At press time, the LUNC price stood at $0.00013625, registering a 6% price increase in the last 24 hours. Along with the surge in price, the trading volume of LUNC has also grown noticeably. Within the last 24 hours, it amounted to $90 million, which is 56% higher than the previous day.
However, a look at the 4-hour chart reveals that LUNC remains in a deep bearish trading range. The short-lived rally ended just before the crucial resistance at $0.00014138. To set a bullish trend, LUNC needs to cross the trading range of $0.00013787 to $0.00015379.
If the rally is short-lived, the support zone at $0.00012612 could be an important mark. Otherwise, the all-time low of LUNC at $0.00012136 would probably be on the table.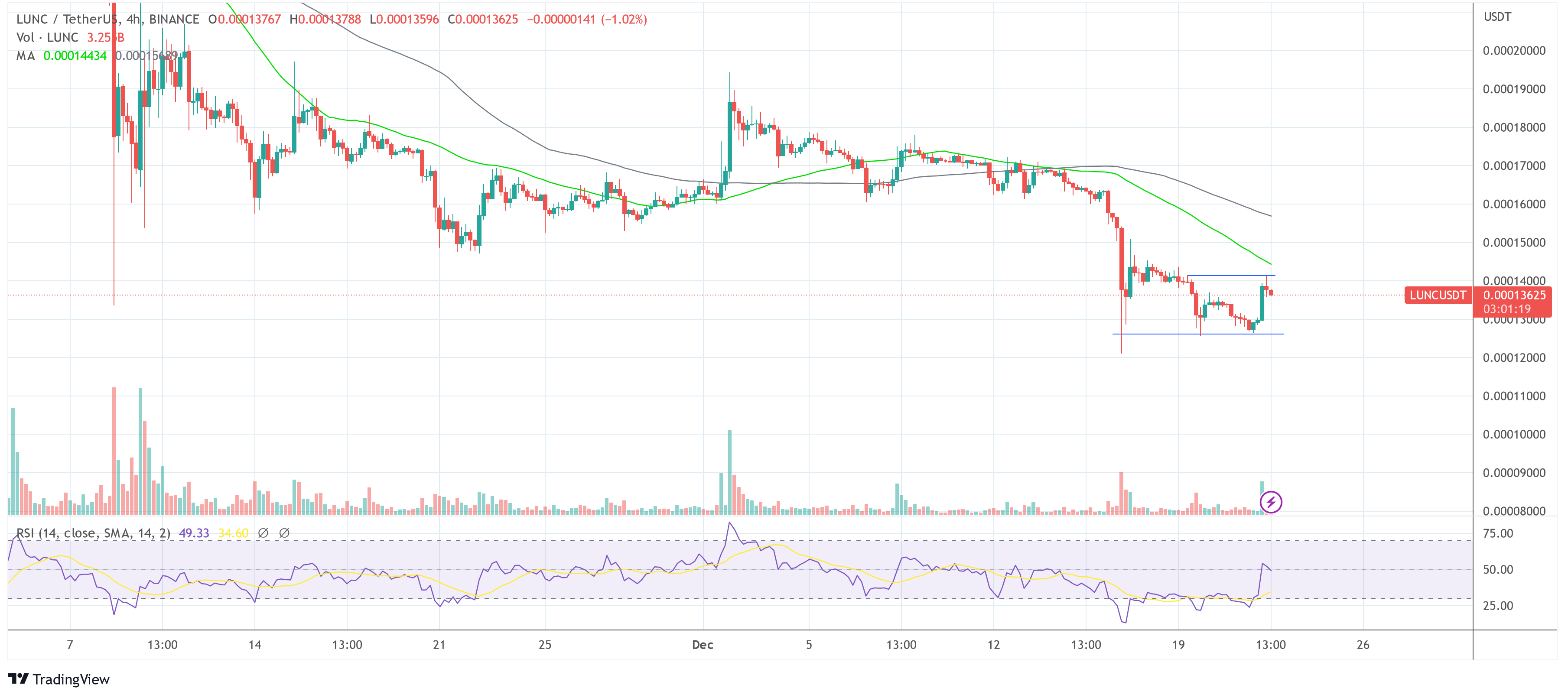 Featured image from Depositphotos, Chart from TradingView.com