Tron prices up 2.5 percent but out of the top 10
ChainLink and Tron partnership rumors may support prices
Transaction volumes drop, averages 6.9 million against 37 million of Feb 24
Rumors are rife that Tron and ChainLink are on the verge of collaboration. If that is the case, Tron (TRX) stands to benefit as demand help lift valuation from current pits. The coin is up 2.5 percent from last week's low but could print above 2.5 cents by end week.
Tron Price Analysis
Fundamentals
Ethereum introduced smart contracts. Smart contracts depend on the underlying blockchain for security and immutability. As an autonomous piece of code and highly reliable when executing the pre-programmed set of conditions, it will be useful in the real world with fluctuating variables if there is a connection, an oracle that feeds and updates it will real-time data. That is what ChainLink does, and while acting as a gap between on-chain and off-chain infrastructures, they enable smart contracts like Tron's access verifiable APIs, real-time data fees or payments while remaining decentralized without a single point of failure or downtime.
It is this agent, an oracle that Tron-based smart contracts will draw their source from if this spreading rumor is indeed true. While unconfirmed by the Tron Foundation or ChainLink, this "collaboration" will remain as it is—conjecture.
Still unconfirmed but possible @Tronfoundation + @chainlink partnership being announced tomorrow. This email was supposedly sent by the $TRX foundation.#Chainlink can trigger #SmartContracts on any #Blockchain.

@justinsuntron $LINK #TRON pic.twitter.com/Zt2MNqpgSO

— Chainlink News (@LINKNewsOracle) March 12, 2019
Nonetheless, this is good news and days after announcing a liquidity creating partnership with Tether, a connection that would see smart contracts activate based on real-time signals will make the network and by extension TRX more desirable for businesses. Already, Tron dApps are drawing more volumes surpassing those of Ethereum and EOS cementing the Foundation's bottom line.
Candlestick Arrangement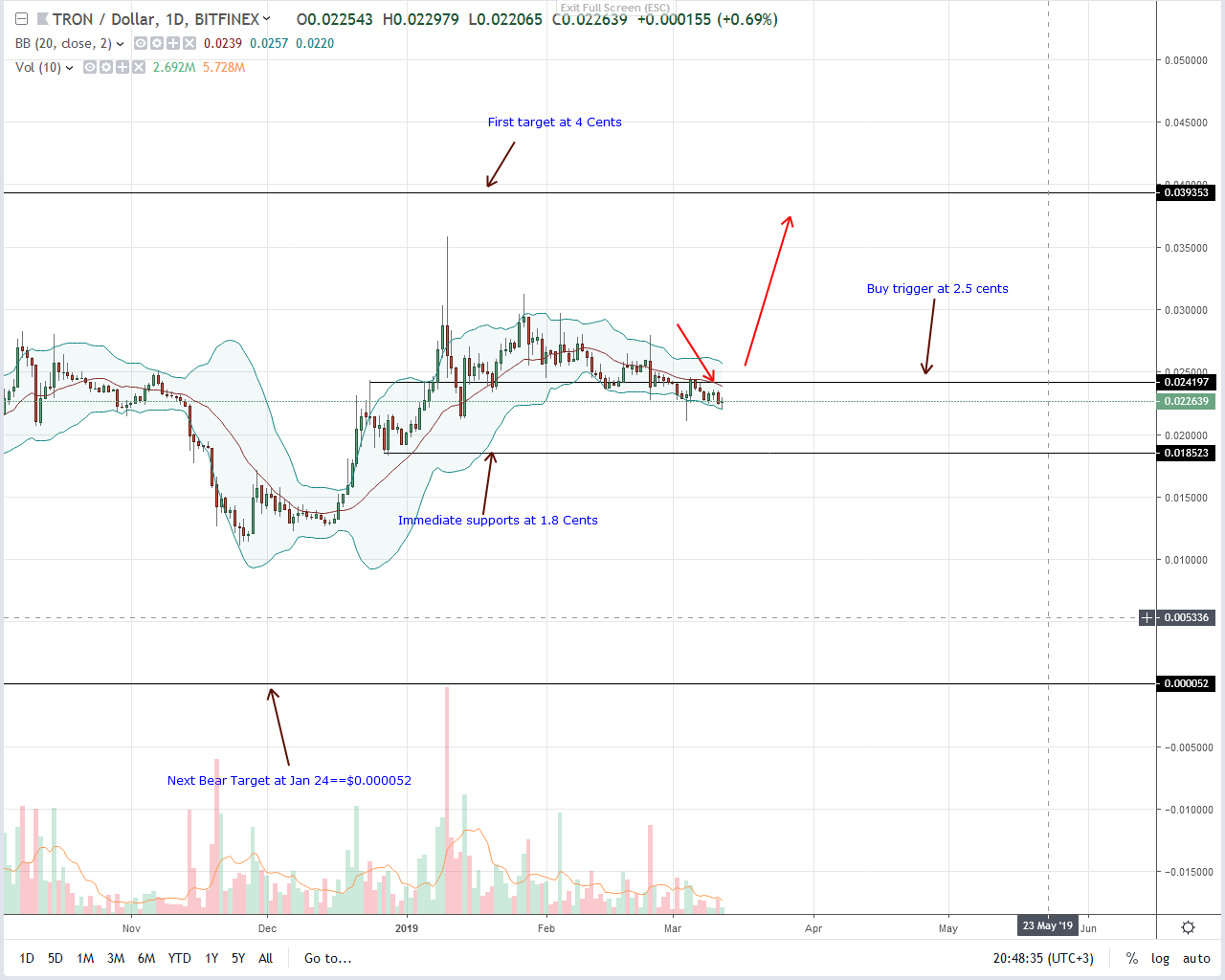 Even so, TRX is down to 11th in the market cap ranking after two weeks of dismal performance. TRX is down 2.5 percent from last week and relatively stable in the previous day. Because of this and unexpected demand in lower time frames, our last TRX/USD trade plan is valid.
Therefore, bulls are in control although the lack of confirmation and TRX close above 2.5 cents should be a worry. Our confidence relies on the price action of the past two days. Visibly, TRX prices are printing higher highs, away from the lower BB meaning momentum is building up.
However, before we recommend longs, prices must break and close above 2.5 cents, confirming the three-bar-bull reversal pattern of Mar3-5.
Technical Indicators
As mentioned above, a single bull bar thrusting prices above 2.5 cents would usher in TRX demand that would likely drive prices towards 3.1 cents.  For that to print out, volumes must exceed 6.9 million average and 13 million of Mar 4.