Bitcoin smashing through $12,000 gave the cryptocurrency enough momentum and energy to take out $13,000 and revisit last year's highs. But while it did so, it caused altcoins like Ethereum, Chainlink, and dozens more to bleed out relative to BTC.
It has left alts in a precarious position, potentially about to be left for dead by Bitcoin dominance and a possible 30% rally from here.
Remember The Once In A Lifetime Altcoin Season And Bitcoin's All-Time High
Bitcoin first arrived after the Great Recession of 2008. Within a few years, the underlying technology itself took new life in the form of altcoins, many designed to improve upon the original cryptocurrency in some way.
Ethereum added smart contracts, while Litecoin sought to improve speed and loosen up the tight supply slightly. Others were created to solve scalability.
Related Reading | Crypto Capital Manager Claims Failed Altcoin Promises Won't Be Forgotten
No altcoins have been able to beat Bitcoin at its own game, but the allure of the next big thing in crypto caused a frenzy of FOMO after Bitcoin exploded to $20,000. The hyper-growth across the crypto industry in both capital and in total coins created, caused BTC dominance, a metric measuring the top crypto asset's weight against the rest of the total crypto market cap, to dive.
A metric that previously never broke below 95%, within a year or two fell to 35% dominance. Ethereum gobbled up a significant chunk, along with XRP, and other top ten assets.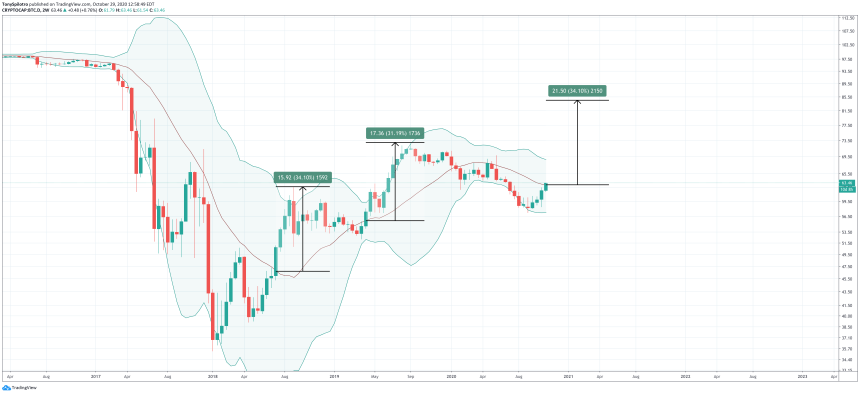 Dominance could close above the middle-BB on two-week timeframes | Source: BTC.D on TradingView.com
BTC Dominance Poised To Wipe Out Alt Rally, Start Slate Clean In 2022
Nearly four years later, and now Bitcoin is on its way back up toward the highs it broke down from, and it could all happen with a two-week timeframe close above the middle-Bollinger Band.
A close above the moving average from which the two standard deviations are derived is a long or short signal. Note that the two previous closes above the middle-BB resulted in an over 30% climb each time. Closing below the middle-BB is what sent BTC.D off the deep end and kicked off the first-ever altcoin season.
TA roadmap shows path to peak in dominance before altcoin season returns | Source: BTC.D on TradingView.com
An inverse head and shoulders bottom on BTC.D peaked as the crypto bubble popped, and a breakout of the neckline took Bitcoin to the 2019 top where altcoins were decimated in its wake.
Related Reading | Crypto Analyst: Altcoins To "Tank" While Bitcoin Runs For All-Time High
Another 30% rally from the middle Bollinger Band that could result from a two-week close above the key level, would take BTC dominance to as high as 85%, coinciding with technical analysis resistance and support levels, as well as retesting a rising wedge pattern and forming the head on yet another reversal pattern.
Combining TA with the technical indicator paints a bearish picture for altcoins | Source: BTC.D on TradingView.com
Combining the technical analysis patterns with the indicator shows how the price action between Bitcoin and altcoins could play out over the next year.
Bitcoin's new bull run beginning and new all-time highs could cause alts to tank as analysts are expecting, but when it finally turns around in late 2022, another epic altcoin season will be due.
Featured image from Deposit Photos, Charts from TradingView.com