Bitcoin price has been consolidating for many weeks now, but has still yet to choose continuation or further correction. Over the last few days, bulls have begun to regain momentum, but have yet to clear one important hurdle before it is "off to the races," says one crypto capital manager.
Here's the line they're referring to and what the rest of the race might look like once this hurdle is overcome and bulls take back full control.
$40,600: The "Hurdle" Bitcoin Must Jump For The Uptrend To Resume
Bitcoin spent nearly two full years in accumulation between $3,000 and $10,000, but once that range was breached the cryptocurrency quadrupled in value in just a few months.
The rise was sharp and abrupt, causing widespread Bitcoin FOMO ranging from retail, to celebs, to institutions and corporations. But after profit-taking kicked in around $42,000, the leading cryptocurrency has been consolidating, and altcoins like Ethereum have stolen the show.
Related Reading | GMI Model Estimates Bitcoin Fair Value At $300K By October 2021
Bitcoin is starting to rise again, and has reclaimed the middle of the current range. But before another attempt at $42,000 which will likely be broken with little challenge, the main "hurdle" price action must  overcome is at $40,600.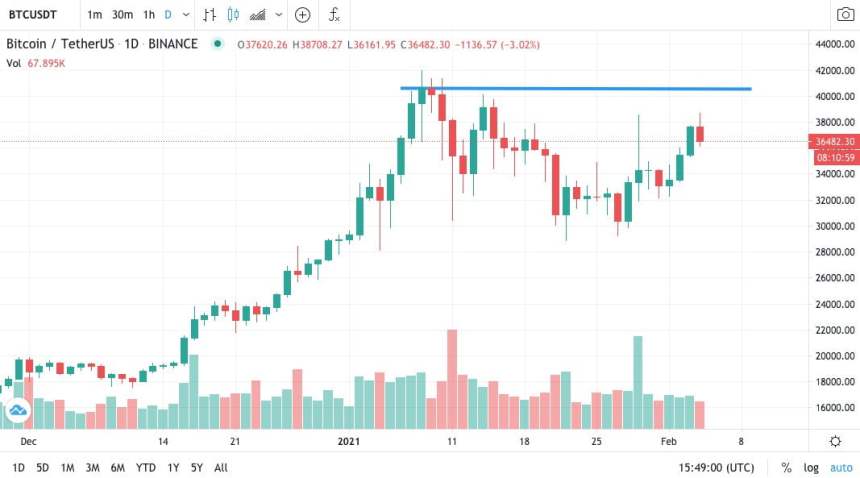 Here is the line that Bitcoin price must beat to keep rising | Source: BTCUSD on TradingView.com
Bulls Are "Off To The Races" Once Resistance Is Taken
What happens when Bitcoin takes out $40,600? Jeff Ross, CEO of Vailshire Capital claims that its then "off to the races" and the uptrend will resume.
According to the chart Ross has shared, the price represents the highest daily candle close on the BTCUSDT trading pair on Binance.
That price might not translate perfectly to competitor exchanges like Coinbase, which have been trading at a premium due to spot buying.
Ross previously called for the rise to current levels after earlier this week confirming a clean technical breakout.  Bitcoin had been trading within what appeared to be a descending triangle. Descending triangles are typically bearish patterns, but in this case after a false breakdown, price action deceptively turned around and broke upward.
Related Reading | Sats Stats: Bitcoin Grows 37x In Four Years From Today
As far as what off to the races looks like, Ross doesn't say, but the next logical level will be the high around $42,000 itself. If that is taken out, Bitcoin price could once again quadruple within weeks as the bullish impulse picks up in pace.
Thus far, the bull run has been behaving very differently than the last, with very few corrections and none reaching the last cycle average of 37% of more.
Without a correction, buyers will be left paying only increasingly higher prices.
Featured image from Deposit Photos, Charts from TradingView.com