As Bitcoin takes out $11,000 and potentially aims higher, renewed talk of the crypto asset's next potential peak has returned to the market.
Analysts do their best to do more than just speculate, backing up theories with fundamental statistics or technical signals to predict future prices. But could it all be based on mathematics that's been around for centuries? And if so, could Bitcoin's next peak be at $270K?
Perfect Fibonacci Extension Progression Points To Next Bitcoin Peak At $270K
Bitcoin price and what it will be some day is a regularly contested subject. Pundits pronounce the asset dead and claim its ready to go to zero. Others, even the likes of billionaire venture capitalist Tim Draper believe it'll be worth in the hundreds of thousands.
If Bitcoin follows the same exact trajectory as the last bull market, it is on track for a top at around $325K, top crypto experts have claimed.
Related Reading | Analyst: Sidelined Capital Enough To Push Bitcoin To $1 Trillion Market Cap
However, each peak has brought investors diminishing returns, so it is reasonable to expect that peak to be lower than the last in terms of ROI.
But could an extremely simple mathematical pattern named after a mathematician born in 1170 perfectly predict each Bitcoin top? If it is possible, the formula points to the next peak at $270K according to a chart shared by a leading cryptocurrency analyst.
The cryptocurrency has been peaking at each Fibonacci extension ending in ".272." Fibonacci retracement and extensions are ratios based on Fibonacci sequence. The next one above is the 4.272 extension, residing at roughly $270K.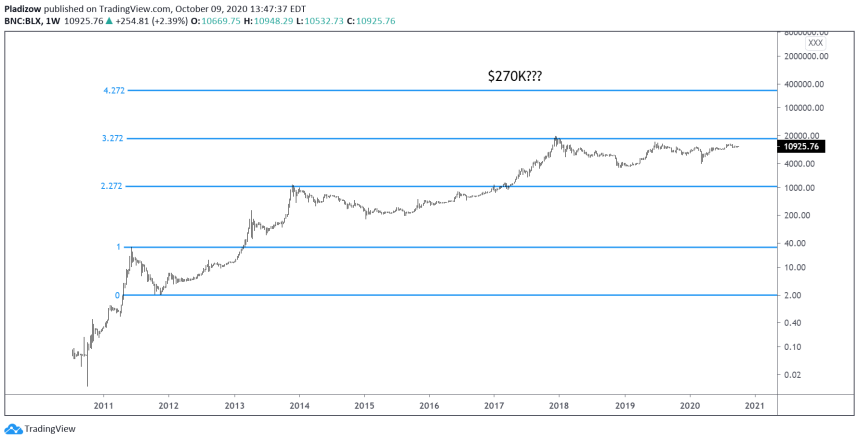 Brave New Coin Bitcoin Liquid Index Fibonacci Extension Predicts Next Peak | Source: TradingView
Demand Minus Supply Equals Next Crypto Bull Run, But When?
Everything about Bitcoin is steeped in mathematics, so it shouldn't be shocking that math itself is the key to predicting the crypto asset's peaks.
The remaining piece of the equation is when this peak occurs. The "when" is argued in the crypto market nearly as much as how much Bitcoin price will ultimately reach.
Believers in the stock-to-flow model expect the cryptocurrency to rip any day now into a new bull market, potentially making that peak a lot sooner than anyone is ready for.
Related Reading | Bitcoin Fundamental Expert: "Clarity" Comes After "Rocky" Election Ends
Naysayers in that model, expect a lengthening market cycle for Bitcoin – one where the halving doesn't have quite the impact that experts expect.
It's hard to argue with the stock-to-flow model, however, because again, it is based on math. Math is one of the most powerful forces in nature, governing space, time, and even the price of Bitcoin.
Featured image from Deposit Photos, Charts from TradingView