Ethereum has exploded higher since the daily lows, rocketing from the $515-520 region to highs close to $580. The coin has retraced slightly to $565 as of the weekly candle close.
Analysts expect ETH to move even higher in the days and weeks ahead. There are a number of technical and fundamental trends set to drive the coin even higher, including the imminent launch of ETH2, the growth of the decentralized finance (DeFi) space, and the simple fact that there is little technical resistance from here toward $700.
Bitcoin's outlook is believed to be somewhat bullish as well. While some are starting to get worried by BTC's technicals, there are fundamental signs that suggest the leading cryptocurrency will continue its ascent. Further strength in the price of Bitcoin should bode well for Ethereum and other altcoins, though it is currently unclear which coin will outperform the other.
Ethereum Set to Erupt Higher, Analyst Says
Analysts think that Ethereum is set to explode even higher as it breaks out of a macro range and past macro resistances for the first time since 2018. Referencing the chart below, which depicts this breakout and ETH's macro price action, a trader recently said:
$ETH / USD This is such a f**king bullish daily close, if the weekly closes up here (which I think it will), next resistance is $750… How can you not be bullish right now when quarter of a million ETH is locked up for more than a year…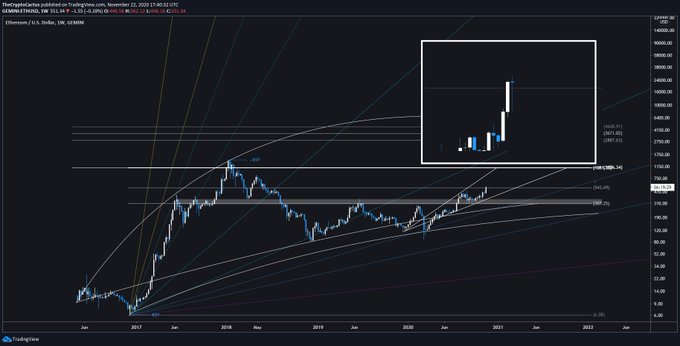 Chart of ETH's price action over the past few years with an analysis by the crypto trader The Crypto Cactus (@TheCryptoCactus on Twitter).
Source; ETHUSD from TradingView.com
Selling Pressure Ahead
While Ethereum's long-term outlook is starting to look much better than it did just weeks ago,
A trader recently shared the chart seen below, which shows the order books across top exchanges for Ethereum. Apparently, there is a lot of selling pressure facing down the coin.
"Serious market buying going on, but the ask side is stacked. I don't expect us to break 600 today," the analyst said in reference to the data seen below.
Data of ETH's order books from crypto trader Byzantine General (Byzgen on Twitter).
Simultaneously, though, analysts are seeing strong price action on the spot market for Ethereum.
Featured Image from Shutterstock
Price tags: ethusd, ethbtc
Charts from TradingView.com
Analysts Think Ethereum Will Shoot Toward $700 as Key Resistances Break