XRP has a major bullish breakout recently, resulting in an over 200% rally. And while bullish technicals had been building, it was the Flare airdrop and promise of free Spark tokens that helped propel Ripple to current levels.
The Flare airdrop "snapshot" of the XRP ledger takes place at the end of this week, leaving only a few days left to prepare your wallet and claim the airdropped Spark tokens. Are you ready and prepared for the airdrop? If not, here's how.
Ripple Effect: Why The Flare Airdrop Helped Trigger The Massive XRP Breakout
XRP investors have had a more painful bear market than most other crypto investors, suffering through three years in a row of the worst performance across the market.
With each subsequent low in Ripple, the army of investors began to fold. Those who were able to hold on, however, have been rewarded well with a surprise 200% rally in Q4 2020.
Related Reading | Underdog Story: Why XRP Could Soon Outperform Bitcoin And Ethereum
In addition to the bullish momentum and resulting ROI, Ripple holders can also claim an equal amount of Spark tokens as part of Flare Network's upcoming airdrop. The allure of free tokens only accessible by holding XRP, was part of what sent the altcoin soaring recently.
But with all the commotion and focus on Ripple, investors don't want to miss out on their free tokens, in which there are only three days left to get set up.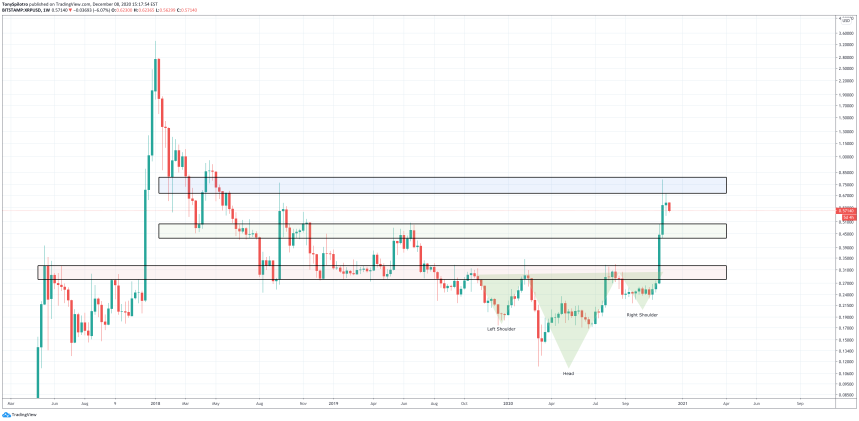 Bullish chart patterns and technical indicator signals suggested Ripple would rise | XRPUSD on TradingView.com
How To Claim Spark Tokens From Crypto Exchanges Or Through Self-Custody
The Flare Network leverages the XRP ledger but brings in Ethereum smart-contracts in order to run DeFi applications on the Ripple-created protocol.
To claim Spark tokens, the easiest way possible is by keeping XRP stored on any of the cryptocurrency exchanges that support the Flare Network airdrop. These include Binance, Bithumb, Bitfinex, eToro, Crypto.com, FTX, Huobi, Kraken, OKEX, KuCoin, and even straggler Coinbase, which users feared would miss the cut off.
The full list of supported exchanges is available on the Flare website and can be seen below, updated as of December 4. Each exchange will handle it all for you and at some point release the Spark tokens to investors who held Ripple at the time of the snapshot.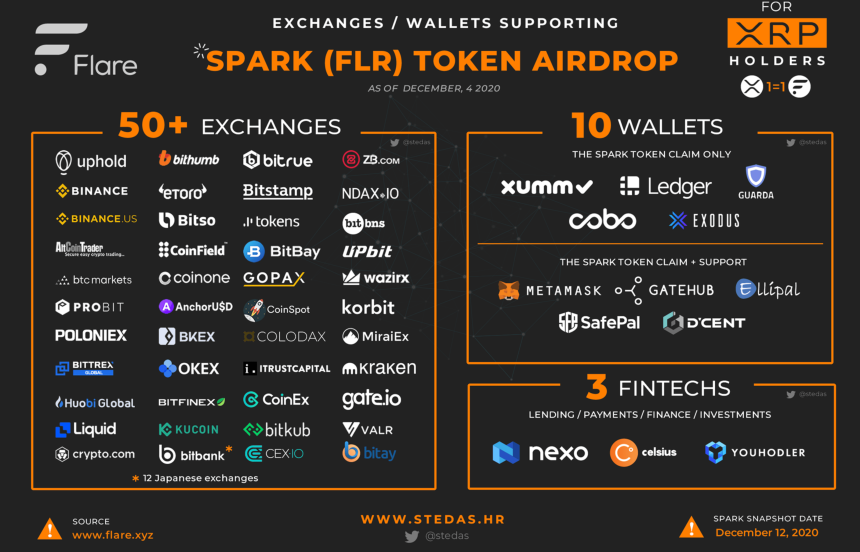 The current list of exchanges supporting the Spark token airdrop | Source: Stedas HR
It is worth noting, however, that anyone interested in participating in the airdrop through any of the supported exchanges must pay close attention to the details associated revealed. For example, Coinbase doesn't plan on giving users any Spark tokens until an unspecified "later date" and reminds everyone that the tokens are first subject to regulatory scrutiny.
Essentially, there's a chance you don't get Spark tokens at all from the supporting exchange, despite their participation in the airdrop. In the end, this ultimately comes down to each region's regulators and is a reminder of the whole "not your keys, not your crypto" quote that is too often overlooked.
Related Reading | Ripple CEO Says U.S. Regulators Are Holding Back XRP's Potential
To ensure ownership over any Spark tokens, it starts with taking full ownership of XRP in a wallet you self-custody. Users must also ensure they have access to a non-exchange Ethereum address.
The remaining steps have been graciously outlined by "Wietse" who is an XRP supporter and developer, and include visiting XRPtoolkit.com with a Ledger Nano connected to interact with the ledger and claim the tokens.
After the snapshot date of December 12, 2020, at 00:00 AM UTC, Spark tokens will available for claiming.
Featured image from Deposit Photos, Charts from TradingView.com