This week, Bitcoin shocked the world with a push beyond $15,000 and nearly hitting $16,000. At the time, altcoins bled out, but few more so than XRP.
One crypto trader has shared a nasty looking long-term chart for Ripple, and believes that Bitcoin's rally could finally force the "XRP army" to surrender and "admit defeat." Here's how such a scenario plays out and how a reversal in Ripple may unfold.
Bitcoin's Rally Ripple-Effect Crushes Top Altcoins
The leading cryptocurrency by market cap this week after taking out last year's high at $13,800, rocketed another $2500 and nearly 20% higher to $15,900.
Bitcoin FOMO is back, and it has caused crypto investors to dump altcoins en masse to fund whatever BTC buying they can. Top altcoins dropped across the board and some even fell to new lows against BTC.
Related Reading | XRP Sweeps Bear Market Lows Against Bitcoin, Is It RIP For Ripple?
XRP, an altcoin that has suffered worse than most throughout the last three years since its previous peak, has just been absolutely decimated on the BTC trading pair.
The fourth-ranked cryptocurrency has set five significant high-timeframe lower lows since the bear market began. Bitcoin is now in a bull market, according to community consensus and the confirmed higher low and higher high.
XRP, however, is still in a downtrend on the BTC pair. And according to a well known crypto trader, it could be enough to finally get the army of Ripple supporters to capitulate.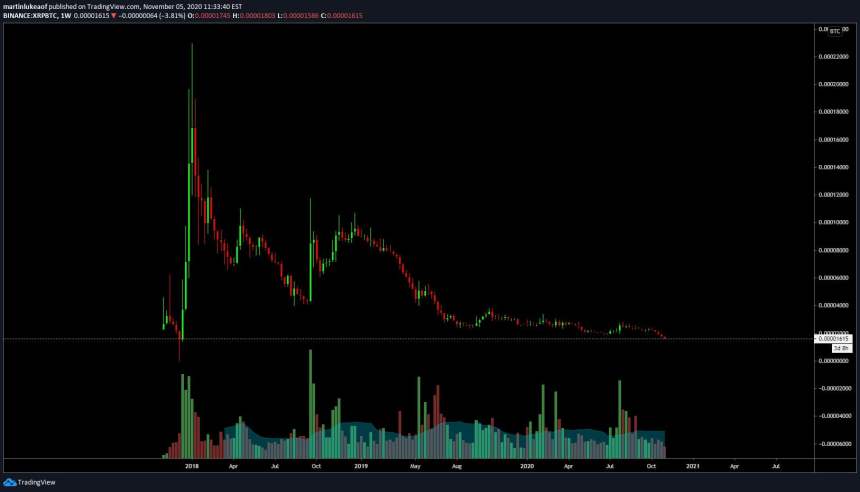 Will the Ripple army finally wave the white flag and capitulate as Bitcoin blasts off? | Source: XRPBTC on TradingView.com
Will The XRP Army Surrender To The Ongoing BTC Rally?
Luke Martin, trader, and host of the VentureCoinist podcast believes that the Bitcoin bull run that's begun recently, to "finally force the XRP army to surrender and admit defeat."
The comment shared along with the chart above, showing XRP falling to what is essentially the only remaining support level left. If the altcoin drops any further, it could cause waves of Ripple supporters to finally wave the white flag.
Related Reading | Silent XRP Accumulation Builds Pressure For Breakout Against Bitcoin
However, that capitulation could also be what finally causes Ripple to roar once again. In Martin's chart, a strong piercing of the lower support resulted in an elastic band-like effect that sent XRP to its all-time high against BTC.
As Martin says, the XRP army could finally admit defeat during the early onset of Bitcoin's bull run, however, that selloff could be the final drop before Ripple's bull run starts, and like the last time, what began as a trickle, soon turned into a waterfall of record-shattering ROI.
Featured image from Deposit Photos, Charts from TradingView.com