Bitcoin dominance continues in a downward trend. Currently, Bitcoin dominates the total market cap by 64.2%, having fallen 3 basis points, or 4%, in two weeks.
Which, when taken in conjunction with double-digit gains for many high caps today, raises the question of whether altseason is on the way.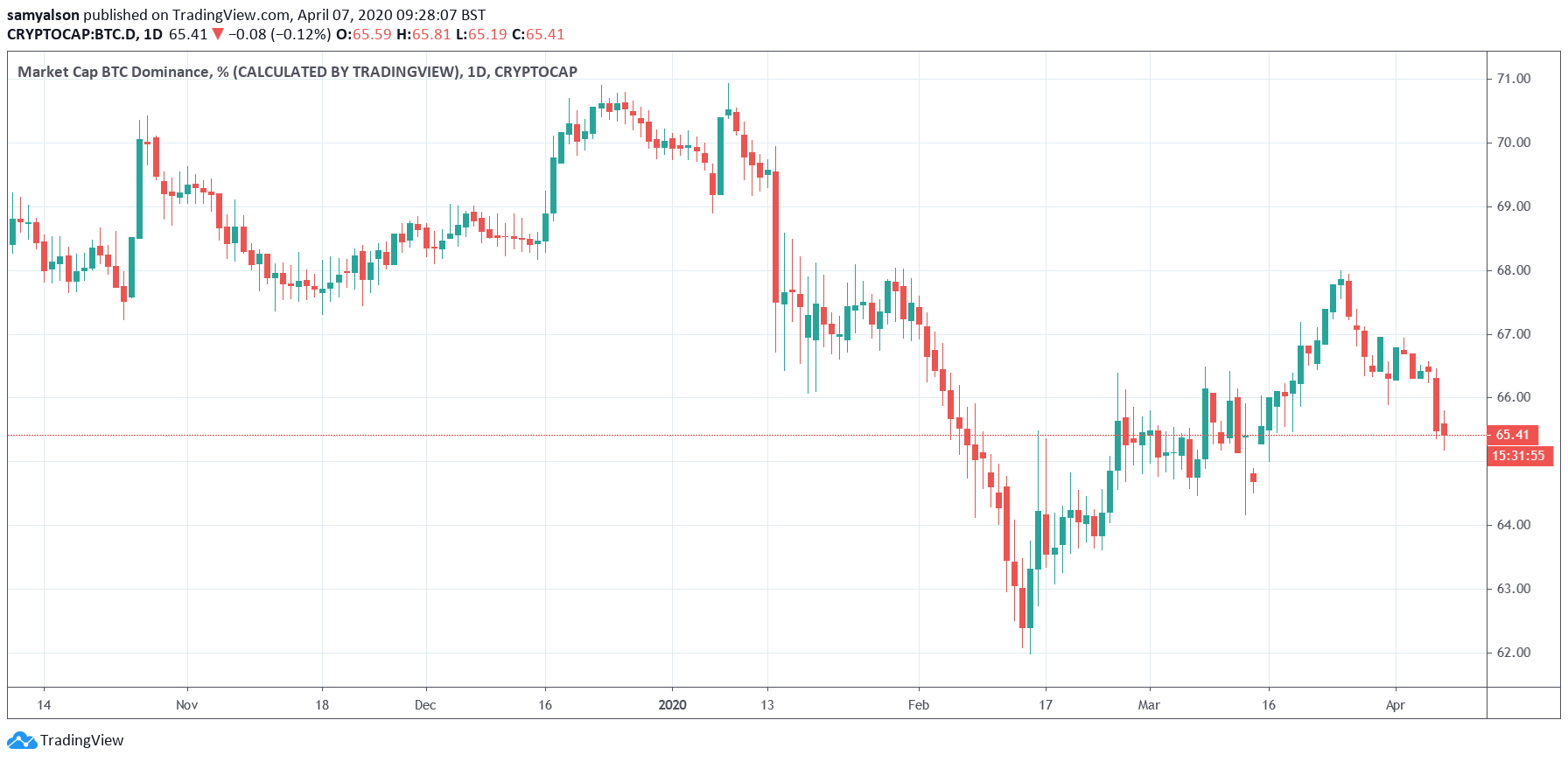 In crypto, altseason is when non-Bitcoin cryptocurrencies begin to soar in value during rising market momentum.
Indeed, the total crypto market cap has shown a marked increase from the lows of three weeks ago. At that time, panic selling had triggered mass outflows of money from the crypto space.
According to tradingview.com, the total market cap fell as low as $108 billion during that period. However, a tentative returning of confidence has seen a 91% gain in market cap since Black Thursday.

The past week saw significant gains for many of the alts, with VeChain posting close to 20% gains in less than 24-hours. Along with Digibyte and Chainlink, which make up the second and third biggest gainers, at 16% and 15% respectively last week.

Shrinking Bitcoin Dominance Defies Prevailing Market Expectations
During the current economic situation, Bitcoin dominance is expected to rise, as crypto investors look to sure up their defenses by using the most trusted cryptocurrency.
As previously reported by NewsBTC, Director of Product at Messari, Qiao Wang agrees with this sentiment. Recently, he predicted that BTC dominance would reach as high as 90% by the end of the economic crisis.
I am no maximalist by any standard, but I fully expect Bitcoin dominance to rise above 90% by the end of this economic crisis.

— Qiao Wang (@QWQiao) March 25, 2020
Expanding on this point, Wang pointed out that alts are driven by speculation demand. But speculation would take a back seat during times of mass destitution, leading to a tailing off of interest in the alts.
"I simply can't see any real demand for alts during the recession phase of the cycle. In the past, demand came from speculation for future utility. But when everyone loses their job, speculation is dead."
But the alts are currently defying expectations, by continuing to cycle higher amidst the crisis situation. And while we are only at the start of the economic crisis, meaning Wang's prediction may well come to pass, there is also a shifting altcoin narrative to consider.
Indeed, since early 2017, the time of the last altseason, many of the alts have carved out their own distinct branding, separate from that of Bitcoin.
The obvious example is Ethereum, which has gone from being a smart contract utility platform to a high-value transaction settlement application, due to the rise of DeFi.
What's more, tied to this idea is the fact that many alts have found definite use cases. Ones that solve real-world problems. As such, to lump all alts together as speculation driven may not be entirely accurate.