Strong moves from Bitcoin this week have rekted altcoins in the process. In the last 24-hours, the leading crypto posted +8% gains to $18.2k.
With its current run of form, many analysts expect Bitcoin to break its previous all-time high soon. Analyst ConnorNix predicts we'll see a retest of $17.1k, followed by an upswing to $20k by tomorrow.
"With the smell of parabolic-ness in the air, one can't help but draw bullish charts.

Retest orange line, 17100ish, this was a big resistance on my charts. Tomorrow 8am gmt roughly.

Then up to purple line which is ATH by the same evening then to the moon!

Bitcoin has surprised a lot of people. I'm hoping it's going to surprise the world ? ."

Source: BTCUSD on TradingView.com
Bad News For Altcoin Crypto Markets
Yesterday saw some reprieve for the altcoins, which have endured bleed out during Bitcoin's near seven-week rally. Bitcoin dominance fell as low as 62%, giving altcoin holders room to breathe.
However, that was short-lived. A sharp reversal today suggests investors are continuing to shun altcoins in favor of Bitcoin. Today, Bitcoin dominance recovers all of yesterday's losses to post an 8% gain.
At present, the Bitcoin market cap makes up 67% of the total crypto market cap.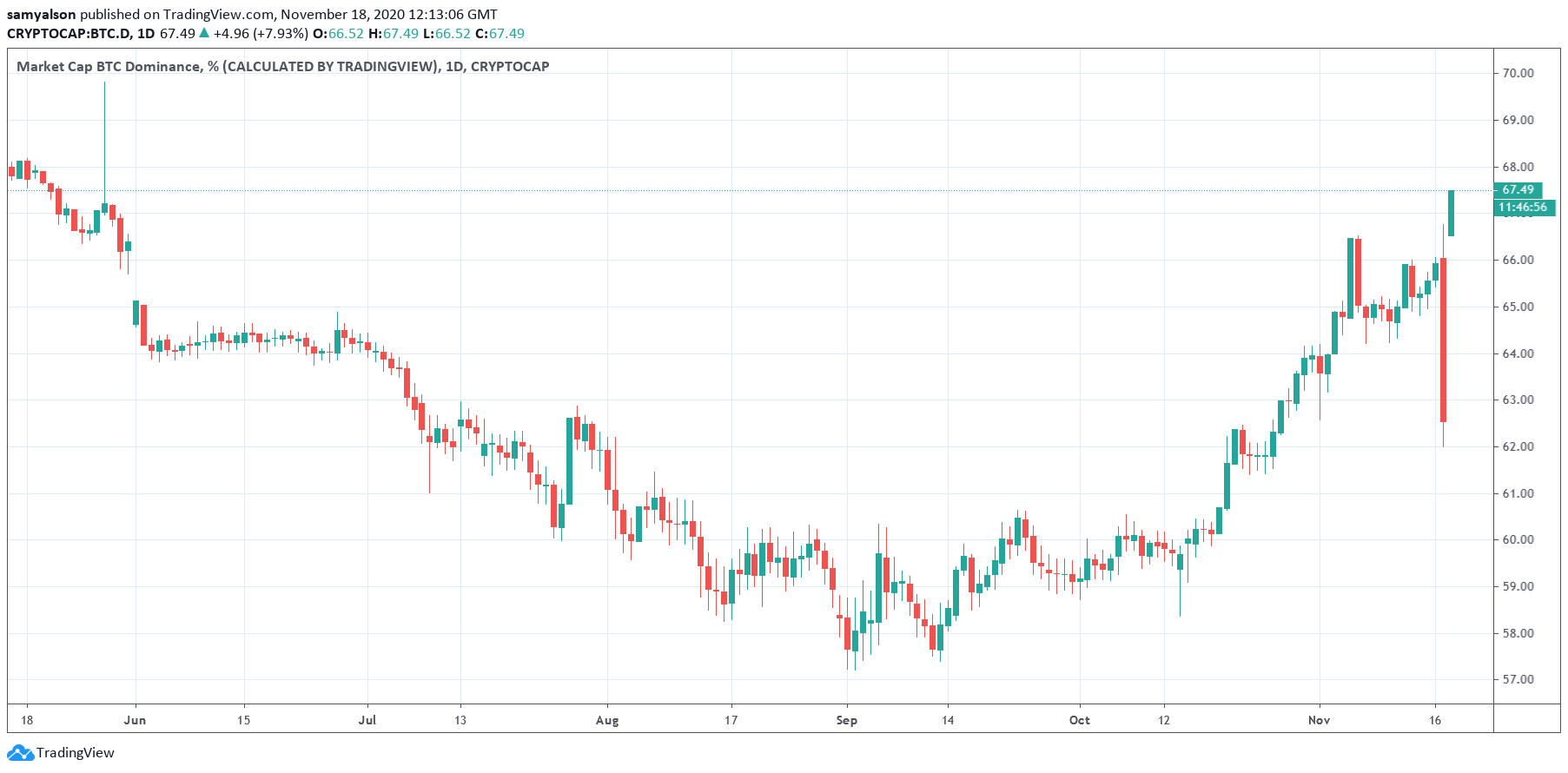 Source: BTC.D on TradingView.com 
The net result sees only a handful of crypto alt tokens gaining against BTC. Notable examples include Digibyte, up 4.5%, and Yearn Finance, up 3.8%.
The overwhelming majority of alts are down against BTC, many of which are in the double-digit losses.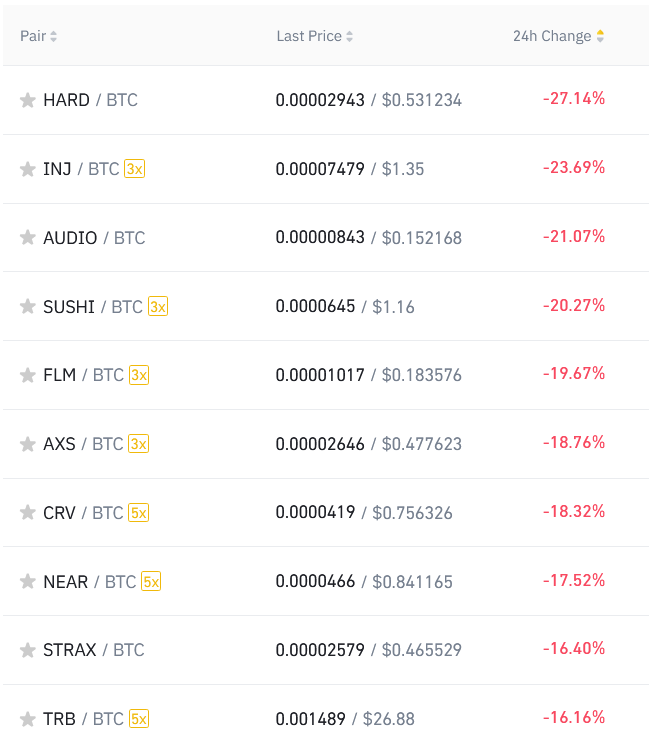 Source: Top 10 Losers Against BTC on Binance.com 
With no sign of let up from Bitcoin, altcoins holders are bracing for more turbulence ahead.
Is Altseason Coming Soon?
However, all is not lost. Analyst @Stillman__ see similarities, with the previous altseason, in the patterns of major crypto altcoins at present.
He concludes that ALT/BTC pairings have bottomed or are close to bottoming.
"If the alt action were to resemble 2016, – then alt lows on strong ALT-BTC-pairings are likely in or close to in. I am emphasizing the word strong here because our samples from 2016 all ended up being top performers. – USD lows are even more likely already in."
@CryptoMichNL shares a similar view. Like ConnorNix, @CryptoMichNL believes Bitcoin is due a correction. This, he predicts, will be followed by weeks of ranging price movement for the leading crypto, giving altcoins relief from the onslaught they have suffered to date.
Following this, he predicts a final Bitcoin drop will precede a new altseason in January – March 2021.
Seems a very likely case;

▫️ $BTC correcting 15-20% in a little bit, which puts altcoins down.
▫️ A few weeks of sideways of #Bitcoin, which makes altcoins rally by a significant portion as 'relief'.
▫️ Another final drop on $BTC.
▫️ Altseason January – March 2021.#CRYPTO

— Crypto Michaël (@CryptoMichNL) November 17, 2020
Predictions of an altseason have come fast and loose during the three years since the last bull run. All of which have turned out wrong.
With Bitcoin inching back up to ATHs, a position that was not the case at any point in the last three years, could this prediction be the one that's right?