Bitcoin price just pulled back 5% from the now rejected retest of the asset's current-standing all-time high. The leading cryptocurrency by market cap was struggling with resistance as it was, but news breaking that Binance is the focus of a CFTC probe caused the pullback to worsen sharply.
Here's a brief breakdown of what's going on in this developing situation, and what this could mean for the cryptocurrency's ongoing uptrend.
Breaking: Commodity Futures Trading Commission Opens Investigation Into Binance
According to a breaking report circulating from Bloomberg News, leading cryptocurrency exchange Binance is the subject of an ongoing CFTC probe. The Commodity Futures Trading Commission is investigating if Binance served US customers, allowing them to trade cryptocurrency derivatives trading products that are in violation of US regulations.
Related Reading | Bitcoin "Cheat Sheet" Calls For Next Leg Up To $77K
The CFTC is among the chief regulatory enforcers in the United States, alongside the Securities and Exchange Commission, and have launched investigations into BitMEX and Tether in the past.
Binance commands a lion's share of the total cryptocurrency market trading volume, and its footprint extends into CoinMarketCap, and just about everywhere else the industry touches. The significance of the breaking news caused Bitcoin to add to its now 5% pullback from recent highs.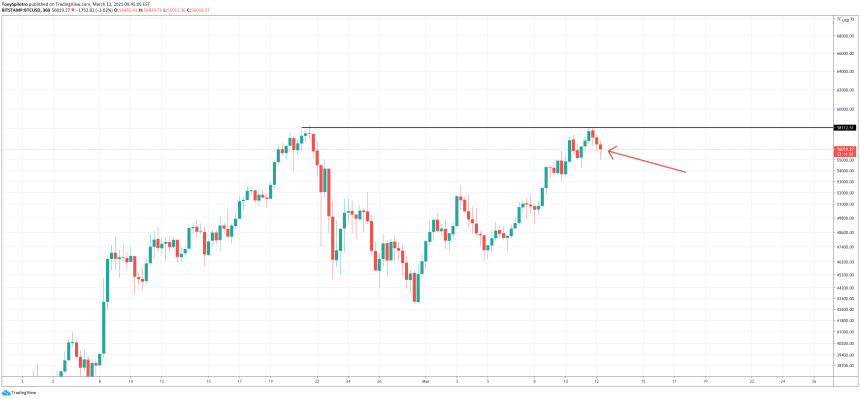 Bitcoin price has retraced by 5% so far, but could more downside be coming? | Source: BTCUSD on TradingView.com
Could Negative News Turn Sentiment And Derail The Bitcoin Bull Run?
Bitcoin price is undeniably overheated by most standards. Technicals have issued bearish divergences for months on end, overbought conditions are prominent on most timeframes, yet pullbacks have lasted only briefly as dip buyers scoop up BTC at whatever price they can get.
But with technicals this overheated, what could start as a small 5% correction on negative news could have a butterfly effect that causes a reset in price action and sentiment.
Related Reading | Bitcoin Could Close March With First Ever Quarterly Bear Signal
Bitcoin has gone nearly a full year in an uptrend with very little time spent correcting. On the anniversary of the catastrophic Black Thursday selloff, a certain panic could still be in the air that causes a domino effect and sends Bitcoin toppling further.
For now, support at $55,000 is holding, but losing it could cause another drop to $50,000 where support will need to hold, or risk a larger scale reversal.
Featured image from Deposit Photos, Charts from TradingView.com