Bitcoin slipped heading into the European session Thursday as traders booked profits from its recent price rally.
The benchmark cryptocurrency briefly crossed over $38,000, a wave high it breached last Friday after gaining open endorsement from Tesla founder Elon Musk. The move upside also appeared as a broader recovery trend that saw the Bitcoin price surging from $32,200 on January 31 to as high as $38,769 as of Thursday.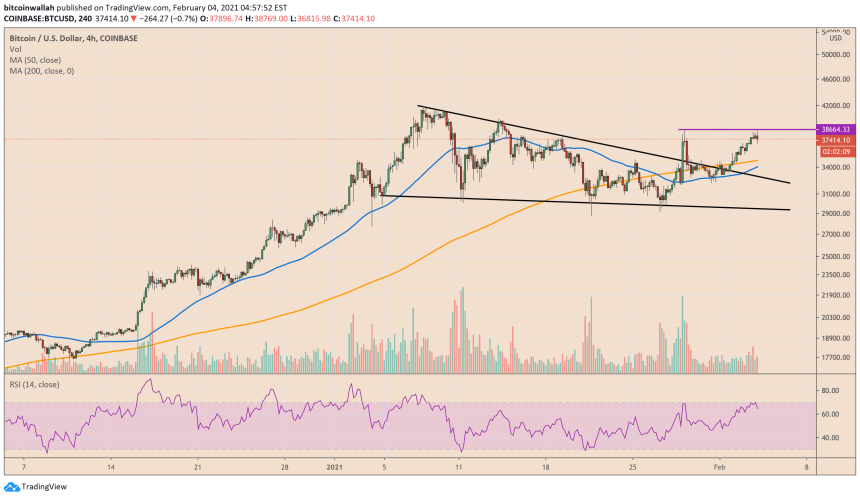 Bitcoin trades lower after briefly closing above $38,000. Source: BTCUSD on TradingView.com
It provided traders ample opportunities to secure their short-term gains, therefore pushing the prices lower.
Dollar Firm
Bitcoin's intraday losses coincided with similar gains across the gold and silver markets, led by a firmer US dollar and better-than-expected Treasury yields.
The US dollar index continued to its recovery path on Thursday as traders assessed the prospects of a strengthening US economic recovery. It weighed negatively on gold, whose prices fell three days in a row. But for Bitcoin, which was rallying almost in line with the dollar, the move appeared more like a bias-neutralizing downside correction.
Pablo Piovano, an analyst at FXStreet, confirmed that the dollar might continue heading upward as "the vaccine rollout continues to favor better growth prospects vs. overseas economies." In turn, that could push the Treasury yields higher, as well, giving investors to hold government bonds than pick riskier assets.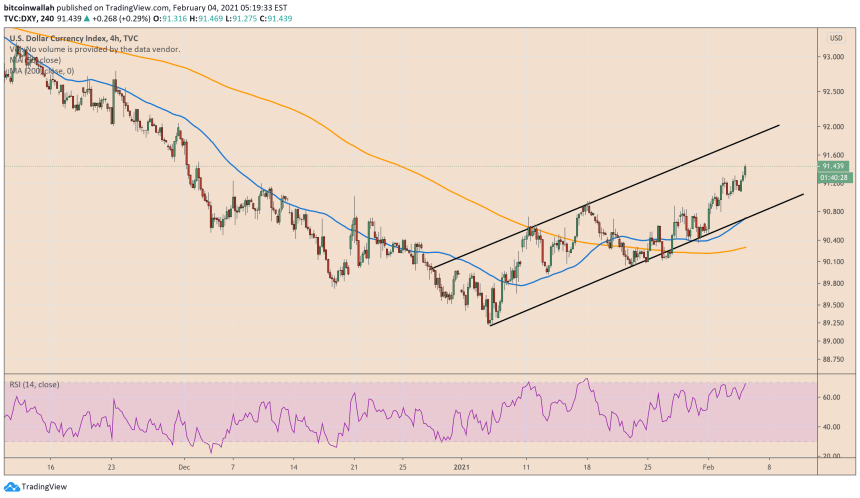 US dollar recovers to its one-month high on Thursday. Source: DXY on TradingView.com
Meanwhile, Bitcoin bulls anticipate that the US's next stimulus package would provide tailwinds to the cryptocurrency's ongoing rally. The BTC/USD exchange rate almost surged by 1,000 percent against the backdrop of more than $3 trillion stimulus aid and the Federal Reserve's ultra-dovish policies.
Most of these fundamentals are still in place, with the US central bank confirming keeping interest rates lower until 2023 while ignoring to taper its $120 billion monthly bond-buying programs. Atop that, US President Joe Biden plans to roll out the third stimulus package worth $1.9 trillion.
Bitcoin Technical Analysis
The technical signals show that Bitcoin is flirting with the idea of moving lower towards its 20-period moving average (in green), as shown in the chart below. The wave holds the history of serving as minor support to Bitcoin's short-term uptrends.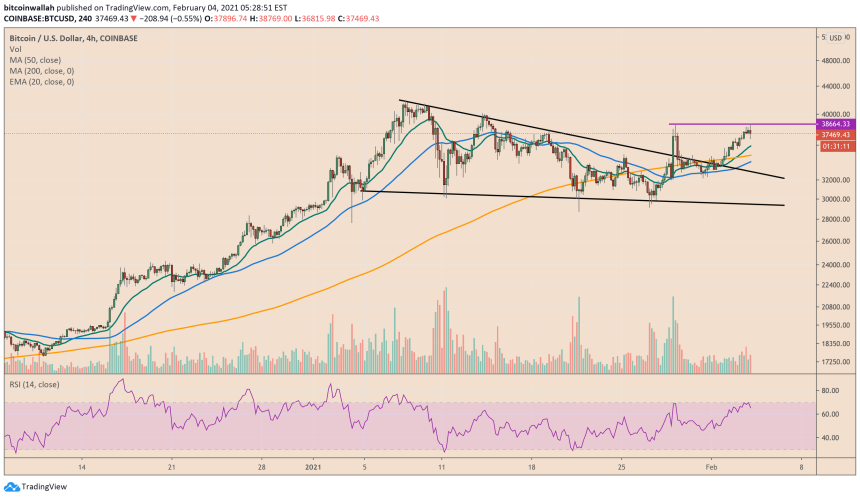 Bitcoin eyes a pullback towards the green wave for support. Source: BTCUSD on TradingView.com
Nevertheless, an extended pullback moves risks putting Bitcoin en route to its 50-period MA (blue), another reprieve for the bulls, and the confluence of the previous wave low in the $33,000-34,000 area.
Meanwhile, a high-volume close above $38,000 could send the BTC/USD rate pursuing $40,000, subject to the breakout target set by the previous Falling Wedge pattern (blacked area).