Key Bitcoin Takeaways
Bitcoin prices jumps back above $52,000 and pushes higher.
The gains appear as bond sell-off cools down after a week of turbulence.
Greg Waisman, the co-founder of crypto wallet service Mercuryo, suggests BTC/USD could hit $60,000 in the coming sessions.
Bitcoin prices rose Wednesday, breaking above $52,000 for the first time in more than a week as traders assessed a flurry of optimistic events in the market.
The benchmark cryptocurrency hit an intraday high of $52,310 ahead of the New York opening bell, rising by 7.85 percent into the session. Elsewhere in the crypto market, high-cap tokens, including Ethereum, Cardano, and Binance Coin, also rallied higher under Bitcoin's influence.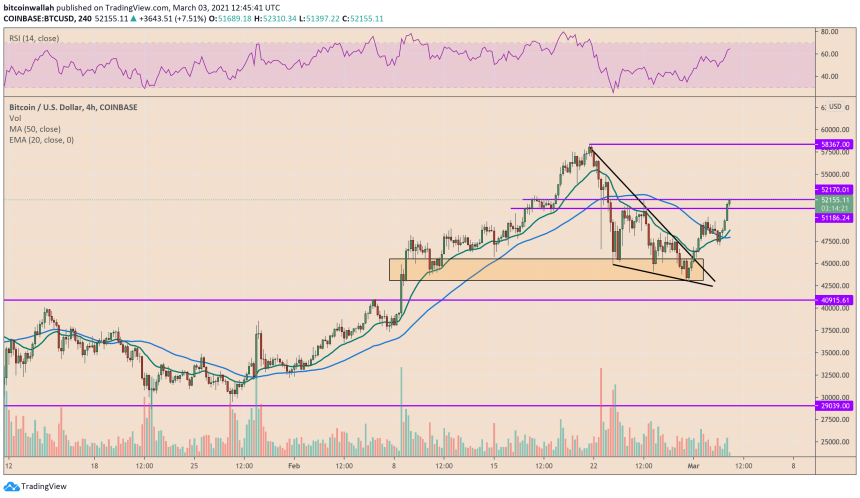 The BTC/USD pair's move uphill took it inside the mid-February consolidation range defined by the area between $51,186 and $52,170. The pair's close above the range sent its price skyrocketing above $58,000, further helped by Tesla's $1.5 billion investment into Bitcoin.
As of Wednesday, the cryptocurrency was attempting to close above the range, while witnessing mild selling pressure near local tops. Nonetheless, with supportive fundamentals brewing within the cryptocurrency space, many analysts felt the likelihood of Bitcoin logging another wild upside run towards its previous high.
Greg Waisman, the co-founder/COO of crypto wallet service Mercuryo, is one among them. In his exclusive statements to NewsBTC, the executive said he anticipates BTC/USD to reach $60,000 should it holds $50,000 as support.
"For Bitcoin and Ethereum to resume their uptrends, the former would have to close above $50,000 and the latter above $1,500 on their respective daily charts," he said in an email response. "Moving past these resistance barriers could see BTC march towards $60,000 and ETH to $3,000 or higher."
US Stock Correlation
More tailwinds for Bitcoin's upside moves came from riskier markets. Of late, the cryptocurrency formed a positive correlation with the US stock market, driven stronger by a dramatic spike in US bond yields.
Top central bankers noted that a rise in interest rates reflected optimism in economic growth. That prompted many risk holders to anticipate that the Federal Reserve would raise its benchmark interest rates. Bitcoin performed exceptionally well amid a near-zero rate environment. The prospect of rate hike reduced traders's appetite for the cryptocurrency short-term.
Nevertheless, Federal Reserve Gov. Lael Brainard clarified on Tuesday that the central bank won't put brakes on its expansionary policies unless the US economy recovers maximum jobs and achieves inflation above 2 percent. Her comments paused the bond sell-off, pushing the riskier markets higher.
Bitcoin's expectation to rise further would rely also on how bonds perform for the rest of this session.