On-chain data shows a recent rise in the number of stablecoin addresses sending to exchanges, suggesting an increase in dry powder supply pumping into Bitcoin.
Stablecoins Exchange Inflow Addresses Count Recently Surges
As pointed out by a CryptoQuant post, the number of stablecoin addresses making inflow transactions to exchanges saw a sharp rise yesterday.
Stablecoins are tokens that have their values tied to a fiat currency. Since they are relatively stable (as their name suggests), investors like to use them for temporarily pulling out of volatile markets like Bitcoin.
The "all stablecoins: all exchanges inflow addresses count" is an indicator that shows the total number of these fiat token addresses that are sending their coins to exchange wallets.
A spike in the metric's value means there is an increase in the supply of stablecoins for transferring to other cryptos. This could suggest investors believe now may be a lucrative entrance into volatile markets, and so they are converting their fiat-tied coins to BTC and other cryptocurrencies. They may also be looking to withdraw the coins into fiat.
Related Reading | Bitcoin Bullish Signal: Whales Are Building Their Positions On Derivatives
Now, here is a chart that shows the trend in the indicator's value over the last week:
The stablecoins inflow addresses count showed a huge spike yesterday | Source: CryptoQuant
As the above graph shows, the indicator showed a very large value yesterday, implying that a lot of investors sent their coins to exchanges at that time.
The reason behind the trend could be the recent correction that Bitcoin suffered after making its new ATH. Investors may be bullish on the future price of the coin and find that this dip is a good buying opportunity.
One that thing should be noted is that not the entire stablecoins supply moving into exchanges will be pouring into Bitcoin. A percentage of them will go into altcoins and another will be withdrawn into fiat or kept on exchanges.
Related Reading | Is China Considering Lifting The Bitcoin Mining Ban? The NDRC Runs Public Survey
Nonetheless, a surge in the total supply is still a good sign for BTC and may help the coin bounce back from the correction. Sustained such inflows can prove to be bullish and take the crypto to higher all-time highs (ATHs).
Bitcoin Price
At the time of writing, BTC's price floats around $63k, up 4% in the last seven days. Over the past month, the crypto has gained 48% in value.
The below chart shows the trend in the price of the coin over the last five days: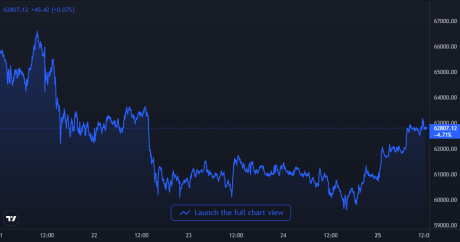 BTC's price observes a correction in the last few days, but now looks to be making a come back | Source: BTCUSD on TradingView
Featured image from Unsplash.com, charts from TradingView.com, CryptoQuant.com