Bitcoin has bounced over 10% from the lows set two weeks ago at around $9,800. The cryptocurrency, though, still has a crucial level to move above to confirm that a full-blown bullish reversal is in the works.
Bitcoin Needs to Surmount This Pivotal Level to Confirm Upside
According to Edward "Teddy" Cleps, a crypto analyst and the founder of Yellow Block, Bitcoin must move above the $11,100 horizontal to confirm that the ongoing correction is a bullish reversal.
Cleps shared the chart below on September 20th, accentuating the importance of $11,100 to Bitcoin over recent weeks. As the chart indicates,  Bitcoin bounced multiple times at the $11,000 support during last month's consolidation between $11,000-12,000. BTC managing to confirm that level as support will likely trigger a move towards $12,000.
Cleps explained more about the signifiance of that level when he wrote:
"Trend is bullish as long as it is above the purple box – this dump could be seen as a 'higher low'. However, lambo season is above that line – let's break it please."
Chart of BTC's price action over the past few months with analysis by crypto trader Edward "Teddy" Cleps (@Teddycleps on Twitter). Chart from TradingView.com
Other analysts have confirmed the importance of the resistances in $11,000-11,200 to Bitcoin's medium-term bull case.
Another market commentator, referencing the chart seen below, said the following on the importance of that zone:
"Target / Major resistance finally hit, if you worried about price dropping from here and using leverage then close out your position and wait for this level to be flipped support… $11,200 is a key HTF level for flipping it will not be easy."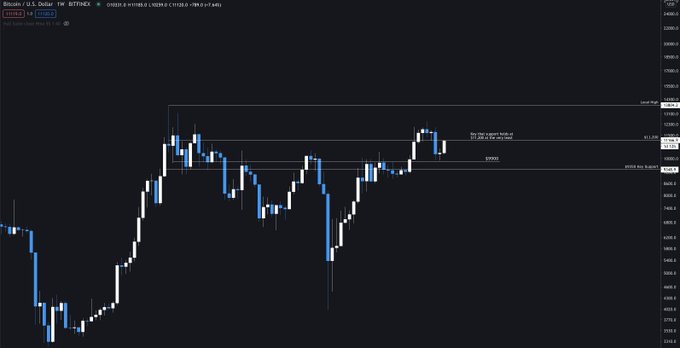 Chart of BTC's price action over the past two years with analysis by crypto trader Cactus (@TheCryptoCactus on Twitter). Chart from TradingView.com
Long-Term Trend Still Bullish: Willy Woo
Bitcoin's long-term remains in a positive state despite any weakness in the near term, on-chain analysts say.
Willy Woo recently commented that Bitcoin's macro Difficulty Ribbon metric is currently in a period of compression, which is a "reliable indicator of bullishness."
Zooming out to the mid macro (months ahead), we're in a really nice zone of Difficulty Ribbon compression, post halvening (red verticals), this is quite a reliable indicator of bullishness.
He added that there are other trends like a spike in on-chain BTC moved that suggests long-term upside is likely.
Featured Image from Shutterstock
Price tags: xbtusd, btcusd, btcusdt
Charts from TradingView.com
Despite 10% Bounce From Lows, Bitcoin Has One Key Level to Cross