The moment has come! Nearing 18 months down the line from bitcrystals' ICO, in conjunction with Channel4, the EverdreamSoft Team is on the verge of worldwide launching of the game Spells of Genesis.
This is an event of huge importance not only for token holders but also for everyone involved with blockchain. The first global scale mobile game linked to bitcoin (via protocol Counterparty) is ready for production and the marketing machine Channel4 will drive it to the four corners of the earth.
An explosion of game customer base can be anticipated with ensuing enormous interest in the bitcrystals token. Just as a reminder, see below how the Spells of Genesis economy works and why bitcrystals enjoys so much importance:
Spells of Genesis is a game for mobile devices, utilizing electronic format trading cards. Some special cards, the most powerful ones, are stored on bitcoin blockchain and have a limited, invariable circulation.
Every purchase of the necessary cards to play Spells of Genesis either directly or indirectly (complying with an exchange rate) is made in bitcrystals and, hence, generates revenue in bitcrystals. Once various commissions have been deducted, the income is divided in half:
One half is reserved for EDS (EverdreamSoft)

The other half is burnt, destroyed.
Given that the quantity of bitcrystals issued cannot be increased, destroying a portion of them leads to deflation, followed by fall in market supply and an eventual stimulus to price rise.
Investors holding bitcrystals may legitimately expect to witness an increase in token price as a consequence of the month after month destruction mechanism effected by EDS on the basis of revenues built up through the sale of cards. As an owner of a considerable volume of BCYs, EDS itself is directly interested in causing the price to soar. Here below the mechanism Win-Win: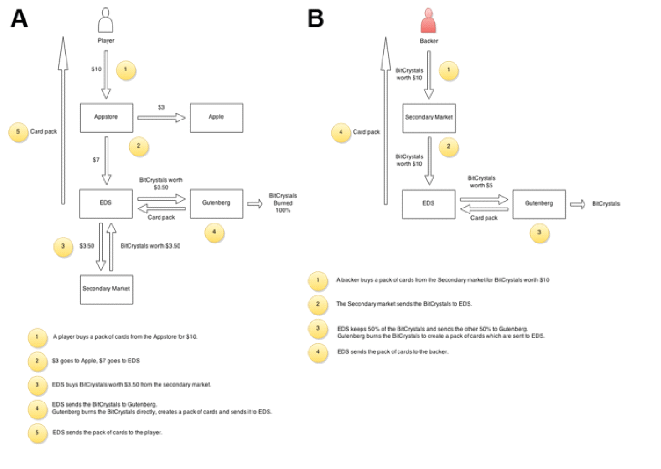 In any case, since it emerged right from the beginning that the idea would attract a lot of players, the inception of card sales was immediate – albeit exclusively in cryptocurrencies. With imminent game availability on Play Store and Apple Store, completion of card purchase by credit card too will be an option.
But that is not where it ends, for bitcrystals (BCY) is obviously quoted on exchanges and at the moment trading is substantial on Poloniex (as well as on Bittrex and Zaif):
to give an example over time bitcrystal was worth
17 March 2016: 6.47 cents in US currency

14 August 2016: 10.6 cents in US currency
at time of writing:
4 April 2017 24.9 cents in US currency,
even if it reached 43 cents US currency in September 2016.
Here below the official announcement of launching (taken from the Spells of Genesis forum):
Hello Everyone !
We just finished the call with C4 they are very happy with the build and the new features, but there is an issue one of their iOS device. It has sometime a crash on their side. We are unsure this is coming from the fact the app was used in the previous versions and could occur.
We are investigating at the moment we have two solution either we are confident it would not occur to new user and we decide to launch this week. Or and that the very good news we are taking a week to figure this out and we could launch next week, not in May because otherwise it's all good on their side. Launch date is set for the 20th of April
game server ok
translations ok
android ok
iOS ->issue
Our lead right now is a conflict with an SDKs.
After harsh week here we are foreseeing the finish line (for this milestone) once everything is set in stone I will tell you the future plans for 2017 a lot of exciting new things awaits this year.
Best
Shaban
Hence on 20th April Apple Store and Play Store will finally offer Spells of Genesis to hundreds of millions of players, creating in the company's plans tens of thousands of new players and trading card collectors on blockchain.
It is the very aspect of card collecting on blockchain which is revolutionary. This type of asset boasts not only the secure anomaly of being impossible to counterfeit but the same asset can be employed in other games too – as is already happening. Some Spells of Genesis cards may be played both on the online platform Force of Will and on the new game Augmentors, this latter too based on assets stored on bitcoin blockchain.
We are at the dawning of a new era. Magic, Pokemon, Yu Ghi Oh… now belong to history.