Over the past decade the gaming industry has been on the up-and-up, incurring massive popularity amongst a diverse array of users, while simultaneously churning out immense profits for developers, publishers, and platforms that allow users to interact with game's most popular players – like the Amazon-owned streaming platform Twitch.
Much like the gaming industry, the blockchain and crypto industry has also been incurring tremendous adoption over the past couple of years, and multiple companies are now introducing the blockchain to the gaming industry in an effort to improve user's experiences and to create a fairer ecosystem.
Son of Chinese Gaming Billionaires: Blockchain-Based Token Economies Will Revolutionize Gaming
Rudy Rong is the son of Chinese gaming billionaires and the founder of Magic Cube, a Los Angeles-based company that uses a NEO-based blockchain protocol in an effort of "restoring fairness and efficiency to the gaming industry."
While speaking to NewsBTC about the role that blockchain technology can play within the gaming ecosystem, Rong explained that a well-designed blockchain platform – like the one being offered by his company – can help increase the efficiency of the video game publishing process, which in its current state is highly convoluted.
"By using blockchain technology, we are able to offer developers the chance to develop quality games while also allowing them to avoid having to deal with the middlemen typically involved with publishing. This allows developers to reinvest more capital into their games," Rong explained to us during NEO's DevCon in Seattle earlier this year.
Presently, game developers release their games through publishers that often suck up a majority of the profits, while simultaneously tempering developer's ability to fund long-term development cycles that are needed to incubate a successful game.
Sean Chen, the founder of the NEO-based blockchain gaming platform BlaCat, shared a similar sentiment to Rong, explaining in an interview with NewsBTC that the use of blockchain technology can allow nearly all of the profits to go to the developers.
"Based on [the] blockchain, we can let nearly all the revenue go to the developer, which is good because…in the gaming industry, the most valuable party is the developer," Chen noted.
By offering developers dApp software development kits, Chen believes that BlaCat will help developers switch from centralized to decentralized platforms in a seamless manner.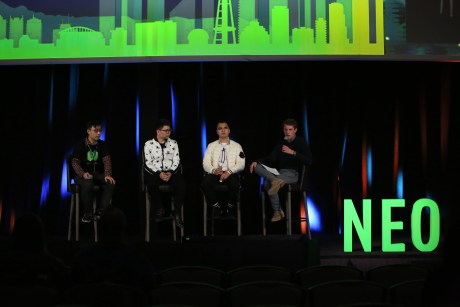 Formation of Decentralized In-Game Economies Another Benefit of The Blockchain
Beyond simply allowing developers to incur larger profits, which will likely be redirected back into the development of new games and the improvement of existing ones, the use of blockchain technology also brings another benefit to the gaming industry: the formation of token economies.
Currently, there exist intricate economies within multiple popular video games that are fashioned in the same way that traditional commodities exchanges are structured. One such example of this can be seen within Counter Strike Global Offensive (more commonly called CSGO), which allows users to exchange decorative weapons skins valued in USD.
Despite this, items like gun skins in CSGO are not truly owned by users due to the centralized nature of the game, and if it were ever to shut down for some bizarre reason, the skins would likely disappear.
But by using a blockchain-based asset exchange, all ownership of in-game items and collectibles are set in stone, and ownership of said items is indelibly inscribed on the immutable ledger, regardless of what happens to the game.
Additionally, by using the blockchain to exchange valuable collectables and in-game assets, it is far easier to track their provenance, which therefore could allow users to easily verify the item's rarity (vis-à-vis the circulating supply) and the value of the assets.
Democratized Game Funding Via IGOs 
Another unique benefit that the blockchain provides to the gaming industry is giving individuals the ability to fund development projects that they find exciting through initial game offerings (IGOs) using crypto.
Rong's company, Magic Cube, has created a decentralized platform that allows game developers to garner funding directly from investors interested in their projects through tokens launched via IGOs. Additionally, through IGOs, developers have the opportunity to generate significant interest in their projects, which ultimately results in a larger user-base upon launching.
According to Magic Cube, they currently have an aggregated total of 15.3 million users along with 23 games that were developed in-house, large numbers that signal that there is a significant amount of demand from both gamers and developers for decentralized games.
Although the blockchain-based gaming industry is relatively young, as the gaming industry and crypto continues to surge in popularity, it is highly likely that embattled developers will begin turning towards decentralized platforms – like the ones being offered by Magic Cube and BlaCat – in an effort to shore up their profits and to raise large community-based funding.
Featured images courtesy of NEO and Shutterstock.