BTC USD Technical Points
BTC USD was unable to break above the daily Ichimoku cloud on Tuesday and formed a morning star candlestick pattern after Monday's spinning top candlestick on the daily time frame. While the Kijun line has crossed above the Tenkan line, the future cloud has turned thin and flat, giving us mixed medium-term signals.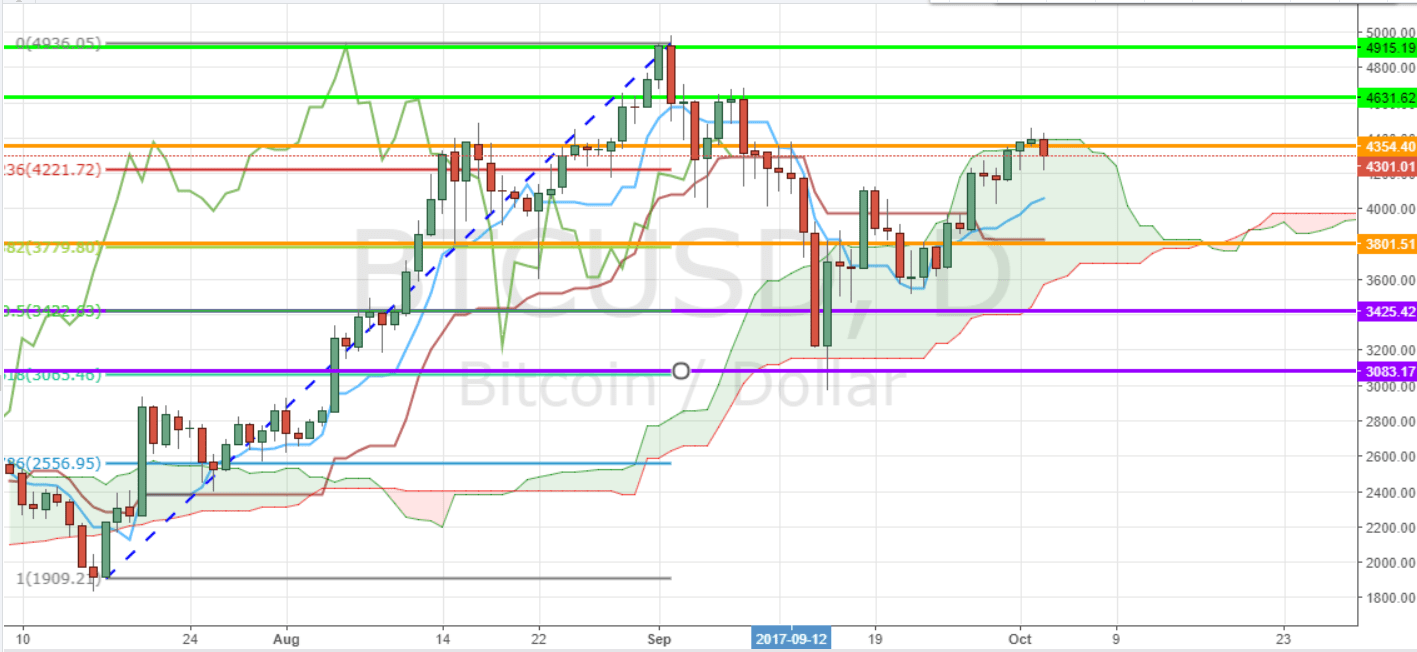 For BTC USD, long-term support levels are set at $3,083 and $3,425. Medium-term pivot levels are set at $3,800 and $4,354.
Bitcoin is moving in the similar direction versus the Japanese Yen, as the Ichimoku cloud's upper band appears to be the main technical resistance for the BTC/JPY pair.
BTC USD: What's Going on in the Bitcoin World?
The third quarter has been one of the most eventful in the history of BTC USD. It is up over 74 percent in the September quarter, with a shifting landscape in regulation and developments in the underlying technology taking place in the last three months
Tuesday's Bitcoin pullback is despite the fact that the markets saw more investment bankers backing Bitcoin. While many on Wall Street are rallying behind JPMorgan CEO Jamie Dimon and his criticism against Bitcoin, there are others who are far less skeptical. For one, Goldman Sachs Group Inc. (GS) is weighing a new trading operation dedicated to bitcoin and other digital currencies, the first blue-chip Wall Street firm preparing to deal directly in this burgeoning yet controversial market
Another major financial institution on Wall Street, Morgan Stanley, have had their CEO James Gorman come out and say that Bitcoin is not a fraud, nor even a 'fad.' With the growth we have already seen in the cryptocurrency market, especially in Bitcoin, there is a good chance we could see it reaching and even surpassing its all-time high level of $4,975 and potentially even reach the $6,000 area by the end of the year.
China is Out, Japan & U.S. are In?
China was once the dominant driver of the bitcoin price. But regulators in the country have been cracking down on the cryptocurrency, banning so-called initial coin offerings (ICOs) where companies raise money through cryptocurrencies.
Meanwhile, Japan has been more open to cryptocurrencies. Regulators there legalized bitcoin and major retailers have begun accepting it as payments. And last week, Japan's Financial Services Agency (FSA) officially recognized 11 companies as registered cryptocurrency exchange operators.
With this, if the US blue-chip banks decide to act on their recent comments, we could see a shift in the international Bitcoin power once and for all.