Cardano gained some positive traction in the early European trading hours Friday after erasing more than half of its bullish breakout move in the previous session.
The blockchain asset, better known by its ticker ADA across markets, climbed more than 2.25 percent to $1.25 into the ongoing intraday session. Its move uphill started near a session low of $1.178. At its intraday high, ADA was changing hands for as much as $1.298. The $1.178-1.298 range pretty much made for the trading area on Friday.
Nonetheless, the area appeared way below ADA's week-to-date high achieved on Thursday. The Cardano token surged to $1.498 in a bullish move that appeared after it broke out of a technically bullish pattern — a Descending Triangle with an upside target near $1.50 (NewsBTC discussed the bullish theory here).
A strong upside rejection near $1.50 triggered a cascade of selling orders, crashing ADA down by more than 21.50 percent. The downside correction nearly wiped out half the bullish breakout move, underscoring that ADA needs to rebuild its bullish momentum near lower levels or risks extending its bearish correction even further.
Strong Cardano Fundamentals Meet Worrisome Technicals
So far, Cardano as a blockchain project has everything working in its favor. The protocol has grown into the conscience of traders who see it as a viable alternative to Ethereum, another blockchain project loaded with smart contract functionalities but suffering high transaction and gas fees issues.
Its growing prominence has led ADA higher by more than 600 percent in 2021 and 4,000 percent on a year-on-year timeframe. Meanwhile, Cardano's latest protocol upgrade to "Mary" has enabled users to issue their unique tokens, including the booming non-fungible tokens (NFT), which has added further fuel to ADA's bullish bias.
But short-term—technically—the Cardano token flirts with the prospect of declining further. It is in the middle of creating a Head and Shoulder, a structure that appears as a baseline with three peaks, the outside two are close in height, and the middle is highest. ADA ticks all three factors but awaits further confirmation as it hopes to trend lower towards the baseline to attempt a bearish breakout.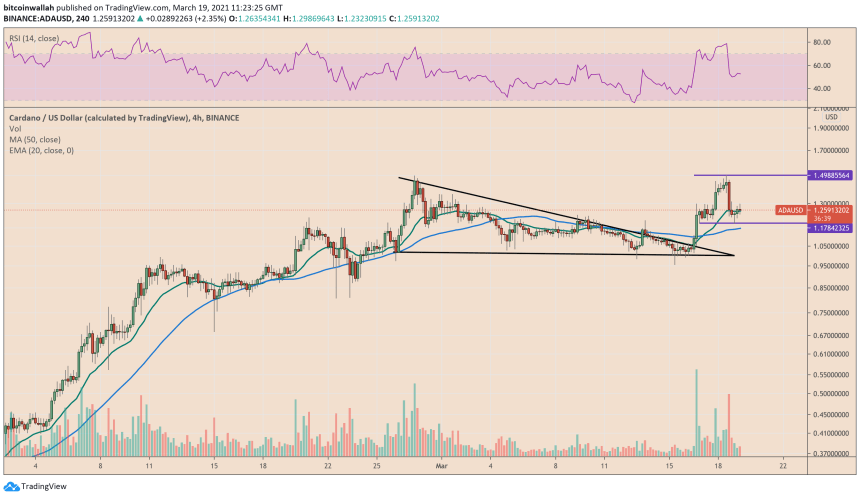 Should a decline appear, the ADA price would risk crashing by as much as the middle peak's height. The candlestick(s) is about 0.32 dollars long. That puts the head and shoulder pattern's breakout target to near $0.85.