Cardano's ADA was among the best performers in the cryptocurrency market this week as traders assessed its bullish prospects against a stagnating top rival Bitcoin and an ongoing craze for non-fungible tokens, or NFTs.
The blockchain asset jumped to the third rank after undergoing a 19 percent price rally. As of 1057 GMT, the ADA/USD exchange rate was roughly $1.24. The pair opened the week at $0.95, according to data fetched by Binance.
ADA's latest move uphill pushed its year-to-date gains up by approximately 600 percent. Meanwhile, its year-on-year returns surged to a massive 4,656 percent, beating Bitcoin, Ethereum, gold, and even the global stock market in the period that saw a massive injection of fiat money by local governments and central banks all across the world.
But…
…the nature of the Cardano token's rally was more speculative in nature. Nic Carter, the co-founder of research company Coin Metrics, expressed his disbelief with the ADA's rally, stating that Cardano has not launched a single project on its blockchain that could attest to its popularity.
"I am truly mystified as to why it is enjoying a resurgence in popularity.," Mr. Carter noted.
Many analysts believe that Cardano majorly cashed on its blockchain rival Ethereum's limitations. Lately, the second-largest blockchain network has turned too costly for its users, including developers operating billions of dollars worth of decentralized finance projects atop its public layer. In some instances, users ended up paying a transaction fee of $30 to send just $5.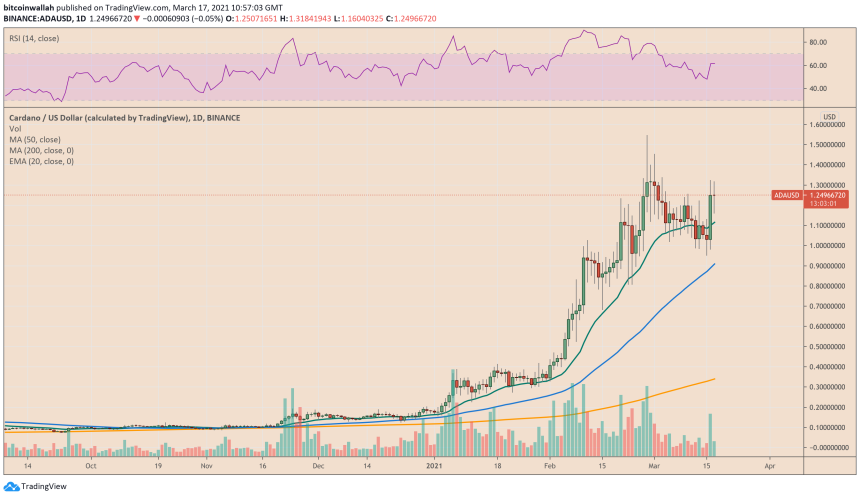 Cardano projected itself as a viable alternative. In retrospect, the project enables users to build smart contracts, decentralized applications, and protocols atop its blockchain. It projects itself as a more scalable and secure version of Ethereum via its underlying proof-of-stake algorithm that makes it simpler for users to conduct transactions cheaper and faster.
Ethereum operates on an energy-intensive proof-of-work protocol. However, the blockchain is scheduled to switch to proof-of-stake by the end of this year.
Overall, the growing rivalry helped Cardano's ADA to surge exponentially in the recent months.
Uncertain Bitcoin, NFT Craze
More tailwinds for the ongoing Cardano price boom came from a stagnating Bitcoin and an ongoing craze for NFT.
Bitcoin underwent a sharp correction after establishing its record high above $61,000 during the weekend session. Part of its correction appeared on higher profit-taking sentiment. Meanwhile, global market uncertainty led by the suspense over the outcome of the Federal Reserve's two-day policy meeting further kept Bitcoin from extending its short-term bullish bias.
ADA jumped about 20 percent against bitcoin in the last 24 hours, showing that traders decided to park their funds in the Cardano market on the latter's near-term bullishness. That could be due to Cardano's "Mary" update, which enabled users to create their unique tokens, including NFTs. These are digital files that represent ownership of a certain asset.
It has become the latest crypto craze. In one instance, a creator sold his JPEG file for about $69 million. So it appears, Cardano benefited from its involvement in the NFT space.