In the past few days, the internet is in chaos, thanks to the WannaCry ransomware wave. While those with obsolete and out-of-date operating systems found their computers infected, and files encrypted, a section of Bitcoin community has been facing an entirely different yet serious issue since May 4, 2017. For some, their favorite cryptocurrency exchange Celery froze its operations without offering any explanation.
It has been over a week now, and the cryptocurrency platform's page continues to read the same message,
"All withdrawals, deposits, and orders are currently halted. For further updates, please visit our company updates."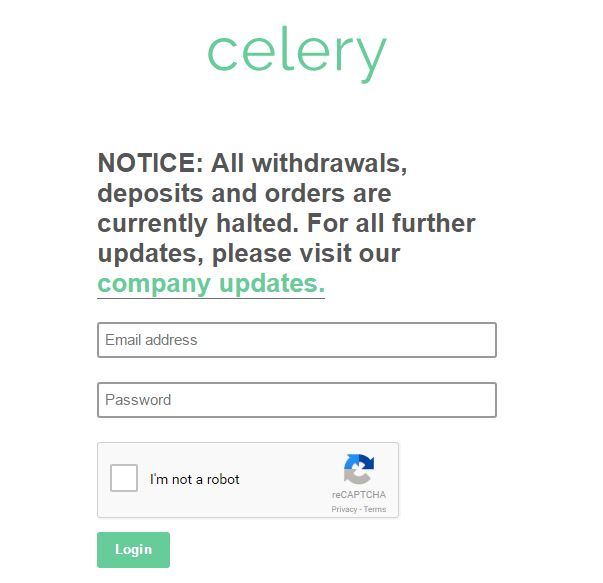 Anyone looking for a reason behind the sudden suspension of activities by visiting the "company updates" section is none the wiser, for they come across a different version of the same message which goes on to say,
"All withdrawals, deposits, and orders are currently suspended. Please refer to this page for all further updates."
These messages have gotten people worried, for this is not the first time the community has come across such words. On multiple occasions, the message was a sign of something worse to come. However, users hope that the things are different this time and everything will go back to same as before, soon.
Celery's social media accounts aren't of much help either as the company doesn't seem to be that active on Twitter. It is about time Celery updated the community about what's happening, along with an estimated timeline for resumption of services.
There might be many reasons behind the recent developments, starting with something as simple as liquidity issues to serious things like problems with the regulatory authorities or even hacking incidents. However, with no official word from the platform, it is not wise to jump to conclusions but patiently wait for answers.
Meanwhile, it will be great if the Celery team decides to spare a few minutes and share an update or show at least some signs of activity so that the affected community members can breathe easy.
Reg: GoCelery.com | Image: NewsBTC