The Chainlink's crypto token hit a new record on Wednesday even as its top rivals continued to underperform amidst a gloomy market outlook.
Dubbed as LINK, the eleventh-largest cryptocurrency climbed 27 percent this week to establish an all-time high of $4.92. It performed similarly well against bitcoin, rising by more than 22 percent to 55,683 sats to become one of the leading risk/reward assets in both the dollar and crypto-denominated markets.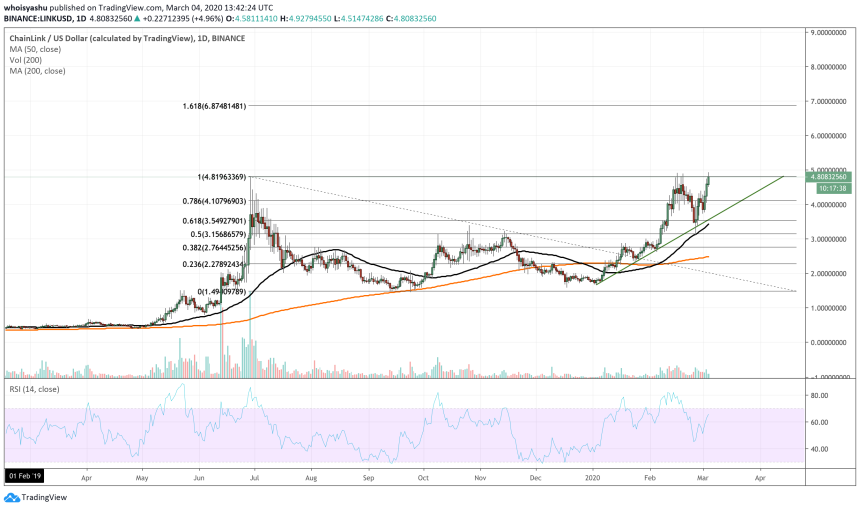 Elsewhere, other cryptos remained pressured by the market risks associated with the rising of the Coronavirus epidemic.
Bitcoin, the leading cryptocurrency, rebounded by 2.67 percent since Monday after closing last week at a loss of more than 15 percent. Similarly, Ethereum's Ether and Ripple's XRP each surged by 1-2 percent, showing a clear lack of upside bias in their respective markets.
"M" a Bull
Chainlink's latest gains appeared to have originated from a rumor that the blockchain platform is going to make a "huge announcement."
Community members claimed that Chainlink's foundational team is closed to signing a big deal with a company whose initials start with the letter 'M.' That left the social media open to different interpretations, with some claiming that M stood for Microsoft, a technological giant with a history of experimenting with the blockchain technology.
little birdie told junkie there is a HUGE anouncement for $link tomorrow and it begins with 'M' #Chainlink

— ChainLinkJunkie (@Chainlinkjunkie) March 3, 2020
The amusing nature of Chainlink's fundamental made its intraday price rally appear 'unsustainable.' It left the token under the stress of profit-taking, wherein traders decide to exit their long positions for an interim gain. At the same time, the arrival of an actual big announcement raised hopes for a bullish continuation in LINK markets.
"If we get big news tomorrow, #Chainlink will increase just like it did in June from the Google announcement," tweeted a community member. "It would be unreasonable not to see $LINK hit $8-10 if this announcement is similar."
Chainlink Bubble Woes
Chainlink's gains attracted enthusiasm within the community, but some analysts still expressed worries about the absence of solid fundamentals behind it.
Full-time trader Anondran admitted that he is impressed by LINK's "insane" price rally against bitcoin, but compared it with an overbought financial bubble that could pop anytime.
$LINK officially up 50x in BTC from its ATL. Honestly I'm impressed by its insane performance.

Can someone stop this bubble? pic.twitter.com/8QbD194Tfl

— Anondran (@AnondranCrypto) March 3, 2020
On a technical front, LINK was trading close to its overbought territory, according to its Relative Strength Index readings. That left many opportunities for traders to take the profit and find more support-floors to long LINK (the closest one is $4.10)
Overall, at its all-time high, the crypto token is without a historical resistance. Let's see how the "M" factor plays out.