Coinbase has been around long enough to make a name for itself. The digital currency wallet and exchange has so far been considered as a yardstick, against which all the exchanges and wallet services are matched. However, the leading digital currency wallet platform seems to be having some growing pains which has left a trail of disgruntled customers.
Since Coinbase announced the launch of its GDAX exchange platform, many users have started voicing their displeasure about their experience with the platform on various social platforms. GDAX is a cryptocurrency exchange where one can trade bitcoin and ether. As the company continues to work on integrations, KYC and AML processes, many users are finding themselves either having their account disabled or limits imposed on their activities. If that's not bad enough, the customers seem to be having problems reaching out to the platform's customer support team.

These complaints have started to show Coinbase in a negative light, especially at the time when industry experts expect the digital currency company to lead the Bitcoin revolution. According to few posts on leading social media platforms, the customer service has been unresponsive for weeks. Some of the users claim that the platform has asked for their documents multiple times in the past and still continues to do so, even after them submitting it every time in the past. Those who decided to comply with the company requests are finding themselves unable to do so on their mobile application.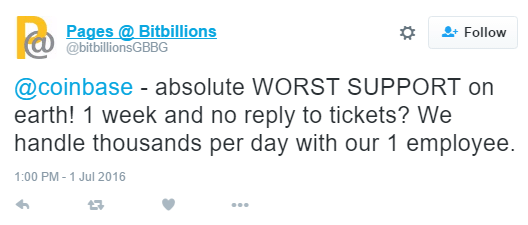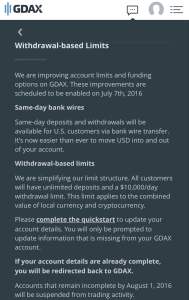 The new deposit and withdrawal policy on GDAX states that the users are allowed to make unlimited deposits into the platform, but when it comes to withdrawals, they can't exceed $10,000 a day. The withdrawal limit includes both fiat and digital currency withdrawals, which can be quite challenging for those who do large volume trades or want to make legitimate transactions exceeding $10,000 from their GDAX accounts.
On the other hand, these may be few legitimate issues, faced by a company attempting to make some major upgrades to its operations. Also, with regard to the AML and KYC requirements, one can't blame Coinbase for trying to play safe. However, the difference in withdrawal and deposit limits and blocking customers' accounts may be a bit too excessive. In order to prevent a PR disaster, it is important for Coinbase to keep its customers constantly updated about the new developments and promptly respond to their queries to the customer support. If Coinbase doesn't win its customers' confidence, it may lose them to their competitors.
Ref: Reddit | Twitter | Image: Coinbase