Australian Bitcoin service company CoinJar recently came up with a method to battle unannounced Bitcoin fluctuations.
According to the company's latest blog post, they are now offering their customers the option to store their Bitcoin in the form of fiat money — hedged accounts. It simply means that users' B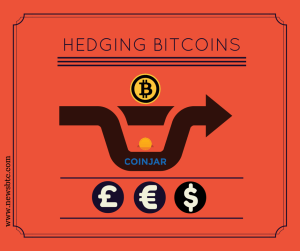 itcoin holdings will now be measured in the selected form of fiat currency (USD, AUD, GBP or EUR). For instance, if you store $USD220 worth of Bitcoin on a CoinJar account, the USD value of your holdings will be the same even if the Bitcoin value drops by half.
"CoinJar Hedged Accounts are an effective way to manage the value of your bitcoin in a familiar currency," the company's blog elaborates. "Once you've transferred bitcoin into a Hedged Account, the amount of bitcoin will fluctuate depending on current prices, however the value will always remain set to that account's currency."
The Cons of CoinJar Hedging Account
By looking at the current bearish trend of the Bitcoin market, a lot of traders could indeed use a CoinJar Hedged Account to protect their investment. However, the same logic is also applied if Bitcoin gains value. Thus, your $USD220 investment will remain to be the same even if Bitcoin value reaches, say, $USD300.
This method however comes handy for small businesses or individuals that wish to hold their savings in Bitcoin, probably to use it as a method of invoice transactions (still cheaper than bank transactions). CoinJar charges no fee for transferring Bitcoin to hedged accounts. It though cuts a decent 1% commission if one wants to transfer money from a hedged account to a cash account, or vice versa.
Do share your opinions about this new service.