The past few weeks have been a volatile few weeks for global markets, Bitcoin and crypto included. This was made clear on March 12th, when global markets all dropped in tandem, with the S&P 500, gold, oil, Bitcoin, amongst many other multi-billion and multi-trillion-dollar assets falling like rocks
Although volatility has since slowed as global markets have recovered from the mid-March shock, the CBOE Volatility Index (VIX) remains at 40 — high by historical standards — accentuating that it remains a critical time for traders of stocks and Bitcoin to be tuned to the charts.
Wall Street Divided Over Stock Market's Future
Unlike the mostly bullish sentiment held amongst Bitcoin traders, Wall Street is currently divided over the prospects of the stock market in the short to medium term.
Scott Minerd — the global CIO of Guggenheim Investments, a financial services and investment firm based in New York — explained in a note published last week that he expects "the other shoe" to drop in global markets, which will cause yet another wave of panic in the market:
We need to see the other shoe drop. When the markets start to see some of the data on unemployment rising and economic growth and corporate earnings contracting, there will be another level of panic in the market.
Minerd went as far as to say that should things play out as he expects, he could see the S&P trade to 1,500, now almost 50% lower than the index trades at today.
Goldman Sachs has begged to differ. The investment bank suggested that the bottom for the stock market is in, citing the policy support from governments and a flattening coronavirus curve.
With many divided over the short-term to medium-term future of the stock market and Bitcoin, it's fair to say that volatility is expected.
Bitcoin fits into the whole debate around the future of the stock market because as can be seen over the past few weeks, it has been clearly affected by the dramatic swings in global markets. The theory goes that if stocks fall again, so too should Bitcoin; and if stocks rally further, so too should Bitcoin.
How Can Users Trade This?
Whether or not you believe that a volatile stock market will hurt or help crypto, traders can position themselves as they please through SimpleFX, a top trading platform.
SimpleFX allows traders to trade both equities and crypto through their trading tool, WebTrader, which can be accessed on a desktop, a tablet, or on mobile. There, traders can take margin trades on Bitcoin.
SimpleFX also supports alternative crypto assets such as Ethereum, Litecoin, and XRP, coupled with other asset classes like foreign exchange, commodities, and stock indices — all tantalizing plays in the current market conditions.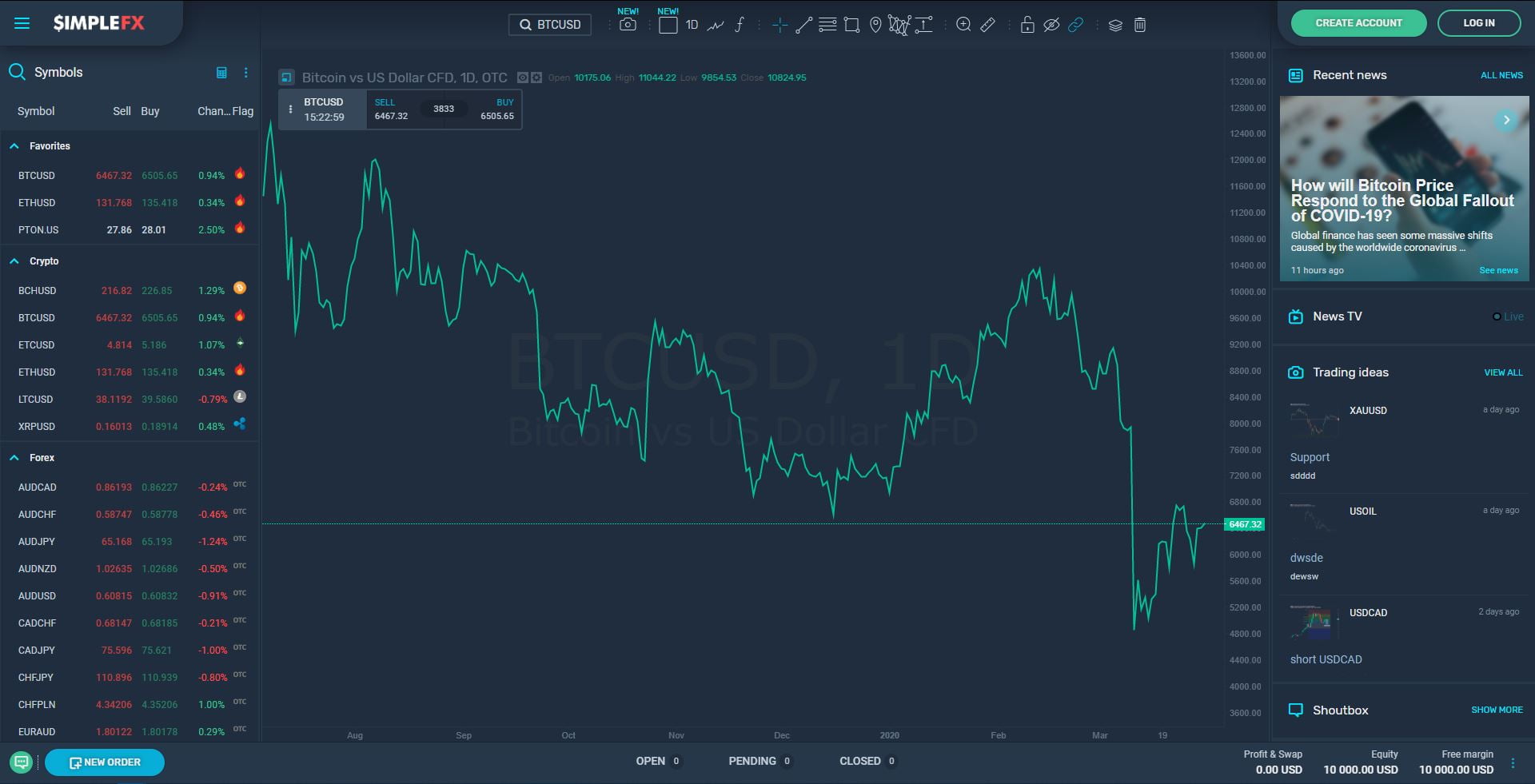 So even if traders want to forgo trading cryptocurrencies as it stands due to the market volatility and overall uncertainty in society, they can trade stocks and other assets all on SimpleFX, then switch back to Bitcoin once the ongoing macroeconomic storm passes.
Photo by Felix Mittermeier on Unsplash