After registering a fresh 2015-top of $3.194, Litecoin can be seen consolidating below $3.000. However, with momentum and chart structure strongly supporting the buyers, Litecoin has edged up 3.33% to $2.945. Now that the key trigger for the financial markets world, i.e. the Fed meeting has been priced in, it would be interesting to see if Litecoin is able to continue its rally.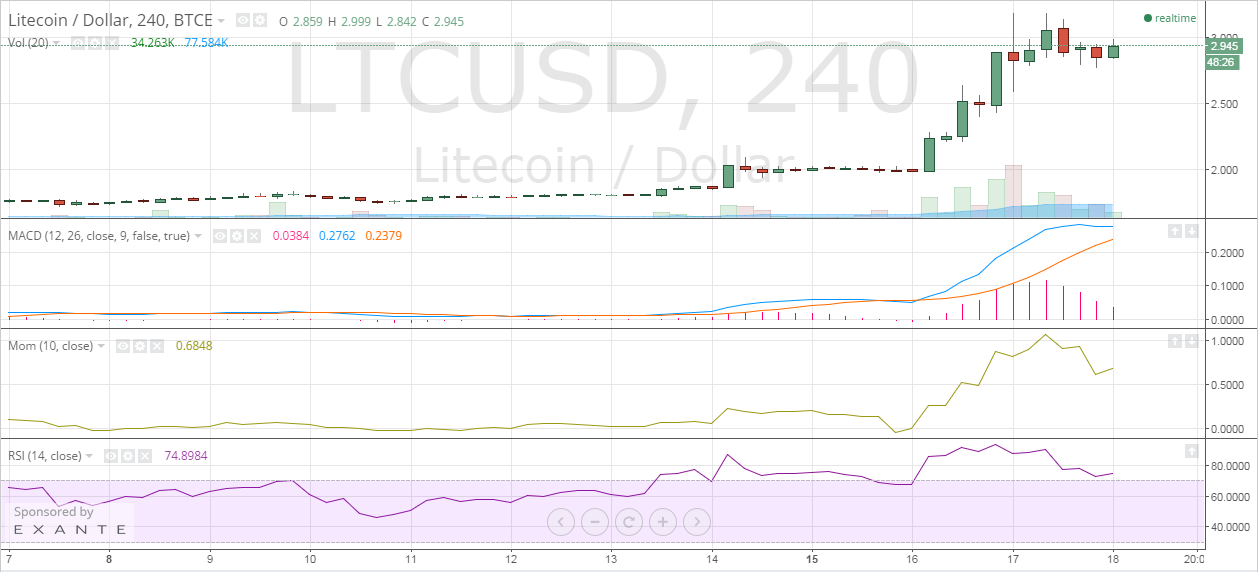 Image: https://www.tradingview.com/x/vI31kKzp/
Technical analysis of the 240-minute LTC-USD price chart suggests that the cryptocurrency is still a very risky trade and should be avoided for now.
Litecoin Chart Structure – As can be seen from the chart above, Litecoin is currently sustaining close to $3.000. But it must also be noted that the volumes have shrunk significantly during this resting period.
Moving Average Convergence Divergence – While the price continues to move sideways, the MACD indicator has gone horizontal and the Signal Line is playing catch up. As a result, the Histogram value has dropped considerably. The latest MACD, Signal Line and Histogram values are 0.2762, 0.2379 and 0.0384 respectively.
Momentum – Even though the Momentum indicator reading has dropped, it reflects a strong positive undertone with the latest value of 0.6848.
Relative Strength Index – The cryptocurrency is still overbought and needs a correction for fresh inflow of funds. The latest 14-4h RSI value is 74.8984.
Conclusion
Litecoin is a risky trade at current levels, which is confirmed by the overbought reading as well. Therefore, market participants must wait for a significant correction before initiating a buy on the cryptocurrency. In the current frenzy, Litecoin may also head higher as momentum buying kicks in for another round of rally.
It is incredibly tough to say where this rally would end, but what can be said comfortably is that Litecoin at current price warrants a 'healthy' correction to get more buyers interested. If the price continues to climb unrestrictedly, we may see bubble valuations.