Ripple blockchain's native asset XRP showed signs of a weakening bullish momentum as traders' reassessed their risks in the altcoin market.
The third-largest cryptocurrency by market capitalization plunged by 4.24 percent on Tuesday. The losses came as a correction to an explosive price rally registered earlier this week, wherein the XRP-to-dollar exchange rate swelled by circa 15 percent. As of today, the pair was more or less flat in the absence of adequate buying sentiment.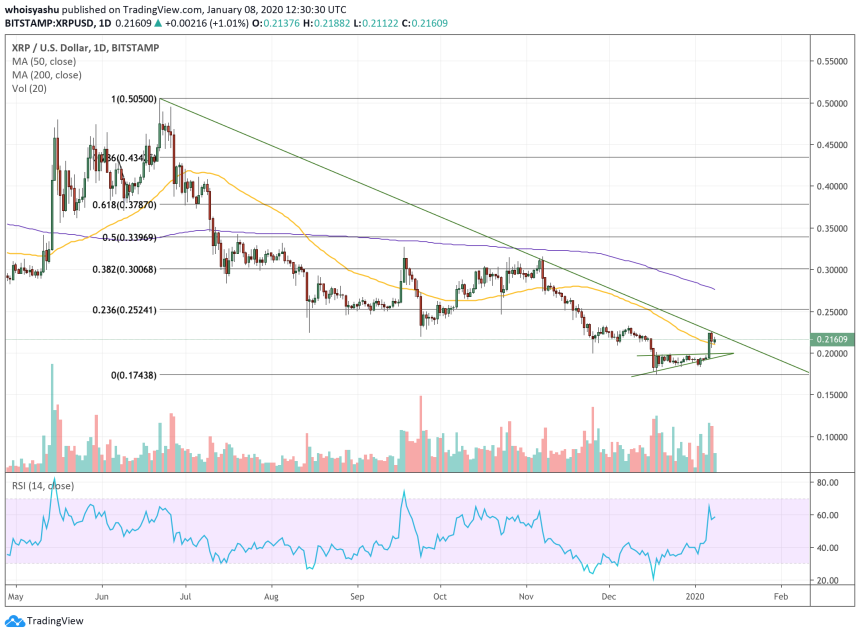 The losses also came at the time when XRP's top rival, Bitcoin, was extending its upside move. The leading cryptocurrency surged by up to 9.08 percent in the past 48 hours while XRP's performance reflected losses of up to 8.23 percent.
Pitted against each other, XRP looked weaker. The coin's rate against bitcoin plunged by as much as 12.15 percent between Monday and today.
Resistance Area
The Ripple token's correction came at a time when it tested a key resistance area defined by $0.225 and $0.231. The range is notorious for capping XRP's upside attempts in the November-December trading session of the last year. It also holds a historical significance as support to the cryptocurrency's downside attempts between August 2019 and November 2019.
Meanwhile, the latest pullback also confirmed the presence of a Descending Trendline. The greened slope – evidently – served as a reminder for XRP traders to exit their long entries and take out scalp profits. As a result, the cryptocurrency price plunged.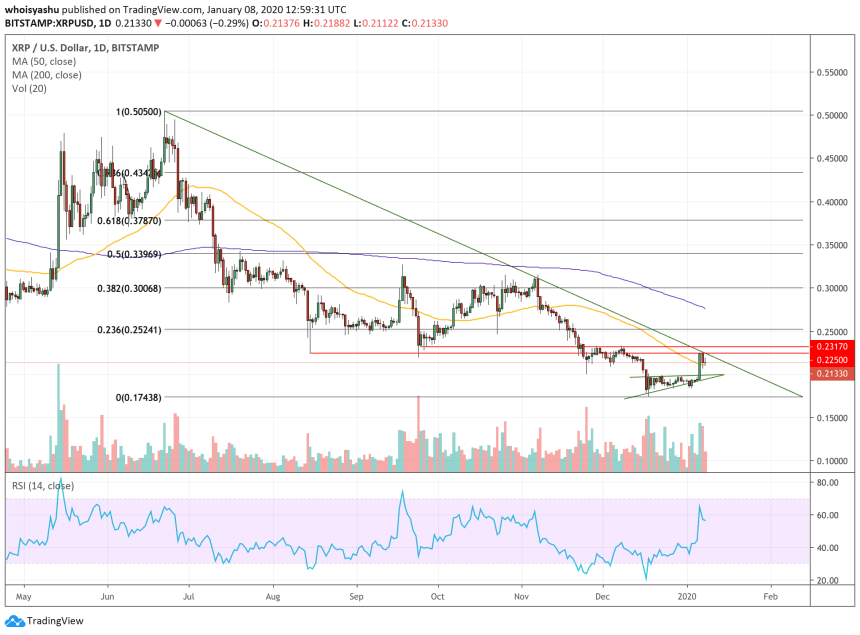 The correction does not intimidate XRP's interim bullish bias. A breakout attempt above the Descending Trendline and the resistance area could have traders eye $0.252 as their primary upside target.
Meanwhile, the $0.225-0.231 can flip to become supports to serve as a breeding ground for another bull run – towards the purpled 200-daily moving average.
The Downside Risks in Ripple's XRP
Bitcoin's growing prominence as a haven and the controversy surrounding Ripple Labs are among the challenges that could hamper XRP's latest upside run.
Investors and analysts have expressed their discontent with the Ripple foundational team for dumping billions of dollars worth of XRP. Prominent trader Crypto Jack on Tuesday said that Ripple CEO Brad Garlinghouse could any day sell a large amount of XRP stash.
"Largest XRP vs BTC daily candle up (for now) since May 2019," he tweeted. "Not bad, keep going before the army comes back and Brad starts dumping on them again."
Cutting $XRP at tiny loss here

Fully retraced yesterdays candle, not my cup of tea pic.twitter.com/GMd0Tg2yVC

— //Ethereum ?ack ? (@BTC_JackSparrow) January 7, 2020
In a video published today on social media, Mr. Garlinghouse claimed that Ripple cannot control the price of XRP, adding that it has billions of dollars worth of daily trade volumes of its own.
Larry Cermak of the Block rebutted the CEO via a tweet, saying that he is lying. Excerpts:
"Nearly everything Brad Garlinghouse says in this video is a lie. Quoting daily volume by CoinMarketCap is almost unbelievable to me since he knows at least 90% of it is fake. But XRP investors eat it up anyway."