From the August monthly open to the high, XRP recorded nearly 25% gains on the month. Unfortunately for Ripple investors hoping for a new bull run, the altcoin was only able to hold onto just 1% of that as of the time of this writing.
But while things may look bleak for XRP's recent rally, a buy signal has just flashed at the bottom of what appears to be a falling wedge chart pattern. This could signal a reversal is coming, and a breakout is imminent.
The 2020 Altcoin Market Recovery Leaves Ripple Investors Wanting More
The crypto market cap in 2020 was up nearly 100% at the high, prompting search terms for "buy crypto" to reach the highest level since the 2017 bubble. Ripple is also showing the most strength in its price action since then.
After three years of a downtrend, altcoins are finally recovering. Bitcoin is trading at well above 50% from its former all-time high. Meanwhile, other top-ranked crypto assets like Ethereum and XRP are still down significantly.
Related Reading | Buy Crypto: Search Term Spikes To Highest Point Since Bitcoin Bubble
Ripple, for example, is trading below 30 cents. The altcoin's former all-time high is well over $3. This means Ripple remains more than 90% down from its peak.
But after two full years of being the worst crypto market performer, the altcoin has finally begun to recover. The recovery has thus far sustained longer than past attempts, and although XRP has since lost much of the month's gains, the rally may not be over yet.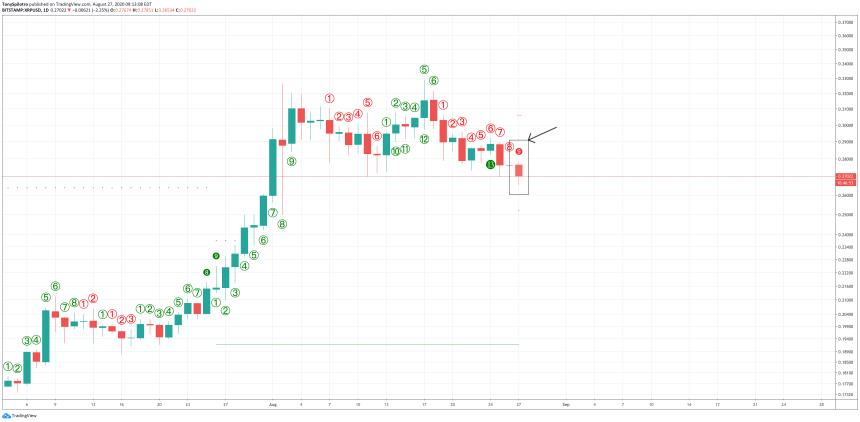 XRPUSD Daily TD Sequential 9 Buy Setup | Source: TradingView
XRP Flashes TD 9 Buy Setup, Possibly Providing Momentum For Falling Wedge Breakout
Ripple's 2020 recovery alongside the rest of the altcoin market, majors and small-caps included, could keep on going despite a recent pullback.
Nearly all of August's gains have been erased, but XRP still has a strong July behind it.
Related Reading | Analyst: The "Real" Altcoin Party Begins In Early 2021
With only days remaining in August, if prices remain at current levels, the monthly candle will close as a doji – signaling indecision. Doji can form at the top, but also can appear ahead of continuation.
On daily timeframes, as pictured above, the TD Sequential indicator has perfected a buy setup in XRPUSD.
Coinciding with the potential reversal signal, the 9-count was reached just as XRP touched the bottom trendline of a falling wedge chart pattern.
XRPUSD Daily Falling Wedge Continuation Pattern | Source: TradingView
Falling wedges can act as both reversal or continuation patterns, and are typically bullish patterns. Breakdowns from these patterns get especially violent, but the TD 9 buy setup implies upside ahead.
XRP's 2020 rally may not be over, but a larger pullback will take place eventually. Whether that is now, or later on, is anyone's guess. However, with crypto analysts expecting the real altcoin party to start in 2021, even if XRP dips, it could be time to buy.