For much of recent years, crypto enthusiasts hoped that Ethereum would take Bitcoin's place to become the leading blockchain project by market valuation. But heading into 2020, the so-called "flippening" has still not arrived.
Ethereum's native token, dubbed as Ether, is down by circa 89 percent from its historic high of $1,419.60 (data from Coinbase). On the other hand, bitcoin's sell-off appears dwarfed, with its rate plunging by a little more than 50 percent from its all-time high.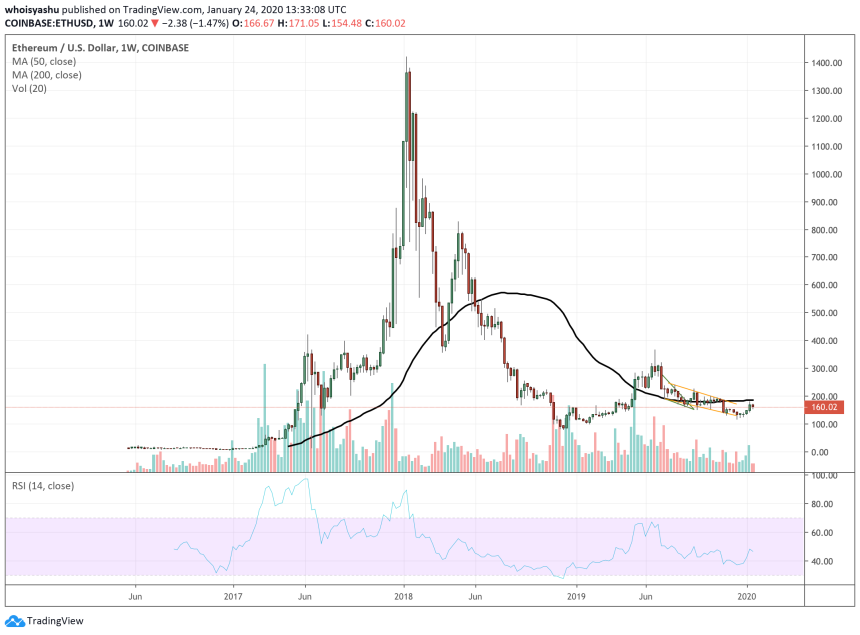 The drop suggests that investors exposed to both Ether and Bitcoin became the victim of 2017's infamous cryptocurrency mania. Nevertheless, those who trusted Ether over Bitcoin are sitting atop more losses – and they continue to face the risks of further downsides due to the three crucial factors as explained below.
#1 The ICO Ghost Never Leaves
During the 2017 crypto boom, entrepreneurs and get-rich-quick scammers created thousands of their own securities-like tokens and sold them via "initial coin offering" to unaccredited, retail investors.
A large portion of those ICOs used Ethereum as their blockchain, making Ether a de-factor currency to purchase their native tokens. Likewise, companies attracted large capitals derived in bitcoin in exchange for their assets. As a result, rates of both Ether and bitcoin surged exponentially, with the former leading gains.
Specialists believe the pump made Ether overbought, which led day traders to sell their holdings at top. As the value started sliding, many ICO projects sold their Ether holdings for more stable fiat money. Later, more than 90 percent of startups failed to turn up a working business model while others didn't generate revenues.
And Ether crashed alongside the ICO craze, as the funding chart shows below.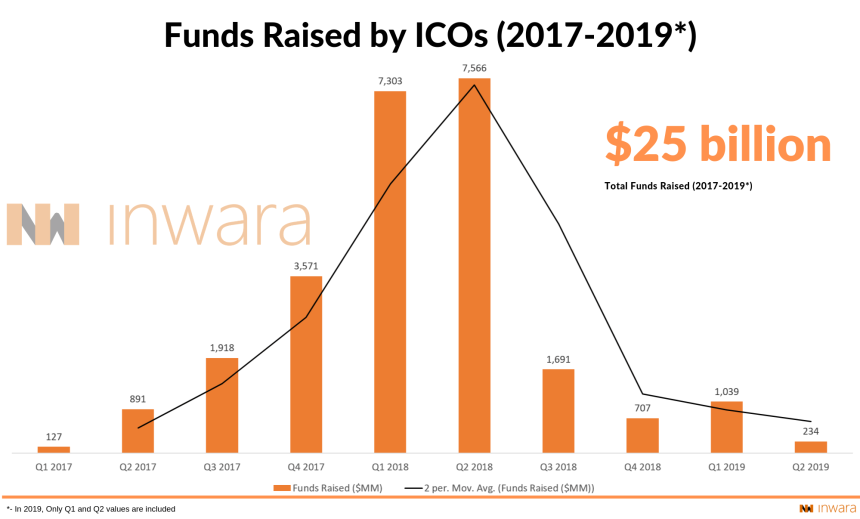 Since then, hardcore Ethereum fans have shifted the narrative to the blockchain's technological potential. On the other hand, rival bitcoin is moving ahead by portraying itself as a store of value, safe-haven, a hedge, and whatnot. The interim bullish aspects alone prompted bitcoin to recover more broadly than Ether.
#2 Prolonged Roadmap for Ethereum 2.0
Ethereum, as promised, is growing on the technological front. The project still comes loaded with "smart contracts," computer codes that automatically settle contracts once certain conditions are met. Its founding vision, unlike bitcoin, tends to reward developers for creating self-executing apps on its blockchain, not compete with the US dollar.
Nevertheless, like Bitcoin, Ethereum, too, has run into a big problem concerning its blockchain's scalability. Founder Vitalik Buterin in 2015 introduced a long series of updates to make Ethereum "better and faster."
WOAH (as @APompliano would say)

I just published my most ambitious piece in the ~7 years I've been studying crypto full-time:

"Crypto Theses for 2020"

Over the past eight days, I compiled 120 nuggets of my clearest thoughts into one 70 page report.https://t.co/dMSafdfW5k

— Ryan Selkis (@twobitidiot) December 16, 2019
After executing the first two-phases, the development is now in its penultimate phase, which includes two hard forks, Byzantium and Constantinople. The final phase, dubbed as Serenity, will be tentatively completed by 2022 to upgrade Ethereum into Ethereum 2.0.
On the other hand, bitcoin is promising infrastructural – if not technological – developments in the near-term. Retail investors are looking for the cryptocurrency to make a name on Wall Street, thanks to the involvement of bigger names like TD Ameritrade, Fidelity, and ICE in the emerging space.
Moreover, experts are projecting bitcoin as an answer to a potential economic meltdown, triggered by the US-China trade war last year. Hence, its recovery is looking far better than Ethereum on a scale of valuation.
#3 Competition
Last but not the least, Ethereum's top position is facing challenges from an emerging competition in the blockchain space. Projects like Tron, EOS, and Binance Chain have stolen a part of Ethereum's market dominance. Posing no direct threat to bitcoin's narrative, their growth is likely to affect Ethereum more than any other project.
Nevertheless, Ethereum is clearly winning one round: that of Decentralized Finance (DeFi). According to DeFi Plus, protocols enabling direct, peer-to-peer lending via Ether cryptocurrency was holding $687 million in their reserves as of December 2019. The figure was $293 million in January.
Experts believe DeFi could be the next ICO mania for Ethereum in 2020. But whether or not it would be able to beat Bitcoin cannot be predicted.