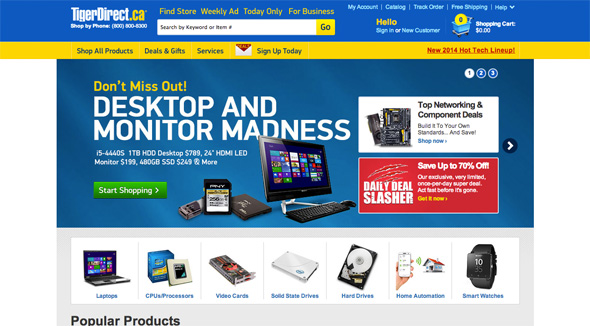 TigerDirect made a splash earlier this year when they announced they'd be accepting bitcoin somewhat suddenly at the end of January, making it the second mainstream retailer to embrace the digital currency behind Overstock.com.
In under one day, the retailer brought in a whopping $250,000 worth of sales paid for in bitcoin, and just last month, TigerDirect announced they'd surpassed the $1 million mark.
But our friends in Canada were watching from the sidelines.
Unfortunately, TigerDirect only enabled bitcoin payments here in the United States, leaving shoppers at their Canadian site at TigerDirect.ca unable to pay for their wares in crypto-currency.
That may soon be changing.
If you visit TigerDirect.ca/Bitcoin, a very simple message appears:
Bitcoin is not yet supported in Tigerdirect.ca – but stay tuned!
The company doesn't outright say that TigerDirect.ca will soon be accepting bitcoin, but the simple statement seemingly says it all.
Unfortunately, no indicator is to when this might happen, but it certainly seems to be in the pipeline.