Earlier today, users in the Reddit community began noticing that very rich wallet that holds the bitcoins that once belonged to Silk Road have moved to another wallet address [link].
The move has undoubtedly raised many questions — with over $17.4 million being moved like nothing.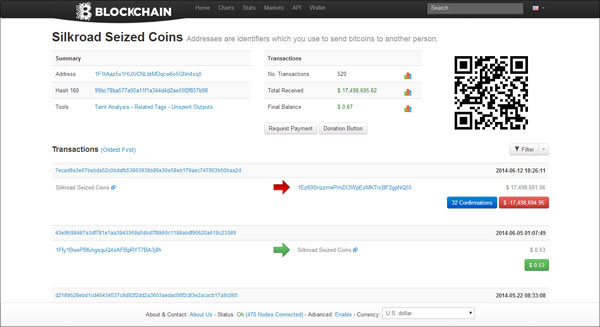 As it were, the coins are being prepped for an auction held by the United States Marshals Service, according to this page posted up today.
"FOR SALE," reads the offer. "29,656.51306529 bitcoins"
THIS NOTICE DOES NOT CONSTITUTE AN OFFER TO SELL BUT INVITES INTERESTED PARTIES TO SUBMIT A BID FOR PURCHASE. THE FOLLOWING INFORMATION IS BEING PROVIDED WITHOUT RECOURSE TO THE UNITED STATES OF AMERICA OR THE UNITED STATES MARSHALS SERVICE.
THIS AUCTION IS FOR THE BITCOINS CONTAINED IN WALLET FILES THAT RESIDED ON SILK ROAD SERVERS, INCLUDING THE SERVERS ASSIGNED THE FOLLOWING INTERNET PROTOCOL ADDRESSES: 46.183.219.244; 109.163.234.40; 193.107.86.34; 193.107.86.49; 207.106.6.25; AND 207.106.6.32 ("SILKROAD SEIZED COINS").
THIS AUCTION DOES NOT INCLUDE THE BITCOINS CONTAINED IN WALLET FILES THAT RESIDED ON CERTAIN COMPUTER HARDWARE BELONGING TO ROSS WILLIAM ULBRICHT, THAT WERE SEIZED ON OR ABOUT OCTOBER 24, 2013 ("DPR SEIZED COINS").
There are three phases for the auction. The first is bidder registration, in which bidders will be required to fill out a registration form, a copy of government-issued ID, and a $200,000 deposit from the US bank account.
The USMS will contact each individual who submits a registration form by 5:00 P.M. EST, June 26, 2014. If the USMS determines that you are an eligible bidder, you will receive communication of that fact from the USMS and will be provided with additional information regarding how to place your bid. If the USMS determines that you are not an eligible bidder, you will receive communication of that fact from the USMS, the deposit funds will be returned, and you will not be eligible to participate in the online auction.
Phase 2 is the online auction itself. The auction runs on Friday, June 27th from 6AM to 6PM with a Series A auction for 9 blocks of 3,000 bitcoins (for a total of 27,000 BTC), and a Series B auction for 2,646 BTC.
As one would expect, he/she who bids highest wins the auction.
Phase 3, as described by the Marshals service:
On Monday, June 30, 2014, by 5:00 P.M. EST, the USMS will notify the winning bidder/bidders that their bid/bids has/have been selected. Any winning bidder must send the purchase price funds (less the $200,000 deposit amount) by a wire transfer originating from a bank located within the United States and provide a wire transmittal receipt to the USMS by 5:00 P.M. EST, Tuesday, July 1, 2014. It is the responsibility of the winning bidder to understand their bank's deadline for initiating wire transfers in order to ensure that the domestic wire transfer is initiated and a wire transmittal receipt provided to the USMS by the deadline. Failure to provide the USMS with a copy of the wire transmittal receipt by the deadline will result in disqualification, forfeiture of the deposit, and award to another bidder.
Bitcoins will then be transferred to the winner via private instructions.
It'll be an interesting auction, and there's sure to be some money made here. Who do you think will be placing bids?
[textmarker color="C24000″]Source[/textmarker] U.S. Marshals Service