Bitcoin price is struggling to recover and $55,000 is starting to look like a resistance. In the past 24 hours, over $1.5 billion worth of long positions were liquidated as Bitcoin price took a plunge to $53,000.
Tesla's CEO Elon Musk announced that U.S. customers could now buy a Tesla with Bitcoin, and those Bitcoin will be held by Tesla instead of converting into fiat. While this is seen by many the most bullish news for Bitcoin in 2021 and lifted Bitcoin's price almost 5%, it failed to stop Bitcoin's downward momentum. Bitcoin once dropped below $51,000, taking other altcoins down.
Whales Fleeing?
Bitcoin failing to stand firm at $60,000 seems to have disappointed some whales. According to Timothy Peterson, BTC wallets with over 1k or more coins are declining sharply, such sizable reductions were also recorded in the 2014 and 2018 bear markets.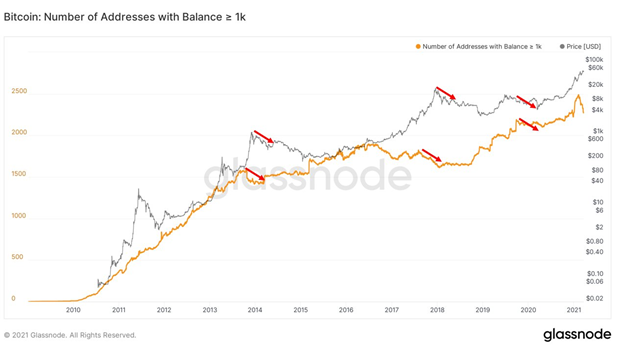 "The decline in large addresses implies #Bitcoin's price could fall to $25,000 in the foreseeable future," tweeted Timothy.
Bitcoin price is getting close to the 50-day SMA, if bulls fail to push the price back to $55,000, Bitcoin could risk further drop to $43,000.
While many analysts hold firm the idea that Bitcoin could reach $100k or even higher in 2021, Bitcoin could face further corrections in the near term, as more investors turn on the "risk-off" mode in view of potential quantitative tightening and a new bout of covid-19 cases.
How To Survive The Downside?
Option 1: A Wallet Designed for Traders and HODLers
You might want to continue to hodl your BTC and wait for the resume of the bull run. However, as we don't know how long it will be, meanwhile you could consider storing your BTC into an interest-bearing wallet, where your deposit could gain up to a 21% annualized interest.
Option 2: Managing Trading with Less Risks
You could take advantage of the downside with futures trading. By predicting the right trends of Bitcoin's price, traders can earn greater returns within a shorter period of time. Bexplus, a leading cryptocurrency futures trading platform, even offers a 100x leverage. Even at times of great volatility, you can generate profits with the help of Bexplus. And its Stop Loss & Take Profit options could help you lower the risks and lock in profits.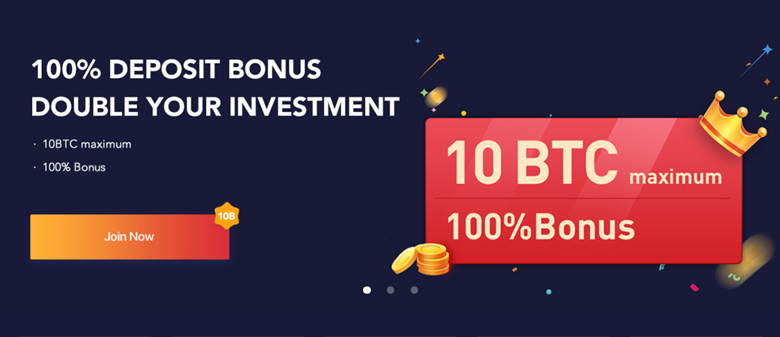 Bexplus – Recommended Leverage Trading Platform
No KYC requirement, registration with Email verification
Demo account with 10 BTC for traders to get familiar with leverage trading
100% bonus for every deposit and 10% off of transaction fee
Intuitive and full-featured App on Apple App Store and Google Play
Affiliate program with up to 50% commission reward
24/7 customer support and analysts service (https://t.me/Bexplus_Geoff)
Image by 

Joaquin Aranoa

 from 

Pixabay