Bitcoin has struggled to break past the $17,000 mark over the week. Although a quick recovery from the recent crash seems unlikely at this point, a jagged ascent to $20,000 is still feasible by the end of the year.
Renewed Hopes of Comeback for BTC
Bitcoin is selling for $16,620.71 at the time of writing, with a 4.06% down-tick on the weekly charts.
BTC 7-day price chart, 17 Nov 2022, CoinMarketCap
The fears around the Russia-Ukraine war have not worked out well for the market today. According to BBC, more strikes have been reported across Ukraine. Among the new targets are a gas production facility in the east and a missile factory in Dnipro.
Prices rise 11.1% in year to October as energy bills drive UK inflation rate to 41-year high https://t.co/Ng0Yr66ZM3

— BBC Breaking News (@BBCBreaking) November 16, 2022
On the other hand, the latest reports around inflation in the UK, which has risen to a 41-year high of 11.1%, have kindled hopes of recovery for BTC and the rest of the crypto market. Food inflation is at 16.2%, as the price of essential items like milk, pasta, and butter soar high.
The deteriorating confidence in centralized financial institutions and services is expected to channel more funds to the crypto market in the coming weeks. If that's the case, it might be time to stock up on BTC. However, more sell-offs are on the cards ahead of the holiday season.
Investors Prefer Presales to the Dips
Although predicted to be temporary, the uncertainty in the crypto market makes presale investments a better bear market strategy than buying high-cap cryptocurrencies like BTC and ETH. Listed below are four presales that are running successfully now, contrary to the broader market trends.
Dash 2 Trade (D2T)
The series of crypto collapses in the recent past reminds us of the importance of research-backed investments. Dash 2 Trade is a crypto analytics and intelligence platform that aims to lower the technical barriers to crypto trading and investment.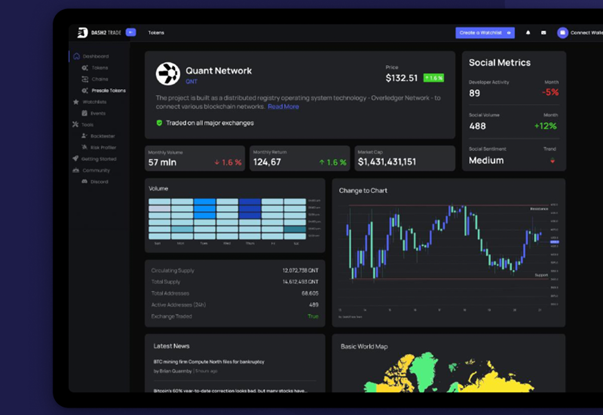 Dash 2 Trade dashboard
The trading platform helps users get better insight into the market with the help of relevant data points. Some key tools and functionalities of Dash 2 Trade are:
Unique social indicators
Strategy builder and back-tester
Custom-made scoring system for presales and ICOs
Independent technical indicators
Auto trading API
Risk profiler
Presale listing alerts
On-chain analytics
Social trading
💵‼️ #D2T AFFILIATE PROGRAM ‼️💵

With our new Affiliate program, you can earn money by sharing #D2T referral links!

CHECK OUT THE LINK BELOW TO LEARN MORE ⬇️ https://t.co/bosMEVGbJU pic.twitter.com/zOkdSWTUHj

— Dash 2 Trade (@dash2_trade) November 17, 2022
IMPT (IMPT)
IMPT is another cryptocurrency predicted to explode in 2022, owing to its creative blockchain use cases for climate action. The flagship platform from IMPT is a Web3 carbon offset marketplace dedicated to both the mandatory and voluntary sectors.
Here, anyone can buy, sell, and retire carbon credits. IMPT's goal is to reduce double spending and scams prevalent in the carbon market by converting carbon credits into NFTs.
IMPT presale status, 17 Nov 2022
IMPT also comes with a social platform and a shopping application, which make carbon offsetting a part of everyday life. While the IMPT store allows users to earn IMPT rewards in exchange for responsible shopping, the IMPT social platform allows users to track their carbon-offsetting performance. Gamification gives more momentum to IMPT's mission, compared to other green Web3 projects.
New day – new challenges 👊🏻

Today @COP27P is looking for innovative ways to decrease CO2 emissions.

And we already know one of them!

Join #IMPT to make an impact and decrease your carbon footprint ⬇️https://t.co/8KSvC4Hf9d https://t.co/WvSUTqhmr4

— IMPT.io (@IMPT_token) November 17, 2022
Calvaria (RIA)
Play-to-earn is an evergreen crypto sector. Calvaria is the latest to seize the community's interest.  Predicted to outperform Gods Unchained and Alien Worlds in 2023, the emerging battle card game marks itself off in the crowded market with a lower entry barrier. Calvaria comes in both free-to-play and play-to-earn versions, opening up the possibility of converting traditional gamers.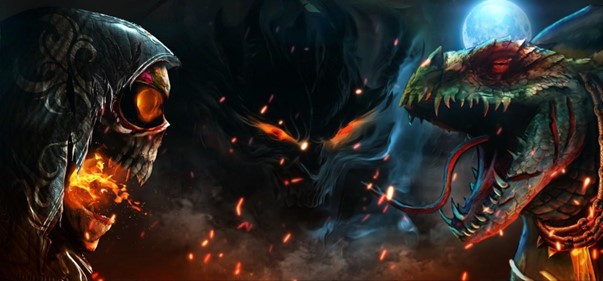 Calvaria: Duels of Eternity
Another factor that gives large growth potential to Calvaria is its vibrant theme centered around the afterlife. The storyline and gameplay justify the creative possibilities of the theme. Duels of Eternity, the primary game from Calvaria, is scheduled to go live next year.
New Calvaria Giveaway! 💰
Calvaria Presents an opportunity to get a $100K worth of $RIA! 😍

Join the competition here and win: https://t.co/b120uwNeje

Rules: https://t.co/fCDjh8C3s5

Presale: https://t.co/6wSK6JxOKe#CalvariaGang #CryptoCurrencyNews #blockchain pic.twitter.com/uBZvVCIk4K

— Calvaria: Presale is Live! ✨ (@CalvariaP2E) October 25, 2022